A Not-So Dickens Charlotte Christmas Carol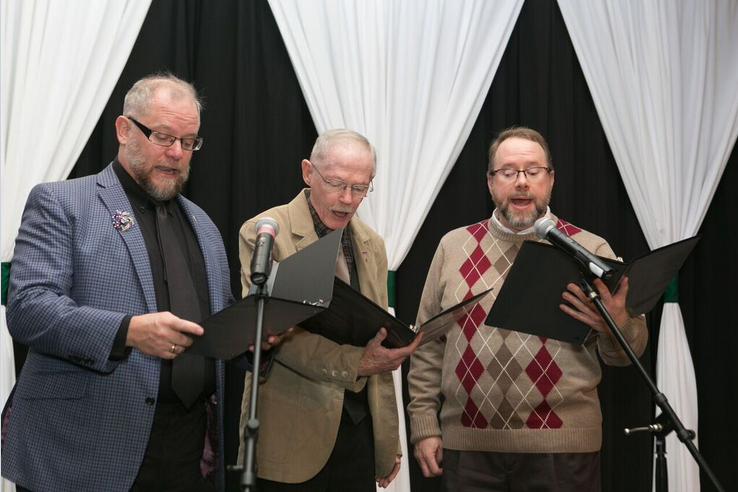 The Gay Men's Chorus of Charlotte performed "A Not-So Dicken's Charlotte Christmas Carol" at our Charlotteans of the Year Awards Luncheon. They wrote a parody recapping events in Charlotte in 2016. See the lyrics below.
To the tune of "God Rest Ye, Merry, Gentlemen"
To twenty-sixteen bid adieu,
A very trying year.
With voting that divided us And played upon our on fears,
And Brangelina split apart,
Or so it is, we hear.
An election, a hurricane, divorce,
What could be worse
than Elections, a hurricane, divorce?

The House got busy passing
The law called HB2,
Now Pat is out of office
So he's got time to stew.
And toll lanes going everywhere
Which we all think's cuckoo.
And did you know we're on TV,
Because of where we pee?
Did you see that we're on national TV?

The year, it started well enough,
A Superbowl in sight,
Alas, it wasn't in the cards
Though we put up a fight.
And Cam he proved himself to be
A gentleman by rights.
Maybe next year we'll get 'em where it hurts,
Pound 'em in dirt!
Maybe next year we will get 'em where it hurts.

Soon twenty-seventeen arrives
And things look brighter still.
Our home's worth more than ere before
But traffic's standing still.
Apartments sprout like mushrooms
Over every hill and dale,
I'm just trying to get myself to uptown,
Or is is down?
I'm just need to get myself to uptown.