A Pop of Color
With a long weekend ahead and summer on the way, here are 5 suggestions to brighten your surroundings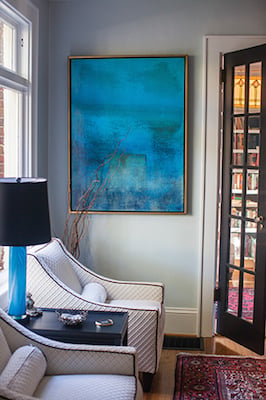 When the seasons change, we often get restless. Perhaps it's the warmer weather or bright green leaves, but summertime often makes our interiors look a little drab. A single, small change can brighten your space. Here are five of our favorite ways to refresh your room.
Add a piece of art. A colorful painting or sculpture creates a focal point in a room. It gives you a starting point for other changes you might want to make later on, such as changing paint colors or adding new rugs, lamps, or furniture. This blue abstract by N.C. artist Scott Upton catches the eye as soon as you step into this Elizabeth home.
photo by logan cyrus
Choose a bold paint color. In a smaller room, such as an entryway or powder room, colors such as this coral will stand out without overpowering. If you're uncertain of a bright color for the walls, use it on a piece of furniture, says designer Cynthia Urbanik.
Throw in some new pillows. Whether on the bed, sofa, or outdoor furniture, new pillows in bold colors and patterns refresh the entire piece. Local artist Liz Saintsing sells these pillows, which she hand prints with her nature-inspired designs.
photo courtesy of liz saintsing
Reupholster a worn piece of furniture. Anthony Evans of Tack in NoDa gives us a few tips on the ins and outs of upholstery. Learn what fabrics work well, what else goes into the task (new springs, new padding, and more), and what are some of the latest trends.
photo by logan cyrus
Decorate with fresh flowers. Don't underestimate the simplest of our suggestions. A bunch of fresh flowers on the dining room table or scattered throughout the house, is one of the best ways to bring the outside in. And as Deedie Springer of Springvine Design tells us, you might find everything you need in your cabinets and out in your yard.
photo courtesy of deedie springer