A Quick Bite at The Club House
You can drink and play at The Club House Kitchen & Cocktails—and judge the menu's altitude for yourself.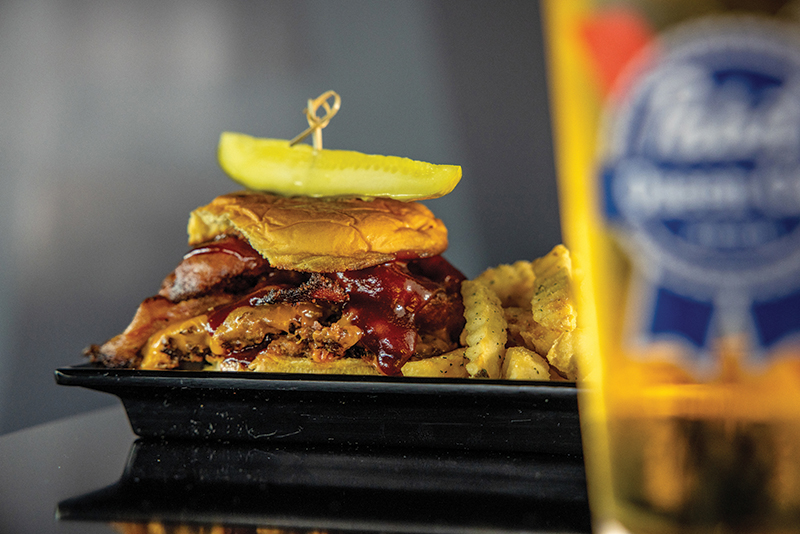 TEN years ago, it was "chef-driven" menus. Since then, "globally inspired small plates" have had a moment, and "creative cocktail programs" don't appear to be going anywhere. Now "elevated bar bites" have entered the chat, as if to say, "These wings are bougie enough to pair with that $17 martini!" Or maybe "appetizers" and "starters" weren't buzzy enough anymore?
Either way, "elevated bar bites" go hand in hand with "creative cocktails"—and The Club House Kitchen & Cocktails understood the assignment.
Chet Desai and Ricky Patel, the team behind PARA, opened Club House in the former Lulu's Maryland Style Kitchen & Seafood spot in early June. Unlike the building's previous tenant, Club House feels like an extension of Pinhouse, the self-serve bar next door. The two venues share a parking lot and are separated by a narrow, turf-covered courtyard with cushioned patio furniture. Pinhouse customers can also order Club House food via QR code and have it delivered.
The one-page menu is straightforward and well organized, like the owners knew they'd lose your attention if they made it any longer. Drinks include nine specialty cocktails and two mocktails; food is divided into flatbreads, burgers, salads, wings, and baskets, with no more than three items per section. The "Specialty" column is reserved for the five remaining shareables, which are tougher to categorize but clearly involve the deep fryer.
The cocktails are named after Plaza Midwood icons like Chilly Willy ($13), a gin-based drink with simple syrup, heavy cream, orange flower water, and club soda. The Central Station ($14) is a mix of tequila, watermelon and lime juices, simple syrup, bitters, and Cava Brut Champagne and goes down verrrry easily on a warm night. They've also got two mocktails made with distilled, non-alcoholic spirits.
Wings come by the half dozen ($9) or dozen ($18) in classic flavors like buffalo, honey mustard, and barbecue. Club House Exclusives include Snake Bite, with buffalo sauce and a honey mustard drizzle; and Poison Fang, with a spicy Asian-inspired sauce. If you can't decide, order a dozen and go half-and-half.
The 6IX Poutine ($13) is a basket of fries topped with cheese curds, gravy, chives, and crispy onions. It'd be a reasonable imitation of what you'd find in Quebec, except that the crinkle-cut fries look like they came from a freezer bag.
The three flatbreads are sliced into 10 wedges for sharing, but they're a satisfying portion if you'd rather make it your entrée. The Midwood Mushroom ($13) is the most colorful with mushrooms, spinach, pesto, tomatoes, Parmesan, and a heavy drizzle of balsamic vinegar glaze that gives it a tangy punch.
Of the specialty items, the Central "Egg Rolls" ($15) are the most inventive. They're birria-style egg rolls, stuffed with shredded beef and cheese and served with a side of consommé for dipping. This dish looks appetizer-sized, but the four egg roll halves are surprisingly filling.
The burgers may seem like the flyover part of the menu, but these earn their "elevated" status. The smashed patties taste more steakhouse than drive-thru, with crispy edges and juicy centers. The Western Bacon Burger ($14) has the requisite bacon, barbecue sauce, and cheddar cheese, plus two onion rings that are the circumference of the bun. It requires big, uncivilized bites, so no shame if you need to attack it with a knife and fork.
Club House has a different special every night, like half-off burgers on Mondays and $10 off the Flatbread of the Day on Thursdays from 4 to 7 p.m. Fridays and Saturdays are for live music, but you can drop by Pinhouse any time for duckpin bowling, beer, or dinner if you opt to have your food delivered there. Drink, eat, or play in any order you wish—that's the appeal of an evening here. The "elevated bar bites" feel almost like a decoy to get you in the door.
TAYLOR BOWLER is the lifestyle editor.
---
The Club House Kitchen & Cocktails
2308 Central Ave.
Hours:
4-10 p.m. Monday-Wednesday
4-11 p.m. Thursday
4 p.m.-midnight Friday
noon-midnight Saturday
noon-10 p.m. Sunday
KNOW BEFORE YOU GO:
The Club House Kitchen & Cocktails hosts live music on Fridays and Saturdays.