A Quiet Conversation with Cam Newton
Remembering a quiet one-on-one interview with the Panthers quarterback, just months before the season that ended with the interview seen 'round the world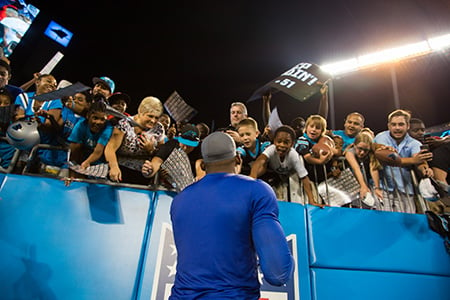 CAM NEWTON is a quiet talker, even when he's happy.
That's a tough contradiction for people who only know Dab On Em Cam or Gold MVP Cleats Cam. It surprised me when we sat for nearly 40 minutes in a pair of folding metal chairs in the air conditioned press box at a Charlotte high school last June.
I wanted to interview the Panthers quarterback about happiness and the idea that sports fans want our franchise players to make us happy, without a whole lot in return. We expect them to deliver—first downs, touchdowns, footballs to kids in end zones—and we don't ask what they need from us.
Cam and I joked about breakfast cereal and Louboutin loafers, the type of stuff I typically weave into a profile for this magazine, but we covered a lot of football, too. Cam spoke softly the whole time, often pausing to consider his words.
He said that this year's team was worthy of a Super Bowl. "We have to put ourselves in a position to win," he told me, and although he didn't go into specifics, it's safe to assume that position isn't on the ground watching a fumbled football bobble into the end zone.
Newton told me his idol is Muhammad Ali and rattled off a quote about knowing you're the greatest before anyone else believes you. Cam believed he was the best, long before anyone thought he would be the league's Most Valuable Player. He told me so that very morning. I've never heard someone mumble his way through declaring himself The Greatest.
So as I sat and watched a decidedly unhappy Cam Newton field questions, sort of, at the much-ballyhooed press conference after losing Super Bowl 50, I thought about his quiet talking.
Can we understand his sadness?
If we are so unhappy that we cry and break Yuengling bottles and run down the hallways of our apartment buildings hollering "Fuuuuuuck Peyton"—all things I witnessed Sunday night in Charlotte—should we be surprised when our franchise quarterback is dejected after thoroughly embarrassing himself in front of 115 million people?
"I don't know a person that does what they do," Cam told me last summer, "whether you're in the firefighting business, in the lawnmower business, in the teaching business, to become second best."
But that's exactly what he was Sunday night. Second best. Second best.
Not much about second best makes Cam Newton happy.