A Result with No Ending
The DA's decision to not press charges against the officer who shot Keith Scott doesn't bring closure to the problems that surround it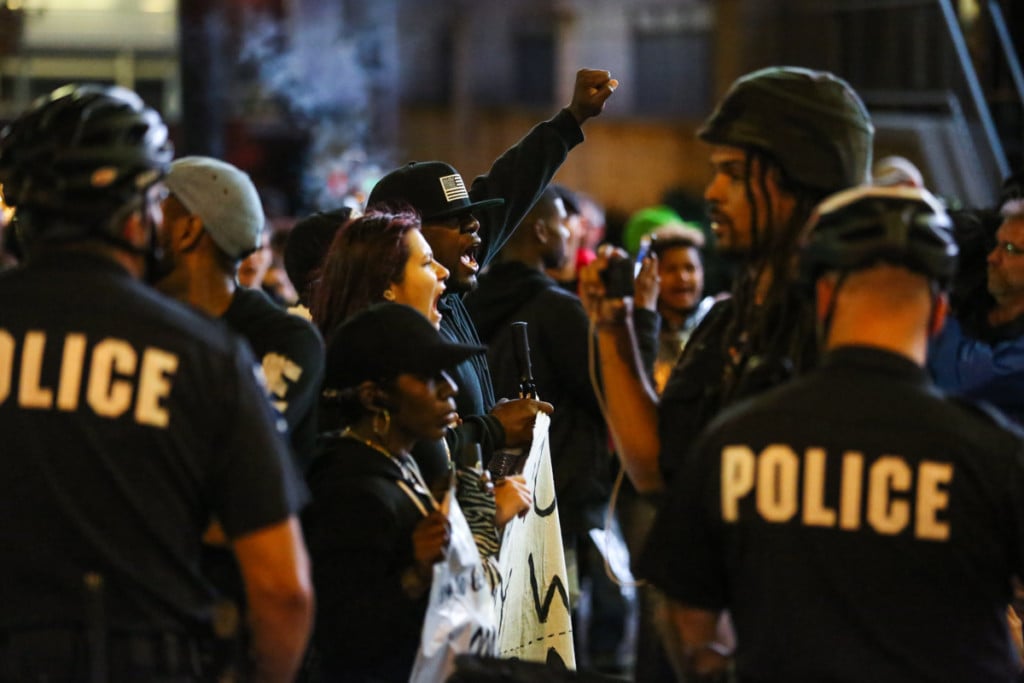 THE COURSE OF CHARLOTTE changed at around 8 p.m. on the Friday of Labor Day weekend, when Keith Scott pulled off of Interstate 85 and walked into the Gander Mountain in Gastonia where, with a swipe of a debit card, he spent $74.70 on a .380 Sig Sauer magazine and ammunition.
The ammo was for a Colt .380 semiautomatic he'd purchased for $100 the same day, along with a holster, from a man in Gaston County who knew the gun was stolen. Scott needed the weapon because he was having "problems with his wife and her family, specifically his nephew," the seller would later tell investigators, who later included that information in a report for the Mecklenburg County District Attorney, who on Wednesday spent 80 minutes explaining to an exhausted city that Scott died because, among other things, he had that gun in his hand.
This mattered, district attorney Andrew Murray said, because the gun was the reason Charlotte-Mecklenburg Police officers moved in on Scott in the first place on September 20. It mattered, he said, because the gun was the main ingredient in a complicated mess of a situation that led officer Brentley Vinson to shoot Scott four times outside of his apartment complex in north Charlotte that afternoon. This mattered, Murray said, because of a popular theory, supported by Scott's wife and protesters who marched through Charlotte's streets for days after the incident, that Scott didn't have a gun. It mattered because the presence of the gun, loaded and cocked, was part of a "totality" of evidence that led Murray's office to clear Vinson of any charges.
But beyond that, the gun didn't matter much.
This case of Keith Lamont Scott and the frustration that followed it were never about the details. In fact, to some degree, the case of Keith Lamont Scott was never about the case of Keith Lamont Scott; it was part of the larger story of police officers' shootings of black men, and the larger story of how this shiny Southern city became a place of exclusion and inclusion.
Seven hours after Murray's press conference, after a tornado warning lifted and a powerful storm passed through the city, a group of about 60 or 70 people gathered outside the Charlotte-Mecklenburg Police headquarters to protest what they believe was murder. The remnants of the storm clouds swirled swiftly overhead, and the Duke Energy building, regularly colored blue or purple for Charlotte sports teams, on this night took on a dark, ominous red. Rain dripped off of umbrellas and clear ponchos, and local news reporters wiped away drops from their glasses.
Many of the familiar faces from September were here. Toussaint Romain, the public defender who stood in between police and protesters two months ago, was back again with another neatly pressed white shirt. Ashley Williams, a leader of Charlotte Uprising, grabbed the megaphone like she did on all those nights in September, and she again shared her belief—no, her demand—that police departments be de-funded completely. Nearby, CMPD Major Mike Campagna, the officer who calmed several tense moments during the September protests, stood in a reflective safety vest.
At about 7:45 p.m., protesters turned their attention directly to Campagna. They accused him of covering up information in the killing of Justin Carr, who was shot to death on the sidewalk in front of the Omni on the second night of the September protests. They believe there's something he knows, maybe that a rubber bullet from an officer killed Carr, and he's keeping it from them. They held up middle fingers at him and yelled at him, one by one standing in his face with cell phone cameras at the ready in the event that he might flinch. Again, he didn't. He stood there, all 5-foot-8 or so of him, and listened to their complaints, just like last time, and later in the evening some of the same protesters who hollered at him would hug him.
Wednesday night's protest was smaller and at times more disjointed than anything that happened in September, and it felt less like a repeat of the violent nights than another day of work in the complicated story of police and black citizens in 2016. The crowd of familiar faces let their familiar police officer go, then started on a familiar walk through the streets of uptown—past the Hyatt House hotel where windows were busted out and the boards that replaced them became a canvas for artists in September; around the arena where people stole items from the team store two months ago; down College Street again and toward the intersection near the Omni, where Carr was killed.
But it wasn't the same. In the two months since September, the windows have been replaced at the hotel, the merchandise has been replaced on the shelves, the name of the arena has even changed. As the rally approached the Omni, Campagna looked at a group of three or four officers he'd helped train to have the skills to talk to protesters just like he did, and said, "I'm gonna step back and let you guys handle it."
What they had to handle, it turns out, was nothing more than a moment of silence for Carr. After that, protesters moved up Trade Street to Tryon and around uptown again. Four people were arrested for obstructing traffic during the march. The last of them, a young woman with close-cropped hair, was taken away from the corner of Brevard and Trade at about 8:45 p.m.
Overhead, the sound of helicopters chopping through the air again filled the Charlotte night. City buses lined up behind the march, waiting to enter the transportation center. Two months ago, a picture of a city bus sitting in a cloud of tear gas behind a wall of cops, its sign reading "Not In Service," became one of the symbolic images of the Keith Scott protests. This time the buses' signs read "Happy Holidays."
They arrived back at the police headquarters shortly after 9. As the crowd dwindled, organizers asked for quiet. Then, one by one, they began to shout the names of black people killed by officers around the country.
"Walter Scott," someone yelled from the center.
Meanwhile, somewhere else in the city, a wife and family tried to cope with the reality that nobody would be held responsible in the death of their husband and father.
"Tamir Rice," from the back left.
Somewhere else, the officer who shot that man, for the first time since September 19 could rest knowing he wouldn't face criminal charges.
"Alton Sterling," from the right.
Around the state, 15 career prosecutors shut off their lights knowing they'd recommended no charges be filed.
"Eric Garner," from behind.
Somewhere else, Charlotte's police chief, whose own father was killed when he was just a boy, a man protesters would like to see step down from a job he's prepared for his whole career, watched to make sure it didn't get out of control.
"Freddie Gray," from the center.
Somewhere else, our new city manager was preparing to go to bed before his first day of work Thursday.
"JONATHAN FERRELL," came a hearty voice from the right, referring to the unarmed black man who was killed by a CMPD officer in 2013.
Each name rang out like a gunshot in the uneasy night. The case of Keith Lamont Scott was about all of them and all of those officers and all of the biases inside each of us—toward black people or police officers, toward prosecutors or protesters—and how they shape every opinion and decision we make.
Then came another voice from another familiar man, Sam Bethea, aka "Jesus Saves" guy. Throughout the September protests, Bethea was both a friend and a nuisance to protesters with his unending chants. Bethea broke the quiet of the call-out of names Wednesday night with his bellowing voice, "The bloooood of Jesus! The bloooood of Jesus."
"Would you shut the fuck up?" people shouted immediately.
And from the back, a woman: "Jesus ain't gonna help this."
Michael Graff is the editor of this magazine. Reach him at michael.graff@charlottemagazine.com.