A Revolution Is Happening in Davidson
Growth and political tension prompt residents to ask if the town needs saving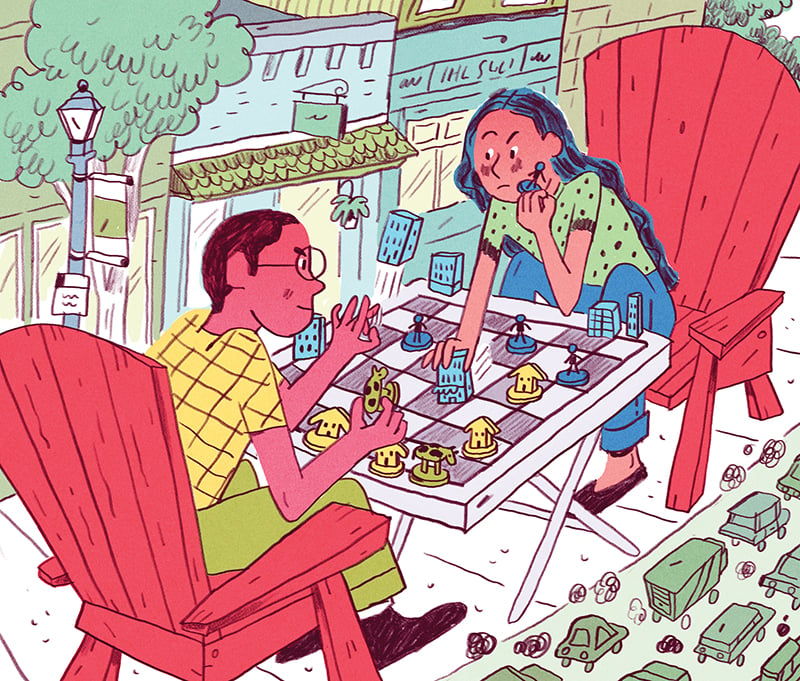 DAVIDSON'S MAIN STREET includes a soda shop, a lively farmers' market, and a nationally recognized restaurant. Friends play checkers at sidewalk tables. Children frolic on the village green. Twenty miles north of Charlotte and home to Davidson College, the town is the richest and best-educated in Mecklenburg County. Its reputation for smart planning is stellar; when the Urban Land Institute met in Charlotte a few years ago, Davidson was a field trip destination. One town commissioner, only half joking, calls it Camelot. It's the last place you'd expect a citizen uprising.
But last year, some residents became so frustrated that they formed a group called Save Davidson. Before long, the slogan was all over town, on signs in landscaped yards, on magnets affixed to cars parked on Main Street. When Election Day arrived in November, voters unseated the mayor and picked four newcomers for the five-member board of commissioners. Save Davidson had endorsed all but one winner in a victory that's been described as a backlash, a revolution, a power transfer from old to new.
The root of this upheaval: Davidson's desirability. A hot market has been throwing up new housing all over town. Stands of trees are disappearing. Traffic backups can be maddening. As the population of 13,000 grows, residents worry their town may lose both its charm and smallness.
The precipitating cause of last year's revolt was a plan to sell public land—19 acres that include woods, wildlife, and a pond—to build a development called Luminous, which would include a hotel, park, and a mix of housing and retail. The land was on Beaty Street, off Griffith Street, the gateway to town from I-77. Save Davidson emerged to fight the plan, pledging to promote government transparency and preserve the town's character. Its members—many of whom arrived during the past 10 or 20 years—packed meetings and spread their message on social media. They also dug into public records and found written proof that the town bought most of the Beaty property in 1987 with an understanding—but no legal requirement—that it would be developed as some sort of park.
When Mayor John Woods told an audience he knew of no documents about a park, Save Davidson recorded the moment, then posted online a repeating loop of the mayor's voice—I don't have any documentation, I don't have any documentation—that played over video of the documents. Like any political message, it wasn't the complete story, not mentioning that the land was zoned for mixed use and had been considered for non-park uses since the 1990s. But the video was effective. "It makes me look like an idiot," Woods says. He maintains his words were taken out of context.
After several fraught months, the town dropped its Luminous plans. But residents kept up their criticism. Commissioners were branded arrogant. Planned apartments were panned, as were town efforts to create affordable housing. A proposal for a Hyatt Place hotel, not far from the scrapped Luminous project, was assailed. Objections included traffic, parking, and the location next to a lower-income neighborhood and near a school, which opponents said could lead to sex trafficking. Commissioners, town staff, and consultants were accused of incompetence, deceit, conflicts of interest. Much of this criticism played out on Save Davidson's Facebook group, which grew to 2,000 members.
As November's election neared, Save Davidson held forums and endorsed candidates. Its critics, many of them longtime residents, characterized the group as newcomers trying to close the gates, peddling an agenda that would make the town less diverse than it already is. (Davidson's African-American population, now about 9 percent, has been declining.) Some leading citizens, including former Mayor Randy Kincaid and retired Davidson College President John Kuykendall, circulated a letter pointing out that four candidates endorsed by Save Davidson had never voted in local elections. The group, it said, was a voice "that silences other viewpoints and conversations."
***
FOR MOST of its history, Davidson was an isolated place, founded in 1837 by Presbyterians who situated their new college between Charlotte and Statesville so students wouldn't be tempted by city vices. In 1990, the population was 4,046 people. Many had college ties. It was a close-knit community where neighbors chatted while picking up their mail at the post office and kept up with births and family vacations by reading a local newspaper column, "Around Davidson," written by the late Elizabeth Woods, John Woods' mother.
By the 1990s, as Charlotte's growth moved northward, most of Mecklenburg County—and much of the nation—continued to build cul-de-sac neighborhoods, the hallmark of suburban sprawl. Davidson chose a different strategy, creating a cutting-edge comprehensive plan designed to manage growth and retain its small-town character. It favored walkability, higher-density developments coupled with open space, and connected streets instead of cul-de-sacs. It mixed single-, multi-family, and commercial land uses. It forbade gated communities, drive-thrus, and standard big-box store designs.
Even then, certain projects sparked protests: Mayor Kincaid once had a bag of dirt lobbed at him by a landowner angry about zoning changes. As Davidson's land values eclipsed those in nearby communities, though, anger tended to fade. The publication Nation's Cities Weekly dubbed Davidson "the town that sprawl forgot." Even though Davidson's population has tripled since 1990, its growth rate has been substantially slower than that of Cornelius or Huntersville. "We're still the slowest-growing town around," Woods says.
Multiple factors spurred the recent backlash. After development stalled during the recession, the town streamlined planning rules, partly to grow its tax base. Planners say Davidson's rules are still strict, and most new development has been on land already zoned for it. But as the economy improved and development accelerated, some citizens grew alarmed at what those rules permitted. After commissioners allowed a couple of projects that didn't meet every zoning requirement, people saw a development-happy town board.
At least two other issues also eroded trust. One was the unpopular I-77 toll lane project, which Lake Norman area leaders, including Woods, had endorsed. The other was Davidson's controversial 2007 purchase of MI-Connection, a cable and internet company, now called Continuum. Commissioners who approved the purchase believed they could make money for the town while providing citizens better service. But the recession hit soon after, and the company became a money pit that continues to consume nearly 10 percent of the town's annual budget. Commissioner Jim Fuller calls the purchase "a significant mistake made by good people who were trying to benefit the town." Fuller, elected after the MI-Connection purchase, is now the board's only incumbent, the one who calls Davidson "Camelot."
With anger already simmering, plans to sell town land for Luminous became the breaking point. Save Davidson's leaders say frustration escalated because citizens' voices had been ignored. "We'd all had the same experiences in different pockets of town," says Jana Watt, the group's spokesperson. People who questioned commissioners' actions, she says, were often dismissed as misinformed.
Town officials misjudged the depth of citizen dissatisfaction. Some now say they regret not having a public hearing on Luminous, though it wasn't required. "As soon as opposition started, we should have stopped, had a town meeting," says Brian Jenest, a former town commissioner who chose not to run again.
In the run-up to the election, both sides made attacks. Save Davidson's Facebook group became a powerful platform to share information, rally opposition, and air grievances. Certain commenters seemed to feed off anger, seeing bad intentions in nearly every town decision. "…seems like most of the Town Board is benefiting from the developments around town!!" one resident wrote. Said another, complaining that citizens were being pushed around: "Putin and his secret police have nothing on Davidson."
After the election, Davidson's new mayor, Rusty Knox, pleaded for a halt to disparaging remarks. "This election and the last couple years in Davidson have been very divisive," he announced at a board meeting in January. "And it's time that it stops."
Knox, who was endorsed by Save Davidson and favors slowing growth, is a real estate agent and musician whose father, the late Russell Knox, was mayor from the mid-1980s to the mid-'90s. Though some voters had questioned Rusty Knox's lack of experience—he'd never held elected office—the bearded, bald 60-year-old was outgoing, affable, and candid about what he didn't know. For a while, after he told fellow citizens to cut out the squabbling, the town mood seemed to be cooling.
But in March, when the new board voted 3-2 to jettison plans for development on Beaty Street and make the whole property a park, citizens not aligned with Save Davidson accused those voting yes of short-circuiting public input. This was the exact criticism Save Davidson had leveled at the previous board.
Despite growth, Davidson still clings to small-town habits, including monthly chats in which commissioners and citizens meet over coffee. But after the vote to make the Beaty Street property a park, people at the March chat interrupted and argued over each other.
"I'm seeing a wall in our community," one speaker finally said, "and I think it's a wall built on fear."
"What we're experiencing in this room is a town that's divided," another declared.
"This," Knox said, "is not the Davidson that we all love."
Since then, the need for healing has been discussed at length. At Knox's urging, the town held a community dinner in May. Save Davidson's leaders say they're moderating Facebook comments more aggressively. The new town board continues working on its mandate to reduce the amount, scale, and density of development. Some people cheer this direction. Others fret about the undoing of the planning philosophy that made the community so desirable in the first place.
At a meeting in March, one resident noted that the task ahead will be "more about how we treat each other than what we build." Perhaps the new question facing Davidson is whether its citizens, fighting to keep the town they love, can save their community.
Pam Kelley lives in Cornelius. Her first book, Money Rock: A Family's Story of Cocaine, Race, and Ambition in the New South, comes out in September.