A roundup of the latest Charlotte beer releases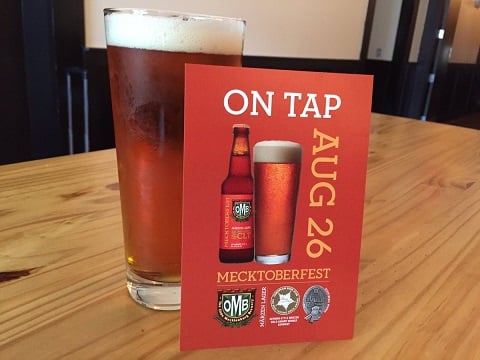 One thing I learned while taking a month off to help out with our family's newest half-pint: there's a lot going on not just every week, but every day, in local craft beer. It's a testament to how much this city has grown in the industry with a huge number of releases in just the last 30 days. It's a great thing to see. So, in case you missed them, here's a look at a number of beers worth checking out/trying if you haven't yet:
Mecktoberfest – Olde Mecklenburg Brewery: One of my favorite local beers, and that of many others as well. I can't laud this beer enough but don't take my word for it, the reigning gold medal at the European Beer Star international competition should be enough to back up any claims to this being one of the best. Crisp, fresh and with a little bit of sweetness, Mecktoberfest has been absolutely dialed in the past couple of years. With an inviting and welcoming taste on your palate, simply put, this is what fall tastes like. Also save the date for the official Mecktoberfest festival at OMB September 23-25. Look for additional information in this space about this annual event soon.
Find it: Currently available on tap and in 6-packs at the brewery and local shops.
Roaring Riot Rye Pale Ale – NoDa Brewing: NoDa Brewing and Roaring Riot, the "unofficial" fan union of the Panthers (quickly growing with more than 25 chapters nationwide) have been partners over the last few years, with the brewery pouring beers at RR's well-attended home (and away) tailgates. One day, Roaring Riot founder Zack Luttrell was talking with NoDa co-owners Suzie and Todd Ford and said if they were ever interested, the brewery should do a "Roaring Rye-ot" release. Almost immediately, it all made sense to do just that.
The result is an impressive beer, one that has that the expected spice of rye but not overbearing. It's well balanced and perfect for football season (the only negative is it further has me pining for NoDa's NoDaRyeZ'd, expected to be available – in cans too! – in early 2017).
Find it: Currently on tap at the brewery and you can also find it at every home Roaring Riot tailgate. There's been high demand for this beer from local accounts, so I wouldn't be surprised to see it showing up at a few craft beer bars/bottle shops as well.
Kind of a Big Deal – Triple C Brewing: Triple C raised the bar from last year's release of this beer, an imperial honey wheat ale. In 2015, Kind of a Big Deal debuted with two variants, one with infused cherries and the other peaches, both aged in Heaven Hill bourbon barrels. The brewery doubled down this year, with four versions of the 22-ounce bottles featuring strawberries, blood orange, ginger and boysenberries and blueberries. Each brings a unique flavor, and once again, all of the KOABD beers were aged in Heaven Hill barrels.
Find it: Look first at the brewery for bottles, where you'll have better luck grabbing the full set. Other local bottle shops have gotten cases, but it's not as certain which they still have left.
Wake Up Porter – Birdsong Brewing: This fall seasonal was released last week, and this is the first year Birdsong has put Wake Up in cans. The brewery uses local coffee from Central Coffee Co. and then adds in fresh vanilla beans to create this warm, smooth and subtly sweet selection. Perfect for late night campfires or tailgating on a crisp early morning.
Find it: Wake Up is available on tap and in cans at Birdsong, and 4-pack cans also just hit local shops in the last couple days.
Bright Ass Tank Top – Unknown Brewing: Pardon the slight pun, but Unknown has become known for its unique pairings when it comes to their beer. So it should be no surprise that the brewery wouldn't just brew the quickly-popularized sweet and salty Gose, but that owner and head brewer Brad Shell would mix it up a bit. That comes in the form of adding key limes to the brew, and then aging it in Nicaraguan rum barrels. The continued warm weather outside makes this one worth enjoying immediately.
Find it: Four-packs of cans are now available at Unknown's taproom and local craft beer shops.
Blurred is the Word – Heist Brewery
Heist has made quite a name for itself of late, both in this city and beyond, with its line of New England-style IPAs. Anytime the brewery releases one of these, people flock to the brewery and there's also a lot of action on the beer trading boards as well. Heist followed up its canned release of Citraquench'l with four-packs of Blurred, another juicy and hoppy beer. The response was just as great (see below).
Find it: Unfortunately, cans of Blurred sold out in just under four hours, which goes to further the statement that Heist's beers are some of the most sought-after in Charlotte craft beer right now. The good news is the brewery will continue canning these beers; it's best to follow their social media pages to see when the next rollout of Heist canned beers occurs. And if you can't wait, the brewery just tapped Not From Concentrate version 7; those are available to go in growlers.
—-
Finally, a shameless plug: I wasn't writing about Charlotte craft beer over the last month, but I did talk about it on The Charlotte Podcast, which was kind enough to bring me on to talk all things local craft beer, new dad life and a host of other topics. Check it out if you haven't yet, and be sure to subscribe to John and Miller's podcast feed. It's really enjoyable, and I'd say that even if I hadn't appeared.