A Sandwich for Saturday
Fresh tomatoes and basil make for a summertime special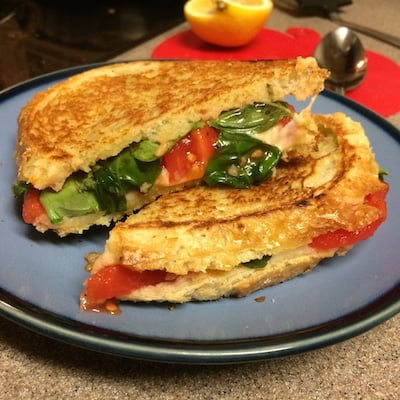 As the official start of summer approaches, it brings humid, hot temperatures, but it also brings in fresh tomatoes and produce that we don't get any other time of year. This weekend, make the most of market finds with a simple caprese sandwich.
One of the best qualities of summertime eating is that the ingredients are so good, you don't need a complicated recipe. Throw some together with a little salt and pepper, and see what you get.
Big leaves of fresh basil make for a flavorful sandwich. I picked these off my plant on the back patio. Wherever you get them, just make sure to give them a rinse.
Tomatoes are just beginning to show up at the farmers markets around town. I peeled mine because that's how I've always done it, but you don't even have to do that. Just make sure to wash off the dirt. Some farmers are growing beautiful heirloom varieties now, so experiment with a few different kinds, such as Cherokee purples or German Johnsons.
Slice some fresh bread and drizzle on some olive oil. The fresh bread options are improving in Charlotte. Give Carolina Artisan or Duke's a try. Heat a pan over medium heat. Then layer a slice of bread, mozzarella, and tomatoes. You can also experiment with different types of cheeses. Stop by Orrman's Cheese Shop in 7th Street Public Market, for a slew of possibilities. Sprinkle the tomatoes with salt and pepper.
Add a layer of basil and a drizzle of olive oil. If you have some balsamic, that would be nice, too.
Add your top piece of bread. Once the underside is brown, flip the sandwich over. I like a pressed sandwich, where the bread is nice and crisp, and everything is melded together. I don't have a panini press, so I improvise with a heavy cast iron skillet.
Once both sides are golden brown, remove the sandwich from the pan and cut it in half. Enjoy the taste of summer!