A Sit-Down with Pierre Bader
The restaurateur shares his love for food over a glass of wine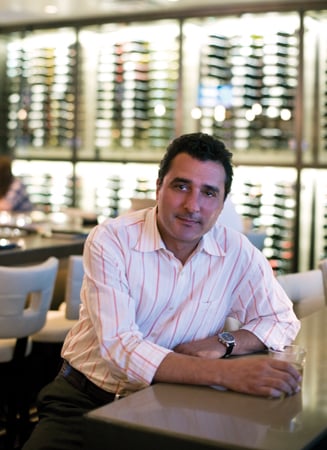 The principal owner of Sonoma Restaurant Group's Press, Aria, Frankie's, and the soon-to-be City Smoke shares a love of food over a glass of wine.
Favorite of the multiregional barbecue flavors City Smoke will dish out? Western and Eastern N.C.
City Smoke standout side dish? Mac and cheese, served in an iron skillet with a brown crust and lots of cheese!
How will C. S. fit in with the other Sonoma restaurants? Like the others, it has its own identity and appetite.
Single most important ingredient in running a successful restaurant? Profit-and-loss statement.
Person you'd most like to have dine at one of your places? Chef Alice Waters, proprietor of Chez Panisse in Berkeley, California.
Why? She sources the freshest ingredients in a simple way that doesn't disguise them.
Dearest childhood recipe you've had passed on to you? Lamb kofta, a traditional Lebanese dish.
Guilty pleasure? Eating Price's Chicken Coop chicken—the second I hit the car.