A Sports Bar Row Along East Boulevard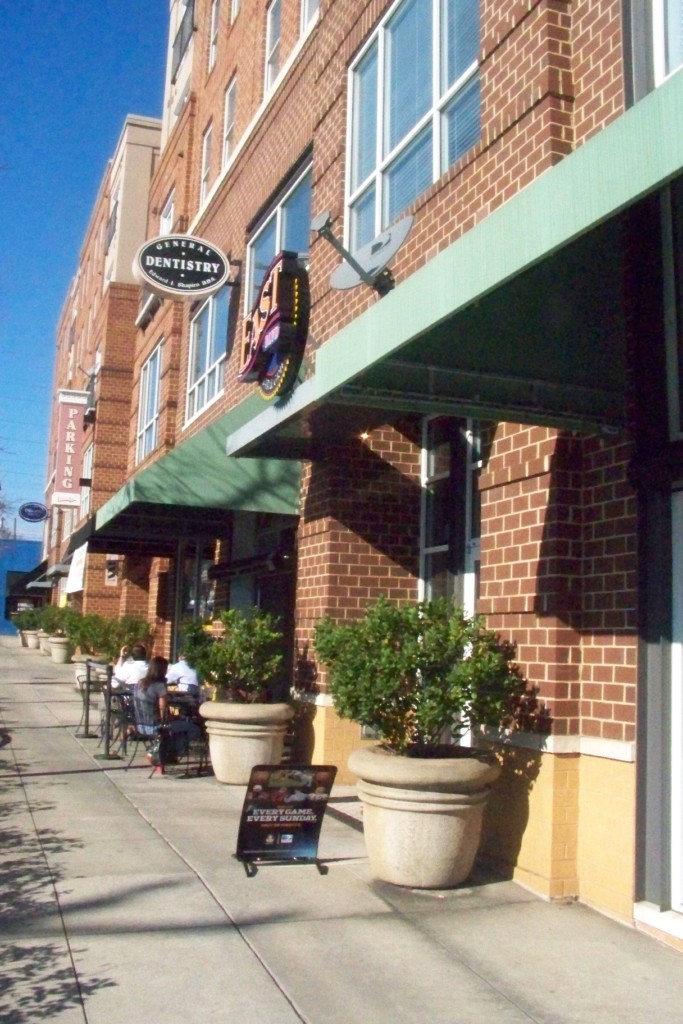 I recently found out that one of my favorite wine bars has converted to a sports bar. If there's one thing Charlotte doesn't have a shortage of, it's sports bars. And perhaps even more telling is that our new economic reality means there's more of a market now for sports bars (cheap beers and eats) than for wine bars (high-priced bottles and flights).
So Yn Wine Café is now Sidekicks Sports & Spirits. And with this new addition, there's sort of a sports bar row along East Boulevard in and around Latta Pavilion, rounded out with East Boulevard Bar & Grill and Sutton House.
Operated by the adjoining 131 Main restaurant, Sidekicks Sports & Spirits is a cozy, dimly lit sports bar, similar to the feel of its predecessor. You'll prefer it if you want a small, intimate place to cheer on your favorite team—there are five TVs—rather than the common chain sports bar that's massive in size. Sidekicks has great daily specials: Mondays, $5 house martinis; Tuesdays, $5 Jose Cuervo margaritas; Wednesdays, $2 Miller Lites; Thursdays, $2 Bud Lights; and on the weekends there are food specials such as $5 wing baskets on Sundays. There's also live music often on Friday and Saturday nights. Open Mon.-Thu., 5-11 p.m.; Fri., 5 p.m.-12 a.m.; Sat., 11 a.m.-12 a.m.; Sun., noon-10 p.m. Sidekicks Sports & Spirits, in Latta Pavilion, 1315 East Blvd., 704-343-0131, facebook.com/SidekicksSportsandSpirits.
East Boulevard Bar & Grill is the long-timer, in business for more than twenty years, but in this location at Latta Pavilion for the last two-and-a-half. It's as much a restaurant as it is a sports bar, with a large food menu—salads, burgers, wraps, tacos, seafood, and more—and plenty of table and booth seating. Open daily from 11 a.m. to 2 a.m., this spot makes it easy for you to catch a game no matter the time of day or night. On warm days, they open the large sliding doors, leading to the sidewalk-level patio. East Boulevard Bar & Grill, in Latta Pavilion, 1315 East Blvd., Suite 130, 704-332-2414, ebbandg.com.
A venerable sports bar on this block changed ownership last March, causing Picasso's Sports Café to become Sutton House (there are still Picasso's locations in uptown and University). Aside from the blue paint, large lettering on the windows, and black awnings marking the changes to the façade, the inside of this sports bar has pretty much the same look and feel. There are twenty-eight TVs and three projection screens, so a number of games are shown, though this spot is popular for UNC basketball, Panthers and Redskins football, plus a contingent of Wake Forest and Georgia fans have made it a favorite hangout; Charlotte Bobcats games get love too. The food is good, led by the wings and pizza. And the owners want to grow the reputation as a taphouse, featuring twenty-eight beers on tap currently with plans to add more. Open Mon.-Thu., 4 p.m.-2 a.m.; Fri.-Sun., 11:30-2 a.m. Sutton House, 1301 East Blvd., 704-331-0133, suttonhousedilworth.com.
Be sure to bookmark www.charlottemagazine.com/Blogs/Dusk-Till-Dawn to stay plugged into Charlotte nightlife.