A Survey of Charlotte's Best Vegetarian Restaurants
A fresh look at the city's meat-free menus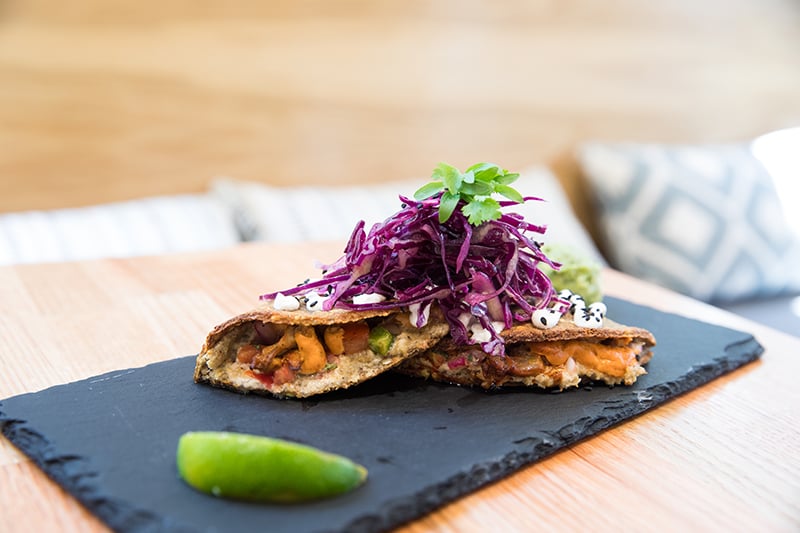 IN FIFTH GRADE, when I decided to give vegetarianism a shot, my school's lunch ladies were concerned. My elementary school's cafetorium wasn't bustling with meatless options, save for the cheese pizza on Fridays. So every day, when I came through the line, one woman reached behind the buffet and handed me a tray with a special boxed chef's salad sans ham and a strip of masking tape atop that said, "For Jared."
I decided to go vegan (meaning no dairy, eggs, or meat) before moving off to college in 2008. I later accepted an internship with People for the Ethical Treatment of Animals, which is how I wound up one afternoon in July 2010 on Pennsylvania Avenue in Washington, D.C., in only my underwear, painted white from head to toe except for a red maple leaf emblazoned on my chest. I had joined PETA at the Canadian Embassy that afternoon to protest the country's support for its annual seal slaughter.
This same vegan journey has also often found me stabbing my fork into a side salad, because that was the only menu item I could order. Restaurants have come a long way since then, so lately I've been eating fine helpings of dairy-free chocolate cake, cheese-free cheese pizzas, and pulled "pork" barbecue.
We're not yet on the same level as Asheville or Portland when it comes to vegetarian restaurants, but there's a delicious start to the city's meat-free spots.
---
Living Kitchen
Multiple locations
The food here is both photogenic and delicious. It's also largely raw. Living Kitchen expanded in 2017 to a second location, the old Zebra restaurant in SouthPark. You've got to be good to have more than one location.
Must order: The chipotle quesadilla combines carnitas made from mushrooms with cashew-based mayonnaise and sour cream, pickled cabbage, and guacamole for a raw spin on an old favorite ($12).
---
Fern, Flavors from the Garden
1419 East Blvd., 704-377-1825
The first thing you'll notice about this Dilworth spot is the cucumber water. It surprises you at first sip, and then you wonder why all water you drink isn't cucumber water. Next, you'll unwrap your silverware and wonder why all silverware isn't in the shape of fiddlehead fronds. The restaurant, which moved to the neighborhood from Plaza Midwood in 2016, is mostly vegan, but it also serves eggs and cheese with a few entrées for those who want them.
Must order: The cinnamon rolls at brunch ($10).
---
Ma Ma Wok
11914 Elm Ln., Ste. 100, 704-544-8863
Last August, this Chinese restaurant went vegan, trading in its General Tso's chicken for mock duck, its sha cha beef for shrimp-less shrimp. There are no frills on the inside, but there's clearly attention focused on the food.
Must order: Vegan seafood is, perhaps, the last frontier of vegan foods. The Kung Pao vegan shrimp is a welcomed start ($10.99).
---
Bean Vegan Cuisine
3001 E. Independence Blvd., 980-939-1234
If you can get past the dingy exterior and, well, the interior, too, Bean will reward you with some of the best vegan comfort food you'll ever eat. There's no way to make crab dip a health food, so this might not be your spot if you're looking for a health food oasis. You might see things on this menu you've never heard of, including soy curls and jackfruit. Don't be scared. I'm serving barbecue jackfruit at my wedding in November because of how delicious it was here.
Must order: The cowboy burger with vegan bacon, cheddar cheese, onion rings, barbecue sauce, and ranch dressing ($11.99).
---
In the mood for vegetarian food and in a hurry? Try these:
Rico's Acai, multiple locations.
If you haven't tried Rico's acai bowls, you're missing out. They're delicious, colorful, and Instagram-able. Bonus: They're also incredibly healthy.
Cinnaholic, 6461 Old Monroe Rd., Ste. F, Indian Trail, 704-684-7031.
This vegan bakery, born from ABC's Shark Tank, opened in March, and it's worth a trip for the divine vegan cinnamon rolls drenched in frosting. They may not be the healthiest of options, but hey, even vegetarians have to live a little.
Viva Raw, 224 E. 7th St., 980-275-3834.
Cleanse yourself at this juice bar inside the 7th Street Public Market. You'll want to try this after devouring a cinnamon roll from Cinnaholic.