A Taste of the Exotic: Levant Mediterranean Cuisine
Levant Mediterranean Cuisine brings upscale Middle Eastern cuisine to uptown—in a setting that feels worlds away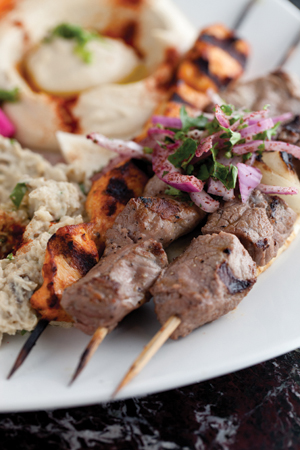 Tucked into a small but luxurious space between the Mint Museum and the Bechtler Museum of Modern Art, Levant Mediterranean Cuisine offers traditional Eastern Mediterranean food in a lavish setting. Filigree light fixtures cast patterned shadows on the walls and ceiling, shedding soft light on beautiful geometric woodwork and tall, dark wooden chairs inlaid with mother of pearl. With its exotic charm, a hookah or gently swaying belly dancer would not feel out of place.
If the décor is inviting, the food is even more so. Named for a swath of the Eastern Mediterranean from Egypt to Turkey that includes Lebanon, Syria, Jordan, Israel, and Palestine, Levant is the upscale sister restaurant to owner Omar Kweider's Kabob Grills in Dilworth and Stonecrest. Like its sibling eateries, Levant's menu is uncomplicated, featuring traditional Levantine cuisine—most familiarly known as Middle Eastern—without pretense.
Nearly all of the starters are vegetarian-friendly. Baba ghanouj ($8), the creamy roasted eggplant spread rich with garlic, keeps company with other traditional foods such as smooth, velvety hummus ($8); juicy yalanji ($8), grape leaves stuffed with rice and tomato; and mihammara ($8), a spread with bread crumbs, walnuts, chili pepper, cumin, and olive oil. Miniature spinach pies ($8)—savory and lightly tangy with lemon juice—should not be missed.
Main dishes, which range in price from $14 to $35, include traditional items such as lamb, beef, chicken, shrimp, or kafta (ground, seasoned beef) kabobs, and fried kibbeh, petite, torpedo-shaped dumplings stuffed with sautéed ground beef, onion, and walnuts. But there are also a few surprises—a juicy lamb burger ($15) comes with a side of French fries, veal Madeira ($35) is cooked in a Boursin cream sauce, and a rosemary rack of lamb ($35) is served with garlic mashed potatoes and a port wine reduction. Most entrees come with a choice of two side dishes. Tabbouleh is tangy with bright flavors, and falafel, a dumpling dish made of fried chickpeas and fava beans, is crispy, flavorful, and also available as an appetizer.
Knowledgeable servers describe the dishes well (a helpful note for first-time diners), and worldly wine and beer lists offer interesting, rare options like Almaza, a Lebanese beer, and Chang, from Thailand. While Levant's traditional Eastern Mediterranean fare may not be entirely new to Charlotte palates, its artsy location, approachability, and out-of-the-ordinary ambiance make it an addition to the city's ethnic food scene that, given the chance, could win over even the most unadventurous diners.
Location:
501 S Church St Ste 120
704-333-0930