A Teen's Picture Book Reflects Immigrant Experience While Raising $100,000 for Preschool
Inside the making and continued impact of Amelia Wyatt's 'Ozzie and the Island'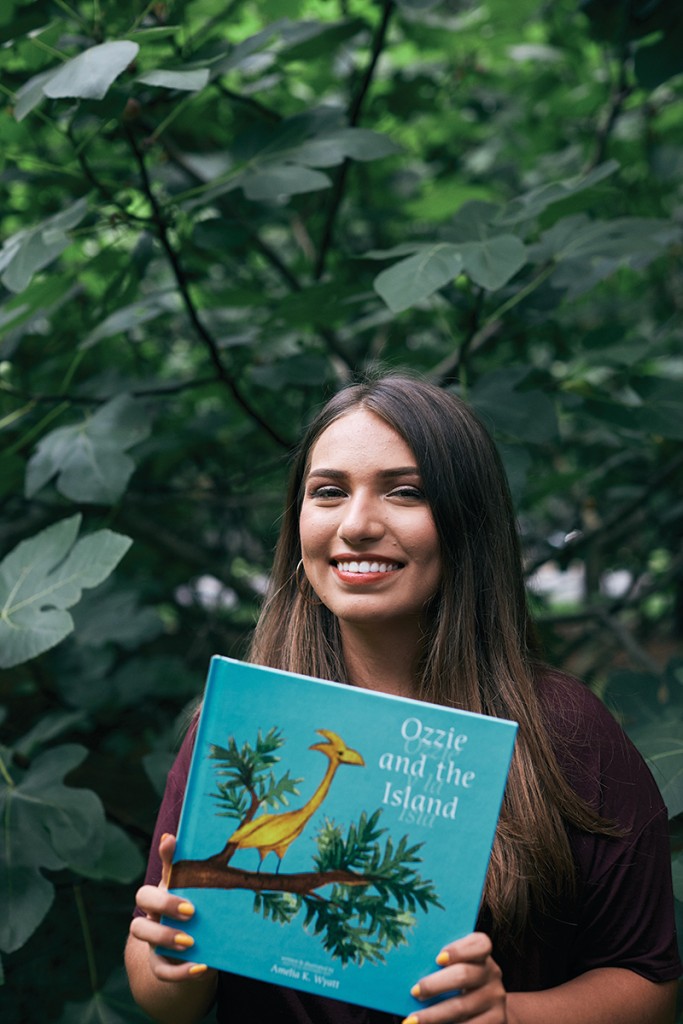 La Escuelita San Alban was in trouble. The preschool, part of Davidson's San Alban Episcopal Church, launched in 2014 to provide affordable, play-based learning in English and Spanish, and it's faced an uphill battle for funding ever since. Amelia Wyatt, who is Colombian-American and now 18, volunteered there almost from the beginning: She helped children learn to count with chocolate chips and, on summer Fridays, had as much fun as the toddlers playing outdoor water games.
When Wyatt was in middle school, where she drew whimsical birds in the margins of her math notes, a funding shortage threatened to end La Escuelita's preschool program. She knew how she could help. La Escuelita's executive director, Pat Shaw, connected Wyatt with the Davidson publisher Lorimer Press, whose editor, Leslie Rindoks, helped Wyatt turn her writing and artwork into a bilingual picture book, Ozzie and the Island. Wyatt worked on the project for over two years before its publication in 2017 as the preschool managed to stay afloat. "Most people think that it's easy because it's simple," Wyatt says. "But it's actually the simplicity that makes it complex."
She carefully shaped the book's narrative, about a tired bird who encounters unkindness and obstacles on a strange island, to reflect the immigrant experience. She was careful to do justice to the challenges faced by her mother, Edna, who immigrated from Colombia in the mid-1980s, and the families she worked with at La Escuelita. Then she had to distill the story into writing and illustrations that complemented rather than echoed each other. Like La Escuelita, where each classroom has both Spanish-speaking and English-speaking teachers, Ozzie and the Island is dual-language. The full text appears in both languages, so Ozzie can meet children where they are, which may not be in one language or the other but somewhere in between.
"It was the seminal project of my adolescence," she says, and it helped her understand the kind of leader she'd like to be. "Being a leader can be in these quiet moments that people forget. It could be highlighting a story of somebody you just met or reading a book to a small child."
At the preschool, children are drawn to her patient, relaxed approach. "They love to sit with her and paint and say, 'I want to do what she did,'" Shaw says. Since 2017, Ozzie and the Island has raised more than $100,000 to continue La Escuelita's mission to provide Latino children with vital preparation for school. This spring, as a senior at Cannon School in Concord, Wyatt also won the National Society of High School Scholars' Claes Nobel Future Female Leader Scholarship, which, after a gap year, she plans to apply to her first semester at Duke University in fall 2021.
But the success of Ozzie and the Island goes beyond fundraising. "There's a special pain in never seeing yourself in a book," says Balaka Basu, who specializes in children's literature as an associate professor of English at UNC Charlotte. All human beings understand their lives through stories, she explains, and they help develop and affirm children's developing identities. "You're not just learning words," Basu says. "You're learning a culture."
Children under 8 in particular are irrevocably shaped by the interactions, narratives, and experiences they encounter. To illustrate the importance of representation in literature, Basu cites education scholar Rudine Sims Bishop: "Literature transforms human experience and reflects it back to us, and in that reflection, we can see our own lives and experiences as part of the larger human experience."
As activists protest for racial justice and better representation in American public life, the publishing industry has come under renewed scrutiny. Our literature still doesn't reflect the vast diversity of experience this country contains.
But Basu finds hope in today's youth. Generation Z, she says, embraces difference more than previous generations. Books like Wyatt's, and the quiet leadership she embodies, help make that possible. When children engage with a wide range of human experiences and see their own lives reflected in literature, Basu says, "we're giving them the opportunity to make a better world."
Wyatt, who considers herself an introvert, may not have seemed the natural choice to lead a fundraising campaign, but her passion for the program helped her overcome her shyness. "I sent hundreds of emails, I went to talk in boardrooms, at town halls—whoever would listen," she says. She didn't feel like she had much of a choice. "I thought the adults around me would do something," she says, "but, you know, adults are very busy."
ALLISON BRADEN is a writer, Spanish translator, and contributing editor for this magazine.