A Thanksgiving Roll
Cowfish unveils a turkey-day inspired treat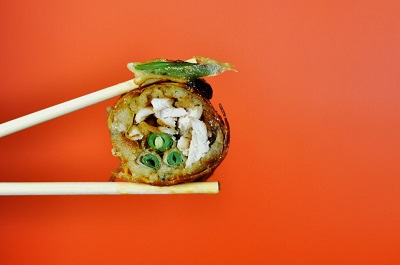 Are you a mega-fan of Thanksgiving and look for the flavors of turkey, potatoes, and stuffing everywhere come November? Good news: you can get the flavors of the season in a sushi roll at The Cowfish Sushi & Burger Bar.
Gross? Hardly. The chefs at the both the Charlotte and Raleigh locations of the restaurant have whipped up the Gobble Gobble-ooshi roll. The best news? When you purchase the roll at the Charlotte location, 20 percent of proceeds will go to the Second Harvest Food Bank of Metrolina, which works to end hunger and homelessness in our area. Hurry, though; the roll is only available (for $16) through Thanksgiving.
So, what's in it? Roasted turkey and fried green beans are paired together then wrapped in soy paper and sweet potato strings. The whole concoction is then flash fried and topped with the seasonally sweet favorite, cranberry sauce, and a few more fried green beans for good measure. Of course, it also comes with gravy – because obviously we can't have Thanksgiving without gravy.
"We're excited to help raise money and awareness for an organization doing vital work in our community," said Cowfish co-founder, Marcus Hall, in a news release. "During a season of giving, it's important to us that we do something to help our neighbors who are hungry."
So head in, grab this delicious roll, and gobble it down for a good cause.