A Tight Schedule: A Day in the Life of a Charlotte Cross-Fit Instructor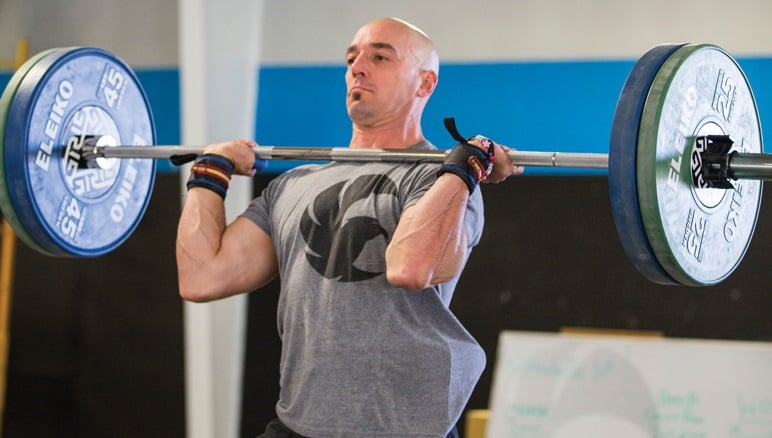 BRENDAN MCNEIRNEY wants to beat you in horseshoes. He wants to beat you in soccer. And he'll even settle for beating you in beer pong.
McNeirney, 38, is the head coach and general manager at CrossFit Stax in the Rugby Athletic Center on South Tryon. It's a gym focused on a high-intensity, functional-fitness program that incorporates components from gymnastics, weight lifting, and everything in between to develop healthy bodies.
"I'm not a good loser," McNeirney says. "I'll be competitive at anything. Top third is my thing. I want to be top third at anything I do."
To stay on top of his fitness game (and everyone else's), McNeirney—a 6-foot tall, 195-pound mass of muscle—keeps a tight schedule.
A Day in the Life of Brendan McNeirney
4:45 a.m.: McNeirney gets out of bed before the sun rises three to four days a week. Many Charlotteans hit the gym before work, so his workday starts before theirs. "I'm like a zombie," McNeirney says. "But it's easy to get up when you like what you do. There's never a moment when I wake up and say, 'Ugh, I've got to get up.'"
5:15 a.m.: After putting on his "business suit"—tights, a T-shirt, and shorts—McNeirney clocks in for work.
5:30 a.m.: McNeirney teaches CrossFit Stax's first class of the day, encouraging early risers to finish the workout of the day or WOD, as he calls it.
6:30 a.m.: The day's first class ends, and McNeirney heads to his Starmount home to wake up his daughters and see his wife, Kelly, off to her workday. She's a middle-school teacher.
7:15 a.m.: McNeirney helps get Hannah, 8, and Elise, 6, ready for the day. He removes the CrossFit coach hat and dons his chef's toque. What's on the menu for a man who pays the bills by keeping fit? "About 90 percent of the time it's an egg sandwich with ham and cheese on a bagel, or a sandwich and fruit." McNeirney sits down and eats breakfast with his daughters, puts them on the school bus, and returns to the gym.
9:30 a.m.: A whole different set of Charlotteans is ready to sweat it out over an hour-long session involving handstand push-ups and pull-ups, two common McNeirney exercises.
10:30 a.m.: McNeirney is ready for his own hour-long workout.
"I want to look like you," or "What do you do?" are popular phrases McNeirney hears. "The reality is, my workouts are the same as the classes but maybe just a little bit faster," he says, "and I can carry maybe a little more weight."
Noon: Participants in the day's third class opt for a midday workout.
1 p.m.: Lunch is served. It changes, but the outline is always a protein, a carb, and a fat. A favorite combination for McNeirney is a chef salad with ham, bacon, and an assortment of fruits and vegetables.
2 p.m.: McNeirney heads home for a power nap, anywhere from 15 to 45 minutes. "Just enough to turn off completely," he says.
3 p.m.: McNeirney isn't just a teacher. He's a student. Every day he searches for fitness tutorial videos of how to improve the exercises he teaches.
He also carves out time to connect with other fitness gurus through social media, following them on the CrossFit Stax Instagram, Twitter, and Facebook accounts.
4:30 p.m.-7:30 p.m.: McNeirney teaches his fourth, fifth, and sixth classes of the day.
7:45 p.m.: Time to head home. McNeirney's family has usually eaten dinner, so he eats a plate left over for him, often modifying it to include extra protein. "Usually, I'll make more eggs—something I can eat quickly—so I can hang out with the girls before they go to bed," he says. "Eggs are pretty much my go-to. I eat a lot of eggs."
9:30 p.m.: As the day winds down, McNeirney and Kelly watch an episode of one of their favorite TV shows: Boardwalk Empire, New Girl, or The Walking Dead.
10:30 p.m.: It's bedtime for this husband, dad, coach, and fitness fanatic.