A Valedictory For Levine Museum's Brenda Tindal
Charlotte historian reflects on active two years as staff historian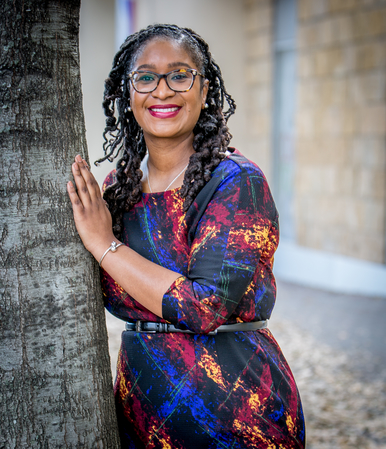 Charlotte native Brenda Tindal, 36, will leave her job as the Levine Museum of the New South's staff historian on December 8 for a new position as director of education for the Detroit Historical Society. As part of her job, she'll lead the society's "Detroit 67: Perspectives" project, which examines the legacy of the 1967 riots in that city. Tindal has been the Levine museum's historian since September 2015, when she took over for Tom Hanchett. In her two years, she helped shepherd the K(NO)W Justice K(NO)W Peace exhibit on the 2016 Keith Lamont Scott demonstrations and the popular dinner-and-dialogue series Breaking Bread. I spoke to Tindal by phone Tuesday; our conversation is edited for clarity and space.
Charlotte magazine: What drew you to the Detroit job?
Brenda Tindal: A few things, but in particular, I'm excited about their newest project, the Detroit '67 initiative, which looks at the history of Detroit over the course of 150 years but with a focus on the 1967 riots. As a person who has been deeply engaged in civil rights scholarship for a long time, it definitely piqued my interest. The Detroit riots were a significant part of civil rights history in the urban north. So I'm just excited about the ability to build on that work and to continue my public history work.
CM: What in particular about the 1967 Detroit riots piqued your interest?
BT: I think oftentimes, when we think about the civil rights movement and the struggles that evolved out of the 1950s and 1960s, we often think about it in a Southern context. And while the South deeply informed that legacy, one of the areas of that scholarship that remains worthy of examination is the role that the North and Midwest and other places outside of the South played in responding to their own civil rights and community struggles. The riots in Detroit in 1967 belong to a really robust history of urban unrest outside of the South after the classical phase of the civil rights movement. So much happened in the last few years of the '60s and in the early '70s that's very much part of that longer narrative. Detroit is a place that has gone through a lot over the years, and to see it actually coming back to life in the ways that it is, but also to see its story become part of a community understanding through the exhibit at the Detroit Historical Society—it's really exciting.
CM: Why and how are the '67 riots relevant today?
BT: Oh, my goodness. When we think about what's happened in the last four to five years in places like Ferguson and even here in Charlotte, it's very clear that these contemporary sort of spasms of unrest didn't happen in a vacuum. They belong to a long history of communities responding to issues that impact particularly people of color in urban areas. But even more than that, when we talk about community responses, we're talking about a whole community, in all its diversity. So when we think about what happened here in Charlotte, that's not a black-white issue, so to speak. It's a community issue. We're all responsible for ensuring that our city is a healthier place. So I think that understanding the history of it, whether it's Detroit or Charlotte, is a vital part of making it a healthier place in the aftermath of that.
CM: Right, because there's a tendency to see the civil rights movement as something that happened a long time ago in black and white with John Lewis crossing the Edmund Pettus Bridge, when it's actually something that never really wrapped up.
BT: Sometimes when I think about the Detroit '67 project and K(NO)W Justice K(NO)W Peace, the exhibit here at the Levine Museum, with Detroit, there's 50 years of distance from that episode that clearly divided a community. In the case of Charlotte and September 2016, there isn't the luxury of historical distance. So rapidly responding to those community issues, I think, is an important way in which a place like Levine Museum is keeping its finger on the pulse of events that will have historical gravitas 50 years from now. It was fabulous that we were able to mobilize ourselves to be responsive so quickly after September 2016.
CM: What would you say is the most important thing you've learned about Charlotte since you were hired as the Levine Museum's staff historian?
BT: This is a community—and I don't know if I learned this in the past two years or if it was just reaffirmed—that is incredibly responsive in terms of wanting to make sense of, interrogate, find solutions to, the challenges and opportunities that exist in this city. The last two years have presented so many opportunities to observe community members really coming together—to have conversations, but also develop solutions and practical ways to respond and start chipping away at the things that challenge us in a community that is rich with resources and people. So in that regard, it was reaffirmed, particularly after September 2016. This is a community that really cares about making Charlotte the healthiest and most equitable place it can be.
I'd also say that what I've learned is that millennials, young people, will play an important role in the future of Charlotte. I think the last two years as staff historian has really illuminated that for me. When I think of some of the conversations I've been a part of at places like UNC Charlotte, Davidson, when I think about the ways in which the unrest in September 2016—people didn't just retreat or get frustrated. They actually decided to, like Braxton (Winston), run for office. I find so much inspiration in folks rising out of unrest in these very productive ways. I think about folks like Alvin Jacobs, whose photography was really a significant part of the K(NO)W Justice K(NO)W Peace exhibit, to see his corpus expand is exciting—to just see the young people who are not only invested in the sort of intergenerational conversations but actually being the conveners of those conversations. It's really powerful. This is an exciting time for young people to not just sit at the seat of the establishment but to begin to take cues from them in crafting their unique approach to moving Charlotte forward.
CM: How did the events of September 2016 change your own perception of your job and role in the community? Or did they?
BT: I think they did. The Levine Museum has long been a place that people sought out and expected to have tough conversations and to be the conveners of those tough conversations. September 2016 was in keeping with that tradition. The difference in some ways is that we used this rapid-response approach. Rather than taking three to five years to curate an exhibit, we did it in three to four months. It's sort of an exemplar for how Charlotteans are. It was an important moment to build on our mission to use history to build community. Using the history of Charlotte—what we call "Swann to Scott," from the Swann v. Board of Education decision (which approved busing as a tool for school desegregation) to the Keith Lamont Scott shooting—over the course of 50 years and placing that into conversations about contemporary issues is a spectacular approach to advancing our mission.
I think the (Chetty) study that came out in 2015 really illuminated some of those divisions that existed along both racial and socioeconomic lines. In many ways, building on those data and the eagerness of Charlotteans to have real conversations—I'm excited that I was able to play a small role in helping provide historical context as we grapple with these contemporary issues. If anything, I think what I've been able to do in my role in some of these conversations is remind people of the historical context that undergirds some of the things we experience in the moment, here in Charlotte and elsewhere.
CM: What would you say was the most fulfilling or valuable thing you did in your time as staff historian?
BT: A number of things, but I have to go back to K(NO)W Justice K(NO)W Peace and some of the programs that I helped cultivate and lead, including our Breaking Bread program. What I saw was people really coming together to have hard conversations at a moment when our city needed it more than ever. One of the critiques in the city is that we have "dialogue fatigue." But in a city that accepts 50 new people a day, there are a lot of people who care about this city who might not be from here, but knowing Charlotte, knowing its history, is really important in helping people be better community members. The Breaking Bread program in many ways has helped orient folks to the long history of Charlotte—and it also gave a platform to some members of the community who are working to make Charlotte a healthy, happy, and more equitable place, and they're not always the folks who are most readily recognized. I've had people come up to me and say, "Breaking Bread really meant so much to me. It helped me understand how we got to this place." It was a real pleasure to be able to do that.
CM: So you're saying that you never felt dialogue fatigue at the Levine?
BT: (Laughs) Well, one thing that's important is that Charlotte is rapidly changing, so while there is a conversation around dialogue fatigue …
CM: Right. Dialogue about dialogue fatigue, and then you get fatigued over the dialogue about the dialogue fatigue.
BT: Right, but I think with so many new people coming to Charlotte who haven't been part of the dialogue—having those kinds of conversations is as important now as they ever were. On top of that, one of the things that Breaking Bread and K(NO)W Justice K(NO)W Peace have been able to do is invite conversation outside the echo chambers we so easily fall into. I've seen intergenerational conversations; I've seen people talking across racial and socioeconomic lines. To me, that is so important right now. The fact that the Breaking Bread program sold out all three times says so much about the eagerness to continue those conversations.