A Veteran Reporter on His Young Son's Battle with Cancer
Six-year-old Liam Flynn charged headfirst after life. In October 2018, he complained of sharp pains in his stomach and back. Over the next 18 months, he and his family would learn about perseverance and pain, love and acceptance, and saving yourself by serving others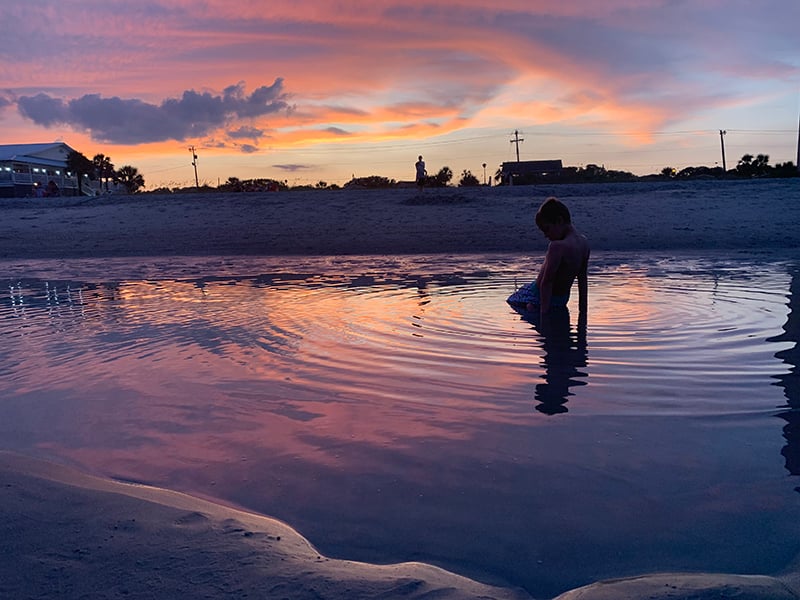 I. Lions
"Daddy, I'm scared!" My 6-year-old son was trying to sleep as I sat next to him in his bed.
"What's scaring you?"
"Lions."
"Lions?"
"Yes, lions are going to try and get inside the house!"
I spent the next several minutes explaining that there aren't any lions in Charlotte, and even if one did escape from a zoo 30-plus miles up the road, they couldn't get in the house. This logic escapes 6-year-olds.
We would go through this ritual often in the untroubled time before. It always ended with me asking: "What's my most important job?"
"Keeping me safe," Liam would answer, with some uncertainty.
"Am I good at my job?"
"Yes, Daddy!" he would say, confident and comforted. I would kiss him on the head and leave, knowing he would be asleep in minutes.
II. Nine days
Liam runs headfirst into everything he does. He is the rambunctious kid who bruises his peers on the playground—not on purpose, usually. Liam started to play soccer at 3 after he saw me playing with Aidan, his older brother. He and his friends played for hours, running, shooting, hitting each other. As a volunteer coach, I tried to explain that the point was to get the ball from the other player, not get the player. I'm not sure he ever learned that lesson.
A year later, when I took him in for a checkup, his pediatrician told him, "You're the kind of kid who puts me out of work." He challenged Aidan, three years his senior, to wrestling matches. He leaped from the tops of jungle gyms. It didn't matter. Liam never seriously injured himself. Other people, sure. His brother, all the time. Me, absolutely. Never Liam.
It took nine days.
Nine days in October 2018, nine days that Stephanie—my wife, Liam's mother—and I began as the parents of a healthy, fearless little boy and ended in the worst season of our lives.
They started when Liam complained about sharp stomach and back pains that kept him awake at night. We went to the doctor four times within a week for multiple X-rays that showed nothing specific. On Friday, October 19, we took Liam to a gastroenterologist, who admitted him to Novant Health Hemby Children's Hospital for more tests. By the time we arrived, Liam could no longer walk on his own. I carried him into his room. Stephanie and I were not going to leave until we had answers.
The doctors scheduled an ultrasound but couldn't get to it until 11 p.m. Stephanie and Aidan went home while I stayed with Liam. During the scan, I tried to read the technician's face. She looked extremely focused, almost distant to Liam and me. She looked worried.
We went back to our room, where, thanks to pain medication for him and lack of sleep for me, we fell asleep.
Just before 2 a.m., our nurse shook me awake and asked me to come speak with the doctor, who wore a somber expression.
"Liam's test results," she told me, "show signs of cancerlike growth in his pancreas and liver."
"How bad is it?"
"I don't know."
I asked several more questions. She answered the same way.
How could she not know? She was the doctor. I depended on her to know what was wrong with my son. How was I supposed to feel about her not knowing? I did not cry. I sat there, numb, wondering if this was real or a nightmare.
Whatever this was, how could I not have protected him from it?
III. The call
People resist the idea of death, not just emotionally but neurologically. Last year, a scientific journal published a study that assessed how "(t)he human mind has an automatic tendency to avoid awareness of its mortality." If we're wired to push away the idea of our own deaths, how can we absorb the prospect of our children dying?
I sat and stared at my son as he slept peacefully for the first time in a week. I brushed his floppy hair and kissed his soft, chubby cheeks.
Then I made the worst phone call of my life. I would have to tell Stephanie that the younger of our sons probably has cancer and reply, "I don't know," to her questions. I thought about letting her have one last good night's rest, then shook it off. This couldn't wait. I stared at my iPhone. What were the right words?
There were none. I took a deep breath and pressed the call button.
IV. One in five
Stephanie arrived at the hospital at 4:30 a.m., her parents having driven an hour and a half from Winston-Salem to watch Aidan. We stood for a few minutes and looked at our child as he slept, then lay on the couch at the edge of Liam's bed, emotionally and physically exhausted. We held each other tightly. My throat was constricted and raw, as if I'd screamed for hours at a concert or game. But we were together. I had never felt closer to her. Nothing needed to be said.
An oncologist from St. Jude Affiliate Clinic at the hospital sat us down that morning. She told us 80 percent of pediatric cancers are treatable. That number is simultaneously a relief and a horror. Most kids survive cancer treatment. One in five does not. One of every five kids with cancer does not survive it. That echoed in my mind over the next few days of more scans, surgeries to take a biopsy sample and insert an IV port, and the start of a steroid regimen to shrink the tumors.
The doctors delivered an official diagnosis: stage 4 Burkitt's lymphoma, a type of non-Hodgkin's, an extremely rare and aggressive cancer that had spread throughout Liam's body. Scans showed cancer in his nasal cavity, leg bones, and torso, and a 4-inch spinal tumor that the doctors believed had made his right leg stop working. Fighting the cancer would require aggressive treatment, a chemotherapy protocol that would leave him highly susceptible to life-threatening infections.
We discussed this with the oncologist.
"These next six months," she said, "are going to be really hard."
We sat there.
"You're going to need to pull Liam out of school. At least one of you will need to take a leave from work."
Deep breaths.
"You will be spending a good amount of time in the hospital."
More breaths. Then:
"Take a moment to mourn the loss of your healthy child."
Shock set in. What could I say? We hadn't even started the fight, and already the doctor was telling me to mourn my child—or a version of him: the Liam we knew, soccer Liam, jungle-gym Liam. It felt callous, heartless. In a way, it was. But it was this, too, as we came to learn: the truth. The oncologist was a brilliant and highly skilled physician. She likely had delivered that line before. We needed to accept the reality of what we faced. It hurt, and it would continue to. We would not be able to escape it. We had to struggle through it.
We nodded, took our moment, and got down to the business of saving Liam.
V. "Learned helplessness"
This year, during the early days of the coronavirus lockdown, a friend of mine texted me in the middle of the night and asked for advice. He felt helpless after weeks stuck inside his house with his wife and kids. He wanted to do something, anything, but felt he couldn't.
People are not meant to be isolated. We're social creatures. I spent a 25-year career in television news meeting people every day. Liam's treatment required our family to distance ourselves from the world. We spent hours, days, weeks alone with each other in the hospital. On the days we escaped, our home became a kind of quarantine zone.
Psychologists have studied a phenomenon they call "learned helplessness," a pattern of behavior people display when they're repeatedly subjected to misfortune or adversity they can't control, like a wildfire that destroys their home, or a global pandemic, or a child getting cancer. People can give up and resign themselves to what they imagine is their fate. I faced this demon in the first weeks of Liam's treatment. The doctors and nurses treated my child while I, helpless, sat and watched.
On the first day, the two nurses wore specialized gear—masks, gowns, and gloves. They treated the medicine as if it were toxic, which it is. I had to sign a form that would allow them to fill my son with poison that would make him sicker than he already was. The poison would make him throw up. It would make him lose his appetite and a quarter of his body weight. It would make his hair fall out. It would devastate his immune system. I signed the form.
One of the chemo drugs, a commonly used, decades-old agent called methotrexate, is an unnatural, bright yellow that reminded me of something Homer Simpson would casually pull out of the nuclear power plant. I watched it drip from the IV through a tube and straight into Liam's chest. Within an hour, he was screaming, over and over, "I want to go home!" I watched and heard and felt this happen. But I had signed the form. I could do nothing.
There are moments when you stop and assess—not only your circumstances at the moment, not your prospects for the future, but everything. This was that moment for me. Who was I? What did I value, really? Liam's illness and treatment were tearing me down to the core so mercilessly, so profoundly, it was almost freeing. Petty matters dissolved. Ambiguity drifted away. Clarity filled the void, as if the clouds had parted to make way for sunlight.
I needed to focus on one thing: my family.
Liam needed more than just medical attention. He needed to be reassured he was going to be alright. He needed mental stimulation and emotional support. He needed to be loved, especially when he was kicking, fighting, and screaming, "I want to go home." Aidan needed attention and love, too, in some ways more than Liam did. Stephanie and I began to include Aidan in conversations, decisions, and activities. It isn't just the patient who has to endure the forced march through cancer treatment. Siblings do, too.
Through research and experience, I know something about what crises like the one Stephanie and I faced can do to marriages. Studies show that the marriages of pediatric cancer patients' parents don't collapse at a rate higher than in the population at large. The illness itself doesn't make or break the relationship. But if fissures or conflicts already exist, the trauma of a sick child can expose, widen, and aggravate them, and some marriages don't survive that.
Ours did.
One evening, after a long and emotional day, Stephanie and I leaned against our kitchen counter. She's our family's bedrock, and she wore a sad, tired expression.
I asked, "How are you doing?"
"I'm not sure," she said. "I feel like …"
A few seconds passed before she could find the words.
"I feel like I have a kid with cancer."
"I feel like I have a kid with cancer as well." We reached toward each other and embraced, and we stayed that way for a long time.
VI. Hope kicks
Day after day, nurses continued to pump steroids and chemo drugs into Liam. I'm still haunted by the beep of the IV machine to signal an air bubble in the line or a completed treatment. Several days into the first cycle, we still had no idea if any of it was working.
After treatment one day, Liam told me his legs felt "itchy and jumpy." Nurses thought he was having an allergic reaction and put Benadryl in his IV. Within minutes, Liam was screaming and kicking the sheets off his bed. He scooted backwards on his butt to the top of the bed and kept kicking, as if he were competing in a grape-stomping contest. Liam was allergic to the medicine that was supposed to control allergic reactions. Several minutes and some morphine later, he calmed down. The nurse told me he would be alright.
I knew she was right, and it wasn't just that they'd stopped the allergic reaction. "Are you kidding?" I told the nurse. "He can use his legs!" I beamed as my eyes welled with tears and felt a burden lift from my shoulders.
This was the moment I knew the treatment was working! They hadn't confirmed it, of course. But I'd been terrified that the cancer would steal my soccer-playing son's ability to walk. There's no way Liam could kick like that if the tumor on his spine hadn't shrunk, I thought. We can make it to the other side of this.
From that day, when Liam felt well enough, we worked to rebuild his leg strength by letting him kick a soccer ball. Often, he'd kick it into my face, which made me wince, then smile.
Three weeks after the Benadryl incident, scans confirmed what we already suspected: The tumors, including the big one on his spine, had shrunk by an average of 40 percent.
VII. Lifeblood
During nearly a quarter-century in TV news, 16 years at Spectrum News in Charlotte, I met presidents, sports stars, actors, CEOs, military heroes. I stood on the field for the Panthers-Patriots Super Bowl in 2004, rode in a blimp and a hot air balloon. But my most satisfying moments were those when I helped others, like when I helped interns land jobs or when my reporting helped police catch a serial rapist. I'd taken a leave of absence from Spectrum after Liam's diagnosis and eventually left the station. After years of telling stories, I felt a need to be part of one.
It started with simple things, like making coffee for the nursing staff at the hospital or making a get-well card for a friend going through her own cancer treatment. The more I did for others, the stronger I felt, and the more I thought I could persuade friends and neighbors to pitch in. Learned helplessness transformed into deliberate helpfulness, and it saved me.
During Liam's last round of chemo in mid-February, I donated blood as I sat beside him in his hospital room. I posted photos to social media, and 75 more people donated to the nonprofit OneBlood and other organizations over the next two months.
Liam received dozens of toys, which helped the time pass and distracted him from the pain. When he returned to St. Gabriel Catholic School, students, parents, and teachers collected hundreds more for the hospital. A year later, we did it again. Later, nonprofits asked us to share Liam's story of perseverance. We told the Leukemia & Lymphoma Society's Charlotte chapter that we want to raise money to help find not only a cure but more bearable treatment for patients.
I had donated time, energy, and money to nonprofits before Liam's cancer. Now it's my mission.
VIII. "No Mo' Chemo"
Stephanie and I began to tally the days. Liam spent four holidays at Hemby: Halloween and Thanksgiving 2018 and New Year's and Valentine's Day 2019. He went home for a couple of days for his seventh birthday in November, and the doctors released him for nearly a week starting late Christmas Eve so he could be home for Santa.
Round after round, Liam healed, and we spent less time at the hospital as the side effects of the treatment gradually diminished.
It was a grueling five months, but we got through it. On February 22, 2019, after 70 nights at Hemby, we celebrated Liam's "No Mo' Chemo" day. Nurses lined the halls with balloons and confetti and high-fived him on his way out the door. Liam had endured 71 doses of IV chemo; 21 scans and X-rays; 13 doses of lumbar chemo, which required general anesthesia; eight blood transfusions; four platelet transfusions; and two surgeries.
With cancer, though, it's never over. When they meet, cancer parents ask each other which category their child occupies: treatment, remission, or angel? There is no "cured." Every stomachache or fever immediately sends panic into our guts. We will always worry about recurrence, and we will deal with the latent effects of chemo for the rest of Liam's life. Yes, treatment was over, but the struggle for our family had just begun.
IX: Victory vacation
One month after Liam walked out the door at Hemby, he stepped back onto the soccer field. He could barely run, but he was back out on the pitch, and it was a victory even with a limp. He returned to school a couple of weeks later, having missed 96 days. St. Gabriel held a pep rally for him, and 500 kids cheered, "Liam, Liam," as he walked into the gym.
Soon, his hair grew back, and his weight returned. He looked strong and happy. His personality returned. But most cancer patients don't return to "normal." They learn to live with an altered one. Liam still suffers from what survivors call "chemo brain." He struggles with things that used to come easily. Simple, common words escape him. He gets frustrated more often than he used to. We consider ourselves fortunate to have to deal with these complications.
I no longer ask Liam, "What is my most important job?" I realize now that no matter how much I try, I can't protect my children from everything. Neither can any other parent. We can do our best, love them unconditionally, and vow to fight off the lions with everything we've got.
In April 2019, Stephanie, Aidan, Liam, and I drove to a South Carolina beach for our "victory vacation," the first family trip we'd taken in nearly a year. The sunset painted the sky orange, pink, and purple, the wind blew warm across my face, and cool water flowed between my toes. Liam knelt in the sand and water, playing as he hummed a tune. It was the first time since before Liam's diagnosis when I felt I could take a deep breath. We'd made it.
X. The best of it
In January, I created a campaign, #LifesavingChallenge, that asked people to donate blood twice in 2020 for Charlotte-area blood banks. The need grew critical when the coronavirus exhausted blood reserves. My neighbors stepped up again, donating 30 units and kickstarting a community campaign throughout Charlotte. OneBlood will use Liam's story in its ongoing promotional materials beginning in September, and he'll be the "honored hero" in November for the LLS Charlotte chapter's annual Light the Night event to raise money for leukemia and lymphoma patients.
As of May, Liam remains in remission. His one-year scans showed no sign of cancer. He won the Comeback Player of the Year award at the Charlotte Soccer Gala. In July 2019, we took another, longer "victory vacation"—this time to California, where we drove the Pacific Coast Highway in an RV. Liam missed another 50 days of school this year because of COVID-19. But we made the best of it, as we'd learned to, as we knew we could.
Shawn Flynn, a writer and consultant for nonprofits, was a reporter and manager for Spectrum News in Charlotte for 16 years. This is his first story for Charlotte magazine.