A Visit to Rock Hill's The Pump House
Spot reimagines the Catawba River's rich history through taste and texture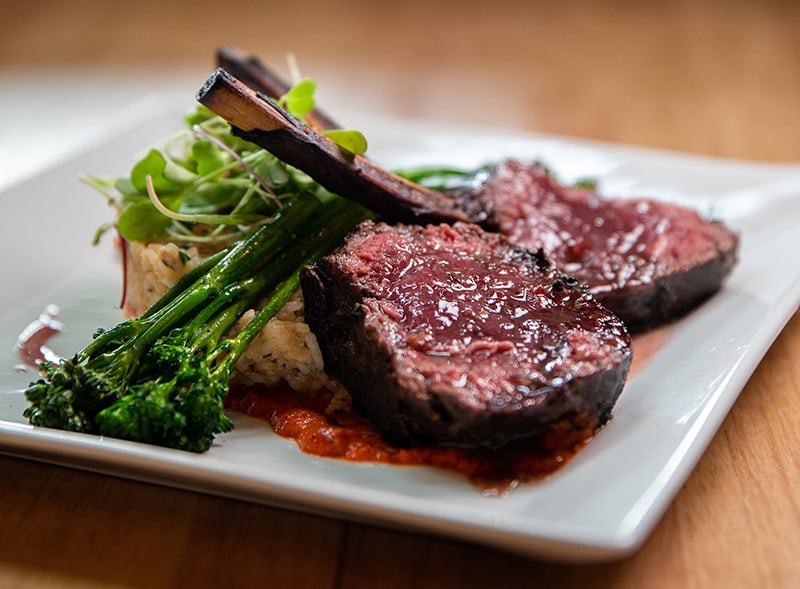 HE NEEDED AN IDEA—a way to put a spin on a classic dish.
When Executive Chef Michael Griswold created the menu for The Pump House in Rock Hill, he didn't want to recreate the taste you'd expect from chicken and waffles—a Southern tradition that, it turns out, isn't so Southern after all, since the dish has origins in the African-American community in Harlem, Pennsylvania Dutch Country, and Los Angeles.
"During renovations, I had lunch at The Peach Stand in Fort Mill," he says. "They had peach sweet tea, and I thought, 'What if we did that?'"
The idea that followed remains a crowd pleaser today—chicken and waffles with peach sweet tea and ginger-brined fried chicken, a cheddar cheese and herb waffle, and a house-made spicy syrup.
Griswold was born in Charlotte but raised by New Yorkers, so Southern cuisine didn't come naturally. That didn't stop him from tapping into his passion for food. He spent months researching and reading cookbooks. "We spent a week or so playing with recipes," he says, "trying to tweak them and trying to teach myself how to cook Southern food."
He learned that Southern food is a mix of migrated cuisines like Creole, North African, and South American, a mix that would inspire any chef to rearrange cultural complexities through taste and texture.
Griswold's journey embodies the soul of The Pump House, an industrial relic built in the 1940s to move and filter river water, shut down in 2005, and renovated in 2015. It's a place that, in more ways than one, allows diners to embrace culture and history as it dares them to try new things.
Among different menu iterations, guests insist on the shrimp and Anson Mills grits with sweet peppers and tasso ham in a creole-style white wine cream sauce. Other favorites include: fried green tomatoes with pimento cheese and smoked poblano ranch; pork belly with sorghum glaze and red cabbage chowchow; duck confit with butternut squash, sweet peppers, fennel, and sage gnocchi; elk chop; and two-day brined pork chop with pimento cheese grits and bacon Brussels sprouts.
"It's not just about getting people to come," says General Manager Chris Johnson, "it's about getting them to come back." In the same way Griswold serves up spins on classic dishes, Johnson likes to nudge guests toward wines they haven't tasted. "Sauvignon blanc instead of the typical white wine you're used to," he says, "or a pinot blanc instead of pinot grigio."
Guests can open their palates to new beers, too. They can choose from local brews like Catawba Brewing, Olde Mecklenburg Brewery, and Holy City Brewing in Charleston, siphoned through a long draw system with identical 12-tap arrays on the third floor and rooftop bar.
If you prefer a cocktail, you might order the Riverwalk Mule, made with Ginger Gold Cider by Windy Hill Orchard. Or you can opt for the Cosmogroni, mixed with a house-made lemon sour and Aperol, an Italian drink made with gentian and cinchona flowers and rhubarb. Whether food or drink, the staff hopes guests try something new—and like it.
They also hope to hear stories about rooftop weddings that overlook the river, or 50th anniversaries, or celebrations of worthy causes.
"There's a lot of people in Charlotte, and we want all of them," Johnson says. "It's funny, because I'll see the occasional review online where someone comments at the view, saying, 'It's just the Catawba River.'"
They're right. It's not the Nile, or the Mississippi, or the Amazon—no sharp-toothed gators or Egyptian pyramids here. But it is our river, and it runs deep with relics and tales of our region's rich past. "There's a lot of history in the area," Johnson says. "We want to represent the community that we're a part of." The history lives in interior displays like the collection of Catawba tribal arrowheads, lined up behind glass on the main dining level; the tribe's native language identified the Catawba as "The People of the River."
History lives in the painting "River Woman" by Harriet Marshall Goode, an artist based in Rock Hill. When the restaurant first opened, says Sales and Marketing Manager Angela Jarrahi, a few people invoked a local superstition and claimed to have seen the woman before, on the river. Today, she hangs gracefully on the wall amid wine bottles and open windows.
Goode's husband, Martin, worked as a chemical engineer at Celanese Celriver Plant, which the pump house cooled in the early 1960s as it moved and filtered millions of gallons of water a day. It decayed by the riverside for a decade until Elliott Close, a South Carolina textile heir, and Colby Mosier, a retired FBI agent and businessman, joined restaurateurs Jeff and Paula Conway to restore it in 2015.
The Pump House is a piece of art and history itself, decorated with refurbished wood and a custom 987-bottle wine cabinet crafted by European woodworker Viorel Teodorovici. The window views resemble the serene landscape paintings that decorate the dining space. Jarrahi gazes out toward the river and says, "It makes you feel like you're somewhere else and not in Rock Hill."