A Weak Review of Post-Scott Police Actions
Police Foundation draft report lacks substance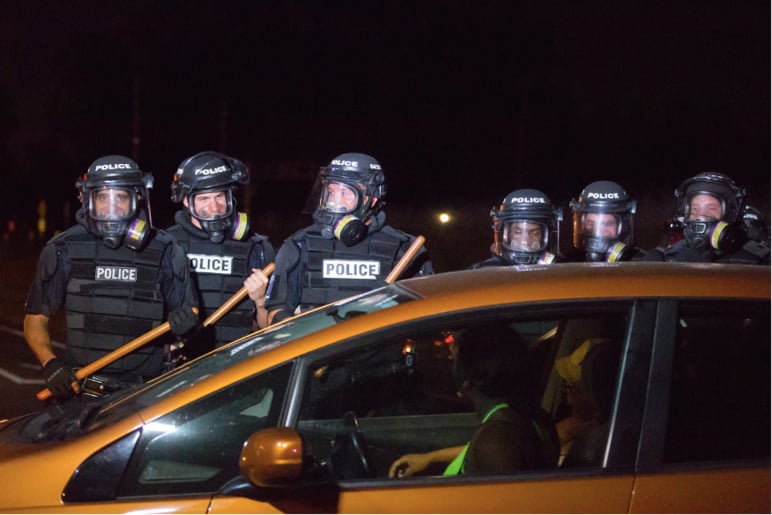 "This is very much a draft report," a former police chief named Frank Straub told the Charlotte City Council on Monday afternoon. "You have to understand that there will be information that needs to be added." He was referring to a preliminary report on the Charlotte-Mecklenburg Police Department's response to the Keith Lamont Scott protests in September 2016, a draft the city released to the public last month and which failed to impress anyone in the room Monday—council members or police accountability activists.
Straub works for a Washington-based national research group called the Police Foundation, a 47-year-old organization that several other cities have hired to review police practices after such incidents as the 2013 Boston Marathon bombing and the mass demonstrations outside a police precinct in Minneapolis after an officer shot a black man, Jamar Clark, to death in November 2015. Charlotte paid the foundation $379,504 to analyze CMPD's actions in the days immediately after Scott's death, when protests on Old Concord Road and in uptown flew out of control, and recommend changes if needed. Considering the price—and with the caveat that it's a draft—the 73-page document is remarkably lacking in substance. It focuses largely on recommending that CMPD improve its "dialogue" with the community and streamline its approach to disseminating information during a crisis, as if the department's primary problem after one of its officers shot and killed Scott was message discipline.
As for CMPD's performance in general, the foundation concludes, "CMPD acted appropriately and in line with its policies and procedures." Other conclusions were almost embarrassingly deferential to the police; at one point Monday, Straub referred to the department's "Herculean efforts" to manage the unflattering national publicity.
Even Mayor Jennifer Roberts, who tends to affix a happy face to whatever comes across her desk, seemed irked. "I think it's a …" She paused. "… good start." The report, Roberts observed, lacks examples of "best practices" from other cities on issues such as release of video footage and coordination of news conferences, two issues that bedeviled city officials, the mayor in particular, in the week after the shooting. "I guess," she said, "I would like to see a little more meat to the recommendations."
More pointed criticism came from Republican council member Ed Driggs, a stalwart supporter of CMPD. "As I read this, it sounds like a lot of it is, 'Do more of what you're doing,'" Driggs said. "Are we going to get anything more tangible?" (Braxton Winston, a City Council candidate whose activism began with the protests, guffawed in agreement from the front spectators' row as he broadcast the meeting via Facebook Live.) Wrapping up, Driggs said he wanted the foundation to provide "slightly harder edges and more specific advice" in its final report.
There's no deadline for that, Straub said: "Sometimes it takes two or three times" to get the final report in shape. After the meeting, Winston and Steve Knight of the Charlotte Clergy Coalition for Justice told reporters they didn't expect much more from the final report. "It really does seem like what this report is saying is, 'The Police Department is doing a good job.' It's tone-deaf," Winston said. A reporter asked him what he thought about the foundation's conclusion that CMPD had "acted … in line with its policies and procedures."
"I don't necessarily disagree with that," Winston replied, "because the policy is written to protect the police over people." If police acted according to policy after the Scott shooting, he added, "then we have a policy problem."
But there's another problem, too, one the report addresses: the way social media amplified misinformation after the Scott shooting and allowed for a chaotic jumble of demonstrations, with multiple motives and "leaders," that frustrated CMPD's (or anyone's) efforts to control them.
"Demonstrators controlled much of the narrative through social media," the foundation said in the draft report, and the city administration and CMPD acted separately, leading to confusion and a void of incomplete, absent, or conflicting information that others were happy to fill. Straub mentioned two "narratives" in particular—the widespread falsehood that Scott was unarmed, merely holding a book, when police shot him; and the continued, unproven assumption among members of the activist community that Justin Carr was killed in front of the Omni by a police bullet.
Winston called the report's blaming of social media as a "deflection," and Knight—an avid social media user—said he was "incredulous" that the Police Foundation would discuss it at such length. But the rumors, first spread by Scott's daughter, about Scott holding a book and not a gun did dominate social media on the days of and after Scott's death. They did inflame the anger of people, at Old Concord Road that night and uptown the next, who assumed the cops had just executed yet another unarmed black man. I was out there, and I heard some version of that story over and over. It wasn't true. But the storyline took hold that night, spreading far more quickly than the city and CMPD's capacity to react to it, and wasn't effectively contradicted until more than two months later with the results of the District Attorney's investigation.
The Police Foundation report suggests the city and CMPD improve their coordination and release of accurate information, and "create a clear and detailed media strategy and policy." Driggs openly questioned whether that would do a bit of good. "I'm not sure … we're going to be able to counteract the noise on social media," he said. "These days, the factual basis for a lot of what's on social media is nonexistent, frankly," and correcting viral untruths is "like shouting into the ocean."
The review, and the city's request for it, rests on an assumption that Charlotte or any other city can handle a series of protests gone chaotic with some policy revisions and smart application of "best practices." I'm not so sure. "We're living in such dynamic times," Straub said, which was a euphemistic way to say that events, like a wildfire, can go from predictable and contained to madness in the time it takes to send a text. The final report may be an improvement over the draft; let's hope so. But it'll disappoint anyone who expects the Police Foundation to use the $380,000 it received from the taxpayers to advise the city on how to control the uncontrollable.