A Well-Designed Brew
With tonight's kick-off event, home brewers and designers collaborate for a winning package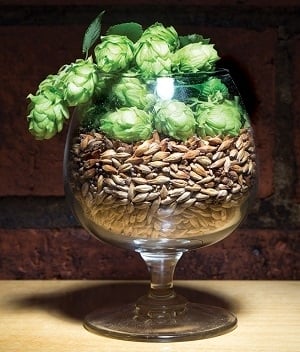 When a customer shops for a new beer, he scans the shelves of bottles and cans for something that catches his eye. If he knows beer, he might look for a brewery name he trusts. But if he's new to the beer market or looking to branch out from his big-brand go-to, he looks at the labels.
Before the first sip, a beer's label makes the initial impression.
Tonight's kick-off event for the Beer & Branding competition at NoDa Brewing Company celebrates the powerful combination of a good beer and an attractive package. It pairs the talents of local home brewers and local designers to develop, brew, name, and design a beer.
The competition is a collaboration between NoDa Brewing Company and the Charlotte chapter of AIGA, a professional design association. The home brewers and designers will play off of each other's strengths and creativity. The end design must not only look good, but it should also tell the story of the beer inside. The beer's style, the local culture, and the surrounding community all factor into the packaging.
NoDa Brewing is an appropriate host site and sponsor of the event. Its cans of Hop Drop 'N Roll, Jam Session, and CAVU stand out on store shelves and at games and events across town.
Some people brew a beer occasionally as a hobby, but more and more people are diving into all aspects of the process. From growing their own hops (check out our story from Home + Garden magazine here) to finishing the brew with a creative name and design. The winning beer will be released as part of NoDa's Nodable Series, a collection of small-batch brews. The winning design will be shown on the AIGA website. The competition concludes with the Brewer and Designer Showcase at NoDa Brewing Company on September 2.
Anyone interested in participating, must attend tonight's kick off. For more information, click here.