A Whole New Season
Children's Theatre of Charlotte opens with Disney's Aladdin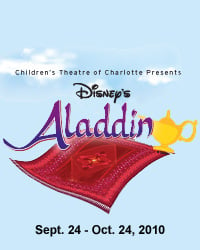 In some respects, kids aren't too different from adults when it comes to heading to the theater: we're all looking for a little escape, for a story that will spark our imaginations.
But kids have a different energy than adults, which often means they look for a different kind of theatrical journey. Grown-ups often want a layered experience at paddle boat speed that allows for reflection; kids usually want a scenic 80 mph spin in a fire engine red Lamborghini. Something quick, fun, and full of spark.
Luckily for Charlotte area kids, the Children's Theatre of Charlotte has truly revved its production engines this year for its 63rd season premiere: Disney's Aladdin, at the McColl Family Theatre until October 24th.
Already, CTC has the right idea. After all, it's Aladdin! Romantic, starry carpet rides, flashy musical numbers with exotic animals (for the record, Aladdin did it before The Lion King), and a magical comic relief role that gets as much stage time as the title character.
CTC's energetic musical production, directed by Stephen Gundersheim, delivers all the best elements of the Disney film in a compact form (it's less than 60 minutes long) that's perfect for little ones.
From an adult perspective, one of these elements is how…well, animated the characters are. Even the players not wrapped in fake facial hair and/or cartoonish turbans (this includes Aladdin and Jasmine) have a sometimes hyper-expressive delivery that might distract grown-up audiences—for a while, anyway.
But the production's not just designed for old-timers, and we think it'll completely enchant your kids (and you). Jasmine, the princess of Agrabah (a magical Arab land where women freely reveal midriffs in the marketplace) is played by Olivia Edge. She and the ragamuffin Aladdin (Erik D'Esterre) have the kind of crystalline, lively theater voices ideal for classic songs like "A Whole New World." Of course, the suspended magic carpet doesn't hurt that number, either.
Across the board, in fact, the production is wonderfully cast, with characters like Jafar and the Sultan mirroring their Disney inspirations. At the same time, CTC makes a few unforeseen casting calls that turn out to be brilliant.
Genie is played by Jalila A. Bowie, whose comedic and musical energy in this role (her first with the CTC) anchor the show precisely where it should be: fun. While the memory of Robin Williams' off-the-wall (and male) voiceover is never far from your mind's ear, Bowie's performance is more than adequate to stifle it.
But because it is the Children's Theatre of Charlotte (and because Revue is a sucker for adorable kids that know how to sing and dance), it would be a shame not to mention the Magic Carpet and Abu, Aladdin's sidekick monkey. Played, respectively, by 6th grader Sam Faulkner and 5h grader Caroline Farley, the two characters are exactly the hilarious grace notes they are in the original movie.
It almost goes without saying, but the technical aspects of CTC's Aladdin are spectacular. CTC bedecks the stage with sparkling costumes (from the Sultan down to the "riff raff", beautiful sets, and song-and-dance numbers from choreographer Ron Chisolm and musical director Drina Keen that will spellbind you and your kids. And when we say "spellbind," we don't mean in the comatose way, but in the get-out-of-your-seat-and-do-a-fan-kick way.
We'll resist the urge to call the experience a "magic carpet ride," but suffice to say that if you and your kids are looking for a quick trip to a Disney-style fantasyland complete with adventure and fun, you've found your ride. It won't take long for you to remember how much you loved the movie, and to give you a head start, we've included a short memory-jog.
Full disclosure: camels and elephants are prohibited in the McColl Family Theatre.