A Winter Food Guide for Charlotteans
From chili to bread pudding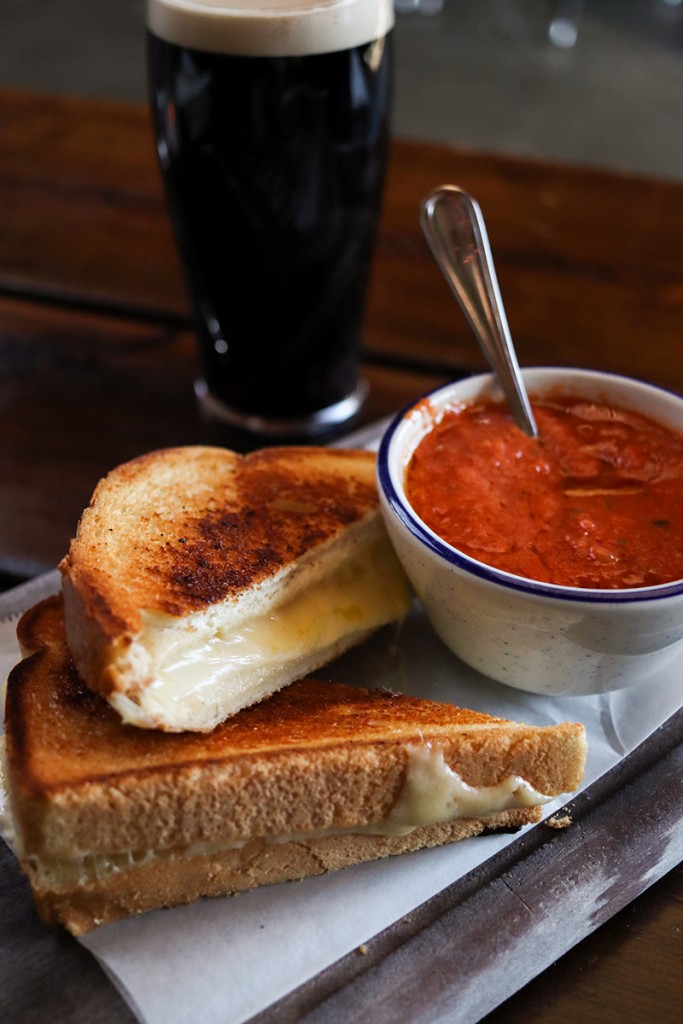 Even if it doesn't feel like winter outside, "fake it until you make it" is a popular phrase that carries over to dining. We have already started ordering some of our winter favorites in Charlotte, and we're sharing that list below:

LUNCH/DINNER

GRILLED CHEESE SANDWICH (top)
The Workman's Friend
The Workman's Friend is intimate, warm, and cozy—just the kind of atmosphere that begs for a grilled cheese on sourdough, served alongside a tomato basil bisque. (Note to self: best enjoyed while sitting beside the crackling fireplace.) 1531 Central Ave.

BURGER
The Diamond Restaurant
With two 1/3-lb. patties, the Big Block Burger is hearty. (There's also a Full Blown Hemi option, with three patties for a full pound of beef.) You can get it "All the Way," with the standard lettuce, tomatoes, onions, mayos, and pickles, or "Southern Style": chili, mustard, onions, and coleslaw. 1901 Commonwealth Ave.
CHILI
Lupie's Cafe
Lupie's doesn't mess around. Texas is the hottest, Southern style the mildest, Cincinnati all Skyline and cinnamon-infused, vegetarian the veggiest. All come with pintos, cheese, onions, and cornbread. Get it in a cup, bowl, atop spaghetti, or with mac and cheese. When the weather is cold and the sky overcast, you want nothing else. 2718 Monroe Rd.

View this post on Instagram
(VEGETARIAN) MEATLOAF
Dish
Vegetarian meatloaf might sound like an oxymoron, and, mostly, it is. But the competition for who makes the best loaf of "meat" in Charlotte is surprisingly stiff. We give a slight edge to Dish for its Cajun-seasoned veggie loaf, which comes in three forms: sliders, sandwich, and regular loaf. Crafted from lentils, the spicy loaf comes with mashed potatoes and gravy and another side. Go with the vegan slaw or collard greens to complete the improper Southern meal. 1220 Thomas Ave. (Ed.: The meat meatloaf is also wonderful.)
ALSO AT DISH: CHICKEN & DUMPLINGS

LASAGNA
Pasta & Provisions
When a friend has a baby or a new neighbor moves in down the street, the 16-layer lasagna from Pasta & Provisions is the easiest way to say, "I've got your dinner covered tonight." A large order feeds nine to 12 people, and it's flash frozen so they can pop it in the oven whenever they're ready. It's not homemade, but it certainly tastes like it. Multiple locations.
View this post on Instagram


MEATBALLS
Osteria Luca
The TRUE Meatballs, complete with marinara, parmesan cheese, and grilled bread, are a hefty option to scratch that wintry Italian itch. The casual spot opened this year in Park Road, from the team behind TRUE Crafted Pizza. As you can tell by the name of this dish, some of the favorites of the brand carried over. 4127 Park Rd.

BREAD PUDDING
Mama Ricotta's
We had to get a dessert in there, too: The Warm Bread Pudding at Mama Ricotta's is studded with marsala-soaked raisins and vanilla bean—and accompanied by housemade gelato with dulce de leche. 601 S. Kings Dr., AA.
BREAKFAST/BRUNCH

PANCAKES
Eddie's Place
Eddie's Place does so many breakfast favorites right, but its Big Fluffy Pancakes deserve the spotlight on this list. Add blueberries, cranberries, raisins, pecans, almonds, or chocolate chips to customize your rich breakfast. It comes with a choice of meat and side, for some extra joy to start the day. 617 S. Sharon Amity Rd.

BACON, EGG, & CHEESE SANDWICH
Sunflour Bakery
Here's a brunch classic that rises above the rest with an integral choice of bread: the cheddar biscuit. The seasonal menu here also has peppermint swirl and red velvet treats, tiramisu, and sweet potato pie bars. Multiple locations.