ACC Championship Fan Events and Parties, Palate to Palette, Doug E. Fresh, Miss Butter Pageant, and More this Weekend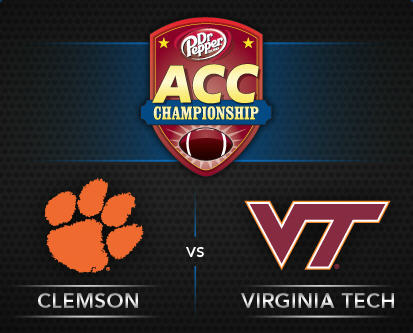 The center of activity this weekend will be in uptown for the ACC Championship game Saturday, with plenty of parties and events before and after. But if you're not a fan, this carefully selected list also includes other great parties and social events.
Friday, December 2
Fourth Annual Palate to Palette
Attendees will travel throughout this beautiful uptown building to wine tasting stations set up inside artist studios—each station features one artist and one glass of wine. There will also be gourmet local food served, live music by Chasing Edison, and an auction and raffle. 7-10 p.m. $25-$35. McColl Center for Visual Art, 721 N. Tryon St., mccollcenter.org.
ACC Fan Central (Friday and Saturday)
The EpiCentre wants to be the party and entertainment headquarters this weekend for ACC football fans before, during, and after the Clemson vs. Virginia Tech ACC Championship game. The festivities begin Friday night at 7 p.m., featuring appearances by ACC team mascots, marching bands, and cheerleaders beginning at 9 p.m. Fans in ACC football gear will receive free admission to BlackFinn, Kazba, Mez, Mortimer's, StrikeCity, Suite, and Whisky River until 11 p.m. Then on Saturday morning (if you're not too hung over), there's the ACC Championship Chase 5K Post Race Celebration at 8:30 a.m., which will include live music, food, ACC mascots, cheerleaders, and an awards ceremony for race participants (click here for details on the race). And once the nationally televised ESPN game kicks off at 8 p.m., if you don't have tickets then choose one of the EpiCentre venues to watch it. EpiCentre, 210 E. Trade St., epicentrenc.com.
Old-School R&B Party with Peace and Love Band
Enjoy good music with a good crowd. The Peace and Love Band is a fan favorite. Presented by The Jazz Diva. 9 p.m.-1 a.m. $10. Fanz Sports Grill, 3425 David Cox Rd., jazzdivaevents.com, fanzsportsgrill.com.
Doug E. Fresh Live
The hip-hop legend and ultimate party starter returns to Charlotte to host Old School First Fridays. 9 p.m.-2:30 a.m. $5 before 10:30 p.m. with flyer or membership; for VIP tables, 704-890-7436. Privilege, 223 S. Brevard St., privilegecharlotte.com.
Second Annual Miss Butter Pageant
See which lovely lady takes home this prestigious club crown. Music by DJ Ciprian and DJ Ahuf along with a guest DJ on the patio. 10 p.m.; show time 11 p.m. Cost varies; ladies free all night on guest list, rsvp@buttercharlotte.com; for VIP tables, viptables@buttercharlotte.com. Butter NC, at NC Music Factory, 950 NC Music Factory Blvd., buttercharlotte.com.
Saturday, December 3
ACC FanFest Presented by AT&T
This official ACC celebration invites the public to a day filled with interactive games, team bands, mascots, pep rallies, giveaways, food and drinks, and autograph sessions leading up to the 8 p.m. Clemson vs. Virginia Tech ACC Championship game. 12-7 p.m. Free. Outside Bank of America Stadium, adjacent to east and north gates, Mint Street between Morehead and Stonewall/Graham streets, accfootballcharlotte.com.
Tentative schedule
12-3 p.m.: Live performance by Early Ray.
2:30-3 p.m.: ACC Mascots Game.
3-3:30 p.m.: Dr Pepper/Food Lion Tuition Throw.
3:30-4:30 p.m.: Live performance by David Nail.
4:30-5:30 p.m.: Atlantic and Coastal Division band and cheer performances.
4:30-5:30 p.m.: ACC Football Legends autograph session.
5:30-7 p.m.: Live performance by Dierks Bentley.
Toys From Tilt
Donate to a good cause and you'll be treated to a party. Enjoy complimentary draft beers, wine, cocktails, and food. Music by DJ Drock. Benefiting Rotary International Mount Holly Chapter. 7:30-11 p.m. $10 and an unwrapped toy. Tilt, 127 W. Trade St., tiltontrade.com.
Conference Championship After-Party
Whether your team won or loss or even if you don't care about college football, this will be a great place to party Saturday night. Music by DJ Skillz in the main room, and by DJ C-Rob on the patio. 10 p.m. Free until 11 p.m.; $10 and up after; for VIP tables, tami@republicofcharlotte.com. Re:Public, 314 N. College St., thesolkitchen.com, republicofcharlotte.com.
DJ Greg J Party
The Crooklyn Clan and San Fran mixmaster rocks the Kazba Saturday night. 10 p.m. Cost varies; for VIP tables, vip@kazbacharlotte.com. Kazba, inside EpiCentre, 210 E. Trade St., kazbacharlotte.com.
Verify dates, times, prices, and other info at the web addresses listed for each event.
Be sure to bookmark www.charlottemagazine.com/Blogs/Dusk-Till-Dawn to stay plugged into Charlotte nightlife.