Access Code
The Rules of Attire for Wedding Guests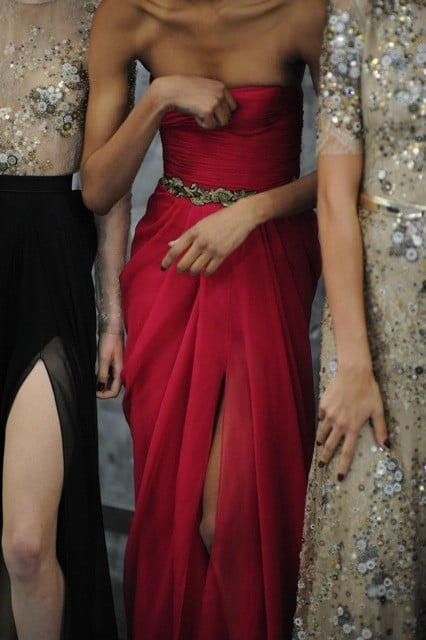 Though I'm a firm believer in dressing to impress no matter the occasion, it's essential to stand out for the right reasons–not the wrong ones. Wedding dress codes can sometimes leave a bit of room for interpretation, but, as a general rule, the more formal the event, the less wardrobe wiggle room. When the code of the occasion is explicitly stated in the invitation, you can follow the rules as stated below, but otherwise, I will list a few determining factors that will help you decipher the most appropriate ensemble for the event. Bottom line: as a guest, your attire, second to your attendance, is the utmost symbol of your respect for the bride and groom. Dressing appropriately won't go unnoticed–or unappreciated, especially for a Southern soiree. So let's get started.
On The Hour
Time of day will be the most crucial determining factor in wardrobe code. Traditionally, any wedding beginning at 5:00pm or later is to be considered semiformal, unless otherwise stated. (If the event is black tie, it will be explicitly stated, undoubtedly). If the wedding begins at 2:00pm, it's safe to say a more relaxed dress code is in order. Occasionally a bride and groom may choose to hold a ceremony in the late afternoon and have a later (for instance, 8:00pm) reception. In this case, a change of clothes (casual for ceremony and semiformal for reception) is a logical and appropriate choice. Another option for this instance is to bring a sequin bolero to throw on over your dress for the reception or a sparkly necklace (easily stashed in your purse during the ceremony). Accessories are the easiest way to take any ensemble up a notch. It's safe to say that, unless otherwise stated, the later the event, the more formal the dress code.
The Places You'll Go
Location can also be a prime component for rules of dress. It goes without saying that a beach wedding automatically opens the door for a more casual theme of dress–simply out of necessity. Between the sand, the wind and the humidity, a white tie beach wedding is nearly unheard of. Unless the particular resort has a strict dress code, it's safe to assume that casual attire will be appropriate. Think linen suits for men and flowy chiffon and wedge or flat sandal for women. Feel free to contact the hotel or resort if you have uncertainties. By the same token, if the venue is a 5-star hotel featuring a sit-down dinner and full band, formal attire will be expected.
By The Cover
Invitation design can be very telling in deducing dress code. A formal invitation with a gold leaf border and calligraphy, for instance, should be interpreted as formal. Most likely such an invitation will state black or white tie, but if not, err on the side of formal. Likewise, if an invitation is most basic in design and details an early ceremony time, a more casual dress code is most likely perfectly appropriate.
When In Doubt
A great way to avoid asking the bride directly if you still have uncertainties about the dress code is to contact the maid of honor. Also the bride's immediate family is another contact option. Any Southern girl knows that, when it comes to party dress, it's better to be safe than sorry.
White Tie
White Tie is the most formal of all dress codes. This code leaves no wiggle room for guests and it will be of the utmost importance to follow the rules precisely. This will entail a formal white shirt, white tie and white vest with a black tailcoat overtop for men. White or grey gloves and black shoes sans laces should accessorize the look. (How dashing!) For women, a floor-length gown is essential. And this is the time to make a trip to the safe or raid your grandmother's coveted jewelry box. After all, diamonds are a girl's best friend.
Black Tie
Though many will argue that the rules of black tie have loosened in formality, Southern families are known for adherence to tradition, so keep in mind that the original rules of black tie will apply. A black tuxedo jacket with a black tie and cummerbund or suspenders should be donned by the men. Women have a bit more room for interpretation: While a floor-length dress is entirely appropriate, a cocktail-length dress is as well. However a cocktail dress must be formal in fabric and silhouette. Jewelry will help elevate a cocktail-length dress as well. A great way to decide between the two: the older the guest, the longer the dress.
Black Tie Optional
For this event, the rules of black tie can be followed precisely, should you choose to do so. However for men, a dark suit and white button-down with a minimalist tie is acceptable as well. This is particularly helpful for those who don't own a tux. For women, the rules will not change drastically from those of black tie. Formal separates can also be appropriate, but the key word here is formal.
Creative Black Tie
A rare occurrence in wedding dress code, this event entails the same rules of the black tie affair, but with a twist. For men, a colored tie and cummerbund can be donned with a tux. A colored shirt may also be worn. For women, the rules of black tie optional should be applied, but be sure to add a dash of playfulness. Think a jewel-tone shawl or an avant-garde shoe.
Semiformal
Men have an easy ensemble of dark suit with white shirt and minimalist tie (the same as black tie optional's alternative option). For women, a cocktail dress will do just the trick. Often, the semiformal occasion will not be explicitly stated as such on the invitation. In this instance, refer back to the event time, location, and invitation style rules stated above. Again, for events beginning after 5:00pm, you should assume a semiformal dress code is in order.
Casual
This dress code goes back to my previous remarks on the beach wedding. Khaki or linen suits are perfectly acceptable for men. Depending upon the level of laid-back the event suggests (again, look at invitation design style–or ask the MOH), a seersucker suit or a navy sport jacket and khaki pants can be appropriate as well. For women, though a sundress is entirely fitting, keep fabric in mind. Go for a breezy chiffon or light cotton blend. Avoid silks and organzas for the casual affair–they're too dressy in this instance. And feel free to break out the Jack Rogers–flat sandals are perfectly acceptable here.