After COVID, What Does the Future Hold for Charlotte Workplaces?
Leaders from Lowe's, Truist, Red Ventures, and the Charlotte Hornets weigh in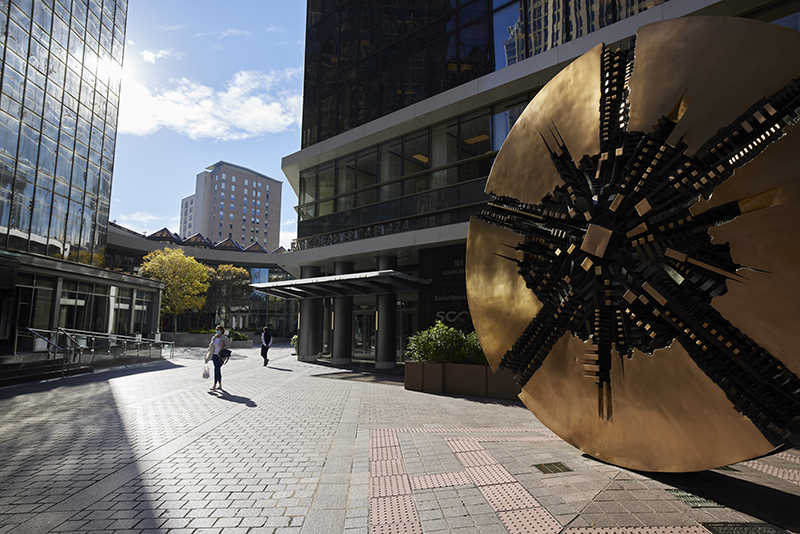 AN UNUSUAL SIGHT greeted Charlotte drivers last year on normally traffic-choked thoroughfares like Independence Boulevard, Providence Road, and Interstate 77: empty lanes.
For employees who suddenly faced indefinite telecommuting, a short walk to the kitchen table replaced rivers of brake lights and speedometers stuck in the single digits. Those empty roads were one vivid reminder of the ways COVID-19 upended our lives. Of course, in many others, people with jobs they could do at home were lucky—thousands of essential workers, like supermarket clerks, Amazon delivery drivers, nurses, and doctors, didn't have that option, and tens of thousands more in sectors like hospitality and entertainment have lost their jobs.
But as 2020 bitterly gave way to 2021, a question loomed for employers and office workers inured to endless rounds of Zoom calls: How long will all this last, and what would come next?
The question has ramifications far beyond our commutes. Employers face questions with multimillion-dollar answers: How much office space do we build? How do we structure, or restructure, our workforce? Service-oriented businesses that depend on the daily flood of employees to uptown, University City, Ballantyne, and other employment centers continue to live with potentially catastrophic drops in business—although, as of this writing in early December, only a few, like La Belle Helene and Amelie's uptown, have closed permanently. A long-term mass shift to remote work could make Charlotte's $12 billion transit and mobility plan a tougher sell.
For Charlotte—a city that's grasped at "world-class" status for decades, where boosters tout new skyscrapers and fete emissaries of prospective corporate relocators like royalty—the questions carry special significance. The city's come a long way since The New York Times dubbed uptown a "somnolent streetscape of abandoned buildings and vacant lots" and "a Potemkin Village with a drawl" during the 1994 NCAA Men's Basketball Championship. But last year brought back recollections of that embarrassing time, with uptown empty of its 130,000 daily workers and darkened office towers that loomed over vacant light rail trains. What's the distinction between a world-class metropolis and a bedroom community if we all work from our spare bedrooms?
Clear answers don't exist here or in any other American city, and businesses will likely adopt a mix of telecommuting and in-office work that varies from company to company and industry to industry, somewhere between the poles of "offices are extinct" and "back to business as usual." Some employees love ditching their commutes and doing laundry between meetings. Others have to squeeze work projects and emails between caring for toddlers or all-day virtual school and supervision of children too young to type. Companies unaccustomed to employee autonomy wrestle with the need to supervise remote workforces. Can the boss trust that you're not watching YouTube during the staff meeting behind the mask of your Zoom screen? Does in-person work and collaboration have distinct value, and can remote work replicate or replace it?
To understand how large employers around Charlotte are thinking about those questions, I interviewed executives at four companies in different industries. None envision a fully remote future—some, like the Charlotte Hornets, depend on packing arenas, and others, like Truist, are building new offices and value in-person collaboration—but all expect lasting changes. Here's what I learned.
---
TRUIST: Planting a flag uptown
When workers eventually return to their uptown offices, they'll see an unmistakable marker affixed to Charlotte's newest bank, on one of the city's most striking buildings. In late November, a helicopter flew the two-story-tall name and logo to the top of the Truist Center, in the former Hearst Tower at 7th and Tryon streets, which the company bought for $456 million. A product of the BB&T-SunTrust merger, Truist employs 2,000 in its new headquarters.
Before COVID, individual teams might have had the flexibility to work off-site one day or so a week, says Chief Human Resources Officer Kimberly Moore-Wright. But a "large percentage" of Truist employees worked in the office. The bank's workforce, except for a small contingent of employees who operate branches, has worked remotely since March—a special challenge for a company in the midst of combining two competitors. "Just as we're getting ready to go into the thick of that," Moore-Wright says, "you overlay it with a pandemic no one could have expected."
As the merged bank builds everything from business processes to physical offices, Moore-Wright says executives don't want to make dramatic changes, like moving large numbers of employees to permanent telework based on conditions that may change soon.
"'Normal,'" Moore-Wright says, "keeps changing as we get through this." And Truist still needs to operate its branches, physical locations with in-person customers who can't do everything over Microsoft Teams or Slack.
But bank officials have found it easier to adopt new business practices—an unexpected benefit of throwing out the playbook. No one can protest, "That's the way we've always done it!" when everything has to be rewritten anyway. But, as in many companies, managers find workers increasingly fatigued by their homebound routines. "You're in the guest bedroom. You may be working even longer just because you're there at home," Moore-Wright says. "I think managers are becoming more attuned to that."
Moore-Wright, who speaks to me via video from her office, is one of a small number of executives who work, socially distant and with masks, at headquarters. Heath Campbell, president of the bank's Metrolina region, takes my call from a spare bedroom, outfitted with a Truist banner that serves as a makeshift video background.
"Client-facing" bankers in his division have long had autonomy, Campbell says. They might spend a day driving from Mooresville to SouthPark to Ballantyne to meet clients. Such meetings illustrate the double-edged sword remote work offers: Bankers can pack more meetings into a day without driving from one to the other. But do you really get the same connection with clients through a screen?
After the pandemic, Campbell says, Truist probably will allow some office workers more flexibility to work from home if their presence isn't required. But the bank still will try to convince workers to choose the office. "If you're going to explore more autonomy for our teammates to choose their work environment, that means you're giving them more decisions," he said. "What we're trying to do is make sure, with places like the Truist Center, when it's built out and designed … they'll choose that place first."
For now, he misses the energy of in-person meetings, sporting events, restaurants, and entertainment. "We're not meant to be in isolation," Campbell says. "I've got a feeling, once you've got the vaccine—I think we'll get a resurgence." Just how far off that resurgence is remains hard to predict. As of press time, Truist had extended its telework policy from the end of January to at least March 1.
---
RED VENTURES: What happens to the beer taps?
The digital marketing and media company Red Ventures, based just south of the state line in Indian Land, S.C., built its image around a campus modeled after those of Silicon Valley tech firms. Employees enjoy beer taps, a bowling alley and basketball court, bistros, a library, and "The Arena," where the company hosts packed "RedTalks"—TED-style events with speakers from Starbucks CEO Howard Schultz to University of Kentucky basketball coach John Calipari.
"We have prided ourselves on our culture. A cornerstone of that culture was the in-office collaboration," says Hallie Cornetta, the company's head of human capital. "Everything is now done via video chats," and Red Ventures is "erring on the highly conservative side" in assessing when to bring employees back.
So what does the future look like in a world where employees rifle through their own fridges for beer and snacks, and crowded indoor gatherings are a wild fantasy? Cornetta says Red Ventures will use 2021 to explore a "hybrid working environment." That might even mean employees who want to work elsewhere for weeks or months—an option previously unthinkable for a fast-expanding company that normally trains new workers via "osmosis" and in-person apprenticeships.
"The world's changed, and employees, especially great talent, want flexibility now more than ever," she says. "That means the ability to work from home or work from the beach for a month in the summer. Or work remotely entirely, if that's the way we can attract the best talent."
Remote work has yielded both benefits and problems. Employees tend to burn out more quickly on Zoom, where their own faces stare back from the screen all day. They have to schedule videoconferences to resolve questions once answered with a shout to the next desk. As employees move, sometimes to other time zones, they have to get up early or stay up late to make meetings.
Red Ventures has tried to manage burnout with selective long weekends and no-video or no-meeting days. They've modified internal newsletters and encouraged more communications from other managers, the better to keep in touch with a workforce used to mass in-person gatherings with CEO Ric Elias.
Red Ventures could learn helpful lessons from teleworking. With the $500 million acquisition of CNET Media Group (whose brands include TVGuide and Gamespot), as well as travel guide company Lonely Planet, less than half of Red Ventures' employees now live in the Charlotte region. Still, Cornetta doesn't think an all-virtual future is in the cards for most workers.
"We know that some of our talent, arguably the majority of our talent, is still going to crave an in-office environment the majority of the time," she says. "Having the flexibility to work from home or other places will be there, but we will absolutely continue to invest in our on-campus facilities and our amenities."
Even for those who choose to work outside the office, "remote work" might not be so remote: Red Ventures recently opened an apartment complex next to its campus, called the Court at Redstone, for employees who want to live next door to the office.
---
CHARLOTTE HORNETS: Getting back in the arena
Few businesses are more centered on in-person interactions than sports and entertainment, which relies on packed arenas and stadiums and in-person league meetings, player workouts, and conference schmoozing.
The Charlotte Hornets organization, which operates and plays in the 20,000-seat Spectrum Center, had its last 10 home games canceled; concerts from Michael Bublé to The Weeknd postponed; and the Republican National Convention relocated.
"We've basically been shut down from March 13 on," says Hornets President Fred Whitfield. The team's 200-plus permanent employees have worked remotely since then. (The Hornets also employ more than 500 or so part-timers to work events and games.) Whitfield says he has a comfortable setup at home with his computer, iPad, and phone screens. Zoom has made it easier for him to attend departmental meetings he used to miss and serve on several pandemic-related task forces that meet virtually.
But, he adds, the personal aspects have been tough to replicate. "I really think there's a value to be gained from in-person meetings and really being able to sit across the table from individuals, whether it's in New York at the NBA meeting or at the sales and marketing meeting down in Miami," he said. "In meetings now with our NBA counterparts and colleagues, you don't have that in-between break time that you can interact, network, share ideas and best practices, what's working, what's not. I miss those kinds of things, and I think we all do."
Although Whitfield said he and employees have adapted—they interviewed some potential players via Zoom, for example, then set up in the arena's VIP area with masks and social distancing for the draft—the ultimate goal is to get back to the office. With a business that requires in-person attendance, permanent remote work isn't an option. He says it's important for part-timers who work events, from ushers to ticket-takers, to feel comfortable when the arena reopens. If they don't, it will be harder to convince fans to come back.
As of mid-December, the NBA planned to begin its 2020-21 season December 22, with 10 fewer games than usual and daily testing of players and staff. Teams will vary in the number of fans they allow for games; the Hornets began with none but hoped to welcome fans back later in the season. The team has invested in enhanced air filtration, touchless tickets, and cashless concessions; committed to more cleaning and disinfection; and obtained two third-party health and safety accreditations, all with the goal of convincing fans and workers that the team and Spectrum Center can safely host mass gatherings again.
"We've got to make sure," Whitfield said, "we're completely buttoned up on every protocol we know how to operate."
---
LOWE'S: Home improvement store in the home office era
Lowe's named Janice Dupré Little executive vice president of human resources weeks before it sent its corporate workforce home in mid-March. "Like everyone else," Dupré Little says, "we thought it would be for a couple of weeks." The company had to figure out how to work remotely with more than 6,500 corporate employees who were used to doing things in the office, "face-to-face, brick and mortar," at its massive Mooresville campus and uptown offices. And Lowe's had to keep its 2,200 stores open, with an hourly-wage workforce that can't do its jobs through video calls from home.
Demand for home-improvement products surged. Lowe's scrambled to buy huge amounts of personal protective equipment, install Plexiglas shields at registers, and comply with shifting regulations as people stuck at home decided they couldn't stare at their chipped paint or outdated kitchens anymore. Office workers, abruptly left supervising children all day, faced another set of challenges. With employees at work and home all the time, Dupré Little says, they confronted new levels of burnout.
"People were invigorated in the beginning," she said. "Now, we're all facing this fatigue. We don't know how to separate and go eat lunch, go have dinner. We have to continue to remind our associates: Take your vacation. Take that downtime."
Lowe's is building a new tech hub with 2,000 workers in a 23-story tower in South End, scheduled for completion in late 2021. The project was announced in mid-2019, before people questioned whether anyone, especially tech workers who need only a computer, would be in the office again. "No one has a crystal ball to know everything, but at this point, we've stayed on track," Dupré Little says. "We are still hiring. We are still very focused on the commitment that we made."
As of early December, Lowe's was planning to continue remote work at least through July 2021. Dupré Little says she expects the company to retain some measure of flexibility, with a greater recognition of the "human components" of workers' lives: "You see dogs and kids flying by in the midst of a call, and you're more tolerant of that."
To compensate in-store workers, Lowe's has distributed six rounds of bonuses—$300 each for full-time employees, $150 for part-time—since March. The company also gave hourly workers a temporary $2-an-hour raise. Lowe's has hired more than 155,000 people, in part due to the surging demand from stir-crazy customers. Lowe's also held its annual women's leadership summit and its vendor forum virtually this year, a first for the company. Dupré Little says changes like those could persist after the pandemic.
"When you do things in person, you're limited by space, capacity, and resources," she says. "Once you have a virtual environment, it gives you a reach you wouldn't have before."
But the new workplace template, whatever it turns out to be, is still a long way off. "I don't feel like we're going to come out of this pandemic just because a vaccine comes out," Dupré Little says. "It's going to take time. We could be in this thing for a lot longer."
Ely Portillo is assistant director at the UNC Charlotte Urban Institute. He previously spent a decade as a reporter in Charlotte, covering business, development, and politics.