After Hornets and Panthers Scandals: What's Changed?
Two sports owners, two allegations of misconduct, 20 years apart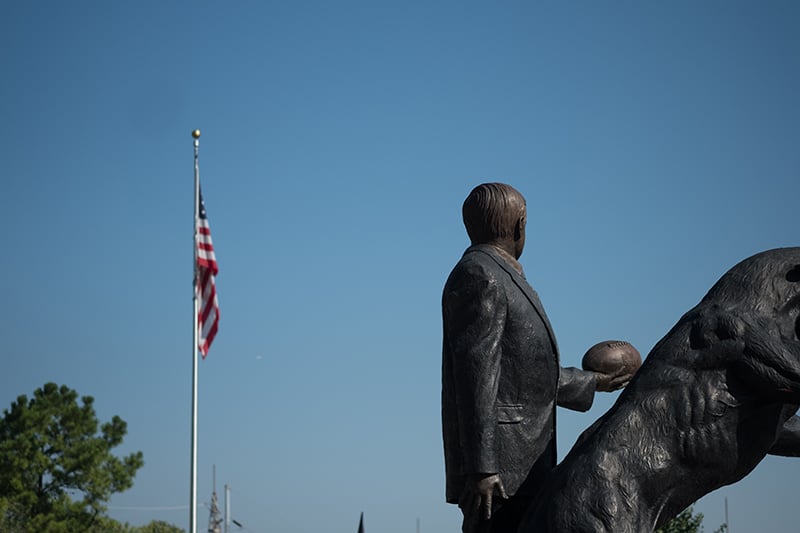 MAYBE YOU'VE HEARD THE STORY of the Southern gentleman who brought a professional sports team to Charlotte, only to see the city turn on him when allegations of his improper behavior with women surfaced.
No, the other one.
Before there was Jerry Richardson, there was George Shinn. Before there were the Carolina Panthers, there were the Charlotte Hornets.
Thirty years ago, Shinn unveiled the Hornets, the culmination of years spent trying to bring the first big-time, professional sports team to the Queen City.
Shinn was lauded and praised—so beloved, he was urged to run for governor and had George Shinn Day declared on the date the Hornets played their first game: November 4, 1988.
But in 1997, a woman alleged Shinn sexually assaulted her in his home and filed a civil suit when criminal charges were not brought against him. Two years later, Shinn was found not liable in an unseemly trial broadcast to record ratings on Court TV. But the damage to his reputation was done, and the city turned its back on him—refusing to approve funds for a new arena to be built uptown.
He left Charlotte shunned and disgraced—taking the team with him to New Orleans in 2002.
"No matter what anybody says, I will always care (about) and love Charlotte, because I take pride in what I did to help (it grow)," Shinn says now. "And I thought that whole first season was so magical."
Fifteen years later, in 2017, Richardson announced he was selling the Panthers after a Sports Illustrated report detailed alleged sexual harassment and financial settlements with at least four former team employees. He was fined $2.75 million by the NFL on his way out. It's now nearly a year later, and Richardson has not spoken publicly since the SI story or the $2.3 billion sale of the team. But a prominent reminder of his ownership of the team still stands outside Bank of America Stadium in the form of a 13-foot statue of his likeness.
Two teams, two men, two different eras. What did Charlotte learn in the years in between?
***
IN THE MID-1980s, Shinn was a businessman from Kannapolis who was fixated on the idea of bringing a professional sports team to Charlotte. He first set his sights on Major League Baseball, but the league commissioner said the market was too small. He then focused on the USFL, the one-time competitor to the NFL, and hosted two exhibition teams in town. He ultimately opted not to pursue it, a fortuitous decision, as the league folded in 1985.
He turned to the NBA when someone wisely recognized that North Carolina, with UNC and Duke basketball perennial powerhouses, was a hoops hotbed. The NBA had a chance at succeeding.
Shinn faced an uphill battle, he believed, because Charlotte was then such a small market with its 1988 population of 388,081—a figure that has more than doubled in 30 years. And Charlotte had what he and others called the "CH" factor—a city often confused with Charleston and Charlottesville.
"I just set out my goal to do everything I could to make this dream come true. I got hit in a negative way from all sides that I was crazy, it wouldn't work, Charlotte was too small. All the negative stuff," Shinn says. "I'm a faith-driven person, and I believe if you work hard and do your best and you've got good people helping you make the right decisions, right things will happen.
"So, I did everything I could to keep my people motivated against all the negativity that was out there. And it really got to the point it was somewhat magical. I'm not giving myself 'atta-boys,' OK, I'm just telling you the facts."
Shinn asked prominent North Carolina clothing designer Alexander Julian to create the Hornets' uniforms in trendy teal and purple. He persuaded Cheryl Henson, daughter of The Muppets' Jim Henson, to design the lovable mascot, Hugo. It was all a gigantic success.
"It was one of the most exciting times in my life," Shinn says.
So many Charlotteans wanted season tickets that a list called "Hornets Hopefuls" alerted fans when opportunities opened up—like when a season ticket holder died or didn't renew for some obscure reason.
Charlotte was finally the big-time player Shinn believed it should be.
"It puts us in a different league altogether. We're now a major league city—without question," said Charlotte's mayor, Harvey Gantt, at the time.
For Shinn, it all came crashing down just nine years later. After the sexual assault allegations and trial, he admitted to a two-year affair with a Hornets cheerleader. He and his wife of 27 years divorced. He disappeared from public life.
Now it's the #MeToo era, and when another professional sports team owner in Charlotte faced accusations of sexual harassment, he swiftly sold the team and was fined. But it's still complicated.
Richardson's statue still stands outside the Panthers' stadium, and the team's new owner David Tepper has said he's "contractually obligated" to leave it. There have been no demands for its removal by the public. Charlotte has collectively shrugged in apathy.
Perhaps unsurprisingly, Shinn doesn't see the similarities between what happened with him and what happened with Richardson.
"I think what (Richardson) did for Charlotte is incredible," Shinn says. "And I don't know the whole story, OK. But you know, I think my feeling is that he's done a lot for Charlotte and should be given credit for what he's done. I don't think he should be just kicked totally out because of some mistakes.
"But these days and times are different. I'm sure, like me, he's sorry for mistakes he's made. We all make 'em. We've got to learn by 'em and just keep moving forward. That's what I've done. I've devoted the rest of my life to serving my Lord; that was the reason that I got this team."
Now Shinn is 77, living in Tennessee with his second wife, Denise. He says he made 10 times his investment when he sold the franchise to the NBA, which purchased the team for $300 million and assumed the debts Shinn could no longer afford to cover.
Shinn will always be the one who brought the Hornets to Charlotte 30 years ago. But his legacy, like Richardson's, is complicated.
"I know that I made some mistakes in my life," Shinn says. "I haven't been perfect. I've asked God for forgiveness. But I'm happy for what I did for Charlotte. You know, I feel good about it. I'm very proud of it. They have professional sports because of what I was able to do."
Two teams, two men, two different eras.
Sometimes the more things change, the more they don't.