After Shooting, Personal Trainer Sydney Cummings Strengthens Reach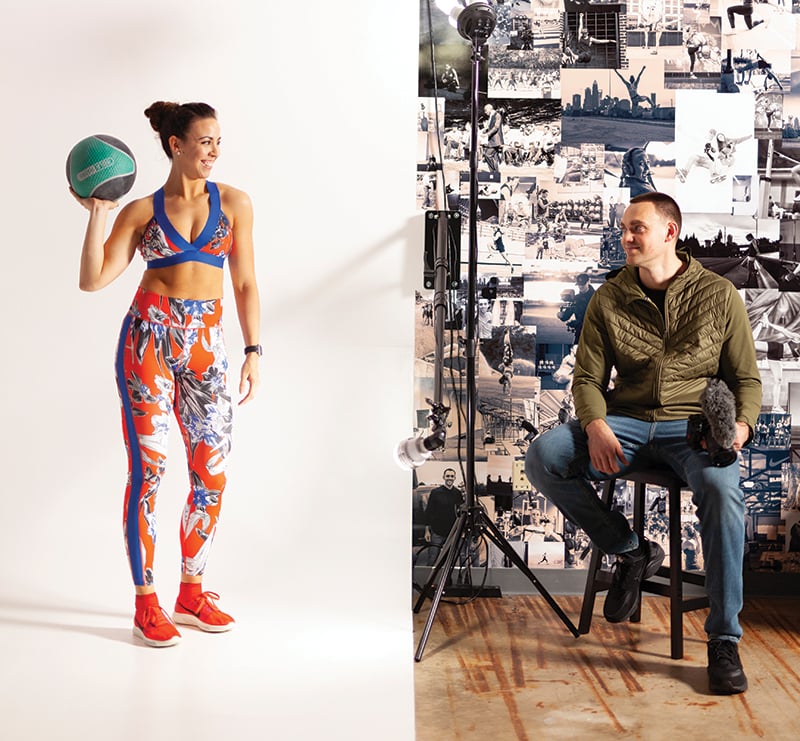 "DON'T MOVE," a voice said to Sydney Cummings and her fiancé, Dustin Houdyshell, as they left their South End studio after recording a fitness video for their YouTube channel in September. It was late, about 9:30 p.m., and four teenage boys approached them.
"The voice was so faint that I actually thought they were talking to each other," she remembers.
Two of the boys drew guns and fired eight shots, one grazing the back of her shoe and another shattering her right heel bone. Houdyshell rushed her to the emergency room where she underwent surgery to cauterize the artery in her foot to stop the bleeding.
Cummings, who started Royal Change, a personal training business, in 2015, says the recovery process has been frustrating, which is understandable for someone as active as she is. She has 80,000 (and counting) YouTube subscribers who depend on her daily workout videos, which range from a 20-minute deep stretch to a 50-minute boot camp.
The Sissonville, West Virginia, native and former college track star has overcome hurdles like this before, though. In June 2017, three years after moving to Charlotte, she woke up to three missed calls from her mother. Cummings learned that her younger brother, Zac, had been admitted to the hospital for a brain injury he sustained from an ATV accident in their hometown. For three weeks, Cummings and her family lived at the hospital by Zac's side, but his brain injury was too severe. "The nurse came out to my family and I and told us that Zac was gone," Cummings remembers. "My parents wailed this deep, soulful pain that I had never heard before."
Zac's death pushed Cummings to launch her YouTube account. She wanted to reach more people. "Him being gone really made me re-evaluate my life," she says. "I did a lot of reflection, and I knew there was more I could be doing."
In the comments section of her videos, viewers write notes of encouragement, share their weight-loss progress, and wipe enough sweat off their foreheads to type Cummings's mantra: "Crushed it." She's created a community over YouTube, one that only strengthened when that bullet pierced her right foot.
Cummings, who is also a Women's Health Action Hero, has become more personal on her YouTube page since the shooting. "This experience was like a flashback to when I lost my brother," she says. "It made me question all over again how I'm making an impact and what legacy I want to leave behind."