Airwaves & Superheroes: Inside Levine Children's Hospital's Radio Station
For the kids cooped up inside the hospital, a station built by a famous broadcaster becomes a welcome diversion—complete with country stars, the Ghostbusters, and Elsa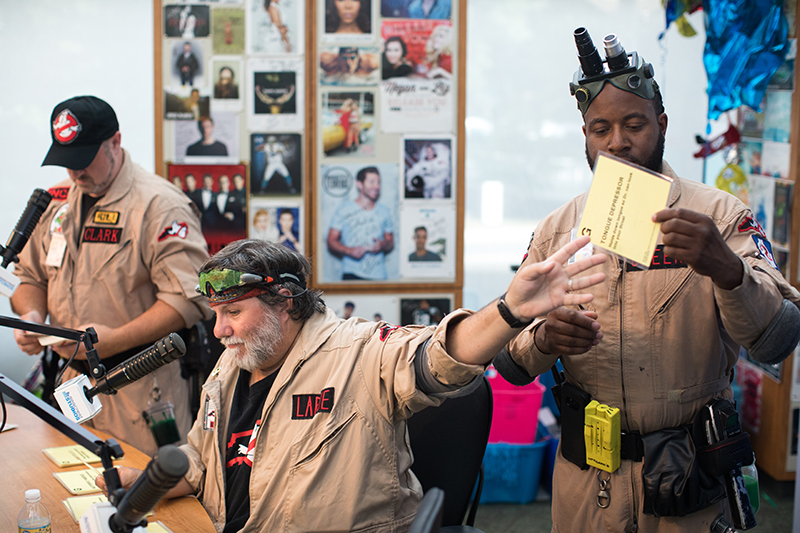 THE ON-AIR SIGN is lit red. Inside the glass-walled radio studio, the Ghostbusters crack corny jokes and the world's most famous princess tacks bingo cards to a board, while the phone blinks green with a call from upstairs.
The radio host answers. "What's your name?" she says, her voice rising on the last word.
A high-pitched sound on the other end announces proudly: "Jackson!"
His voice echoes throughout the atrium and pipes into the 200 or so rooms in the hospital.
"And how old are you?" the host asks.
"Nine."
"And do you know the answer?"
Levine Children's Hospital is a place where answers aren't always clear and the search for reasons can be unending, but in this case, the trivia question Jackson called to answer is pretty straightforward: "What country gave the Statue of Liberty to the United States?"
"France!" Jackson shouts from somewhere. We don't know where. Maybe he's in the intensive care unit on level 6. Or on the Panthers-themed floor on level 10. Or in a no-contact room with two doors separating him from outsiders. We don't know his floor, his ailment, or his status. Right now, in this studio, all we know is that he's right, and that makes him a winner.
"Yes!" the host, Meredith Dean, shouts, pattering the table with her hands to start a drum roll that builds throughout studio. The Ghostbusters, four grown men with proton packs and other fulltime jobs who've dropped by for today's games, add to the roll. So does Elsa, the famous Frozen princess, today portrayed by a UNC Charlotte senior named Laura Little who interns at the studio.
Upstairs, somewhere, Jackson smiles from his wheelchair.
Seacrest Studios has a way of blocking out bad things, whether it's a disease or the problems adults create out in the world. The studio is named for Ryan Seacrest, the television personality and longtime American Idol host whose foundation has funded the construction of 10 studios like this in children's hospitals throughout the country. The Charlotte studio, which opened in 2013, was fifth. Four local partners now fund the daily operations. On weekdays, the studio pumps music throughout the hospital all day long, and from 10-5 it sprinkles in programs such as lip syncing on Fridays, trilingual story time the first Tuesday of every month, and bingo every Wednesday.
It's the first thing visitors pass as they walk into the hospital. The colors are bright, balloons are everywhere, and signed pictures of celebrities cover the walls. There's also plenty of Cat in the Hat material here for any sick daughter or son, including a station where they can poke their faces through holes and pose as Thing 2 or Thing 1.
The main attractions, though, are the guests. Today it's the Ghostbusters. Larry King came once. Sheryl Crow's been here. This past summer, New Kids on the Block stopped by. That one caused a halt on all work in the hospital, with doctors and nurses in their 30s and 40s flooding the atrium to see the band that was a pop sensation decades ago, back when they were kids.
In July, country music star Dierks Bentley spent an afternoon here and befriended a young boy with cystic fibrosis named Bryson. A few hours later, the star paused his concert at PNC Pavilion to pay tribute to the kids he'd met, including Bryson, showing off their photos on the big screens.
Then there was the time this past spring when Madisyn Shipman, the 14-year-old star of the Nickelodeon show Game Shakers, visited from California. She met a 16-year-old boy with cystic fibrosis. Shipman arranged for a makeshift prom for the boy that night. She and the staff found a suit for him, rented a limo, and took him to dinner at The Melting Pot in midtown.
Dean, the on-air host and coordinator and only fulltime staff member for the studio, chokes up as she tells stories of what she's witnessed since taking the job two years ago.
"People ask me if it's hard to come to work here," she says. "But it's mostly joy. People think hospitals are really depressing, but I see more miracles than anything."
There's one sitting in the studio on the day of the Ghostbusters visit. It happens to be the first day of the fall internship program, and one of this semester's interns is Katlin Watts, a senior at UNC Charlotte. Watts, who grew up in Indian Trail, was born with sickle-cell disease and spent much of her childhood at the children's hospital. She had a stem-cell transplant as a teenager and is healthy now, but doctors and nurses still remember her. She remembers them, too.
"I grew up here," she says. "It's like home."
After about an hour of bingo and trivia, it's time to deliver the prizes. We have about 20 winners who'll get everything from Seacrest Studios headphones, which are cool, to teddy bears, also cool, and coloring books, also cool—all delivered by the Ghostbusters and Elsa, which is yelp-scream-holy-moly cool.
We go up to the 11th floor and Dean waves a badge over a security scanner to open the doors to the unit. We turn right down a hallway and left into a room.
"Are you Jackson?" Dean says.
He is. Jackson "Storm" Supernavage is kicked back in a wheelchair shirtless. He's a student at Union Academy but he's been here all week with an infection in a bone in his leg, his mom, Lucinda, tells me while wiping away a tear.
Jackson is all grins, though. He laughs as he takes pictures with the Ghostbusters and blushes as he poses with Elsa.
"OK, next room," Dean eventually says.
As the group walks away, off to deliver another shot of joy, Jackson uses his skinny arms to turn the wheels on his chair and follow behind. His mom laughs and tells him to stay close. "He'd chase them all around the hospital if he could," she tells me, her arms crossed as she watches her son. Jackson's dad died a few years ago, she adds, never taking her eyes off her son.
As the Ghostbusters and Elsa turn the corner, the boy who knew the answer to the Statue of Liberty question does circles in his wheelchair, round and round in this place that makes other problems seem small, his face beaming as if he knows quite a few things that we adults just wouldn't understand.
"He's said to me a couple of times since we've been here," Lucinda tells me, "'I'm having so much fun here, mom.'"
---
5 More Groups Focused On Children
Thompson Child and Family Focus
It started as an orphanage in the late 1800s, and now it provides several services, but at its core Thompson helps children who've been neglected or abused, with hopes of turning them into productive adults. The organization encountered financial struggles in recent years, and this spring the board hired a new CEO, Will Jones. But Thompson's annual spring fundraiser banquet regularly moves people to tears, and the stories on the website will move you to donate whatever you can—time or money or both.
Always Believe, Inc.
Local sports hero Muggsy Bogues founded his charity a few years ago to help at-risk kids from ages 12 to 18. That age group is of particular importance this year, with a sharp rise in murders committed by teenagers and young adults in the first half of 2017. Bogues' group is still relatively new and unknown. But given the scope of services it provides—including an after-school program that serves meals and gives tutoring help, leadership development and training, and even a cooking camp—and the connections Bogues has in professional sports, Always Believe has a chance to grow its influence.
Ace and TJ's Grin Kids
Some kids just need a break. A break from doctors doing tests, or parents praying for a cure, or even just hospital food. Radio personalities Ace and TJ (or David Cannon and Ritchie Beams when they're not on the air), whose morning show airs on Channel 96.1 locally and is syndicated nationally, formed a foundation in 2000 that takes terminally ill and chronically disabled children and their families on five-day, all-expenses paid trips to Disney World. Thirty-one kids received an invite to take this year's trip in October.
A Child's Place
In 1989, a group of woman noticed children playing in an uptown cemetery in the middle of the day. They asked why they weren't in school, and the kids said they didn't have a permanent address. Since then, laws have been passed to protect the educational rights of homeless children, but kids still need help. A Child's Place ensures that each homeless child has an individual education plan and monitors progress throughout the year. It also develops plans for families to work toward a permanent living situation.
Circle De Luz
Charlotte's Latino population is growing faster than in most cities, jumping from 1 percent of the city's overall population in 1990 to about 15 percent today. Circle de Luz, founded in 2008, works with young girls from the Latino community, providing mentorship programs and scholarships.