Alive After Five Returns April 4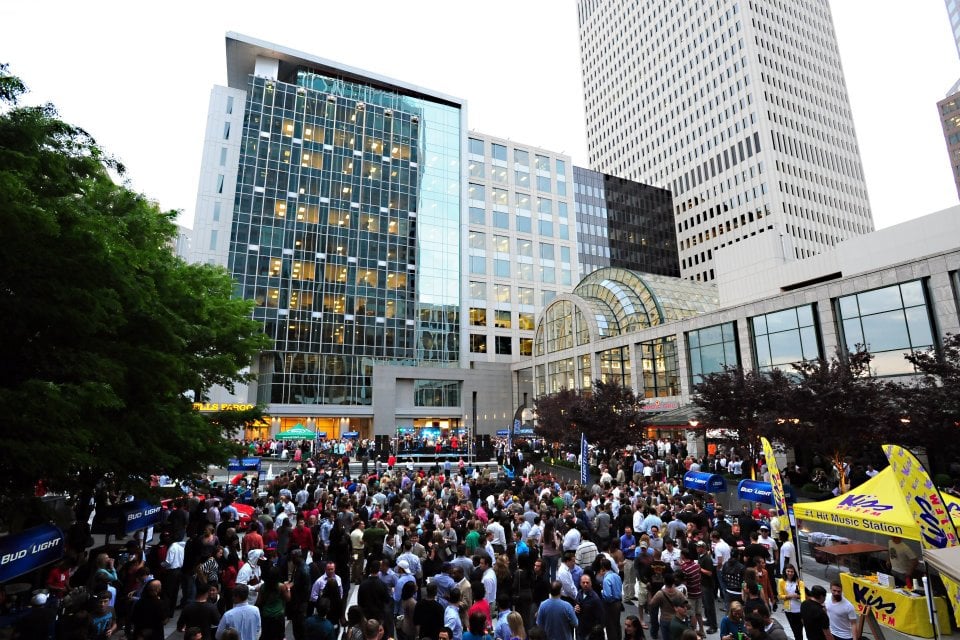 As if the pollen on your car wasn't an indication, spring is here. But on the bright side, this also means it's time for Alive After Five. The popular, happy hour and live entertainment series returns to Uptown for the 12th year, taking place beginning at 5 p.m. each Thursday from April 4 through September 26.
As has become customary the last few years, the first month of Alive After Five will be held at Wells Fargo Plaza (301 S. Tryon St.); then in May it shifts to the EpiCentre (210 E. Trade St.), where there are two stages and it will run till fall.
You can expect hundreds of 20- to 40-somethings coming out to AA5 each week, from veteran Uptown dwellers to the city's newcomers. The popularity and appeal of the bands each week usually influence how big the crowds get. AA5 organizers do a great job of not only selecting bands that represent a wide array of music (many of them are cover bands), but they also do you a service by releasing a full lineup in advance of what bands are playing during the six-month run.
Here are the bands you can look forward to during the first three months:
Wells Fargo Plaza
April 4: The Voltage Brothers (R&B, classic rock, pop)
April 11: Hot Sauce (party hits from the 70s, 80s, 90s, and today)
[Click here to win VIP tickets!]
April 18: On The Border (Eagles tribute band)
April 25: Sol Fusion (R&B, classic rock, pop, jazz)
EpiCentre
Rooftop Stage Courtyard Stage
May 2: Life of the Party Skate Rink Jukebox
May 9: Groovetown Who Rescued Who
May 16: Rubberband Rockstar
May 23: Firework Java Band
May 30: The Maxx Suckerpunch
June 6: Funky Monks Coconut Groove Band
June 13: Liquid Pleasure Continental Divide
June 20: We Got the Beat/ Machine Gun
Girls Girls Girls
June 27: 20 Ride Jeff Luckadoo & Southern Wave
General admission to Alive After Five is free, and gets you a wristband. Several cash bar stations will be set up throughout, selling beer, wine, and cocktails. VIP wristbands can be purchased and include complimentary food and drinks. Your wristband (free and VIP) also gets you free admission into after-parties at Whisky River, Suite, StrikeCity, Vida, and BlackFinn.
For more details, visit aliveafterfives.com and facebook.com/aliveafterfiveclt.
UPDATE 4/4/13: Statement from Alive After Five representatives: Due to threatening storms, cold weather and 100 percent chance of rain, Charlotte's kick-start into spring, Alive After Five, will be postponed until next Thursday, April 11 at Wells Fargo Plaza with party band Hot Sauce.

Be sure to bookmark www.charlottemagazine.com/Blogs/Dusk-Till-Dawn to stay plugged into Charlotte nightlife. Follow me on Twitter @HollidayInk; email me at jarvish@grownpeopletalking.com.