All the Mayor's Men (and Women)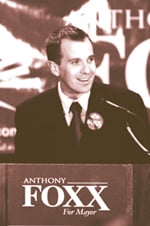 The Champagne's been drunk, the confetti's been swept away, and the election of November 2009 is a distant memory for most. But there are a few people out there who still have a bit of a swagger in their step because they helped Anthony Foxx pull off a major political feat to become the first Democratic mayor of Charlotte in more than two decades. Though hundreds of people worked on the campaign, there were a few core staffers who ran the operation, which was probably the most sophisticated (and, at more than $750,000, definitely the most expensive) in local political history. So who were those staffers? We look at the people behind Foxx's big win, update you on where they are now, and muse on their political (or nonpolitical) futures.
Bruce Clark

GIG: Campaign manager. Foxx hired him after his stint as deputy regional field director of Obama for America.

WHAT NOW: He commutes to Washington, where he works for a Capitol Hill software firm that primarily serves government clients.

FUTURE: Clark was unfailingly serious about the Foxx campaign, so we think you'll see him in campaign mode again — just not in Charlotte.

Brandon Lofton

GIG: Chief campaign strategist.

WHAT NOW: A young attorney, this Jacksonville, N.C., native works for Robinson, Bradshaw and Hinson, a firm known as a home to Republican power players. But apparently it's OK to be a Democrat there, too.

FUTURE: Lofton has some of the same local connections as Foxx, but he's about a decade younger. Lofton for mayor in 2019?




Rob Schnabel

GIG: Field director. Schnabel hadn't been politically active before getting involved in the Obama '08 campaign. After losing his job at a mortgage brokerage, he became a paid member of the local field operations staff. That's where he met Clark, who then hired him to work for Foxx '09.

WHAT NOW: Schnabel's looking to hop onto another campaign in '10.

FUTURE: At thirty-nine, he appears to have found a second career in political field operations.

Sid Levy

GIG: Communications director.

WHAT NOW: A marketing executive, Levy lost his job just as Foxx's campaign was gearing up. He's now consulting and interviewing for permanent marketing jobs.

FUTURE: Levy, who has a background in sports and consumer products marketing, doesn't appear to have caught the political bug while working on Foxx '09.

Kevin Monroe*

GIG: Senior adviser and wise uncle of campaign staffers, most of whom were younger than him. Started work as a volunteer for Foxx '09 almost immediately after finishing up as N.C. political director for Obama '08.

WHAT NOW: Monroe continues building his government relations consulting firm in Charlotte.

FUTURE: Having run both of Foxx's City Council campaigns, Monroe is a good bet to follow the promising politician if he seeks state or federal office.

Ben Brumleve

GIG: Übervolunteer. Not a member of Foxx's inner circle, this UNCC senior stood out among hundreds of no-title campaign volunteers because he made thousands of phone calls and knocked on thousands of doors for Foxx.

WHAT NOW: A political science major, Brumleve hopes to land an internship with the state Democratic party to work on this year's U.S. Senate race.

FUTURE: He lists himself as a Facebook fan of David Plouffe, chief campaign manager for Obama '08. A political junkie is born.

Jill Santuccio

GIG: Press secretary.

WHAT NOW: This former newspaper reporter and public relations director is looking for a job in communications.

FUTURE: Active in several nonpolitical local groups, Santuccio's involvement in politics will probably be limited to candidates she feels strongly about.

Amy Chiou

GIG: Campaign finance director. This recent George Washington University law school grad has been working on campaigns since her senior year in high school.

WHAT NOW: Chiou hopes to find a spot on a 2010 campaign in N.C.

FUTURE: Without deep Charlotte roots, we think this Texas native will go where the political winds take her.
* UPDATE In late January 2010, Kevin Monroe was hired as Anthony Foxx's special assistant, akin to chief of staff.