Almost Famous
How a local band is trying to go from busking to the big time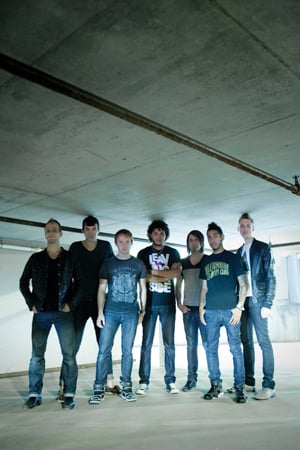 In 1976 a fourteen-year-old kid from Dublin posted a note on a school bulletin board announcing he was looking for musicians for a band. A few guys showed up to the first meeting in his kitchen. Ten years and five records later U2 had the fastest-selling album in British-chart history.
After five guys from Boston released their first album in 1973, it peaked at number 166 on the Billboard charts. Twenty years later, in 1993, Aerosmith's album Get a Grip debuted at number one, sold more than 15 million copies, and won the band two Grammys.
When a group of college friends from London recorded their first CD in 1998, they pressed 500 copies. By the time they'd given discs to record companies and friends, they only had fifty left to sell. Coldplay has since sold more than 50 million records.
But for every megasuccess story, there are thousands of tales of the groups who peaked long before they became household names — or were even successful enough to create a career. Charlotte's own musical history is filled with those stories, but right now a local rock band is trying to make its story one of the famous ones. Paper Tongues is touring the country, making television appearances, and shaking hands with the right people — all to make it to the top. But these seven musicians aren't just hoping for it, they're expecting it. Every show they play and interview they give is done with inevitable success on their minds. They look to icons like U2 and Coldplay, ready to be the next group of guys whose names are synonymous with rock 'n' roll. There's no doubt they have a long way to go — but their talent, drive, and pure luck make it seem like these seven guys just may have a chance.
In 1999 a group of musicians started coming together to play in uptown Charlotte. In those days, the city streets were quiet on Friday and Saturday evenings, and they began gathering close to the corner of Trade and Tryon, plugging amplifiers into city power and inviting anyone with a desire to make music to join. According to Aswan North, one of the founders of the scene, which they called "Improv Music Experience," about eighty local musicians participated.
"Once Mayor McCrory even played for about twenty minutes on the drums," says North, now the lead singer of Paper Tongues. "He was in jacket and tie on his way from a meeting, but he took off his sports coat, sat down, and started jamming."
Usually, though, around fifteen local musicians—guys with jobs in coffee shops or cutting grass—would show up on a Saturday night to play, and crowds would gather to listen to their impromptu jam sessions.
This spring, a band started by seven of those musicians released its self-titled first album. They took their name, Paper Tongues, from another local Charlotte band that had broken up and then offered them their name. The band consists of North, the lead vocalist, and three guitarists, two keyboardists, and a drummer. Their music, a mix of hip-hop and rock 'n' roll, features catchy songs with lyrics designed to inspire and give hope to the listener. It's happy music, with rousing lyrics modeled after artists like Bob Marley and the Wailers and upbeat rhythms with soulful vocals reminiscent of the Red Hot Chili Peppers.
Their single, "Ride to California," peaked on the Alternative Billboard Charts at number twenty-two, and the band has been featured on MTV as a Push Band of the Week. In addition to their talent, though, like any band making it big, much of their success comes from the people behind the album. Their producers include Brian West, who has also produced for Nelly Furtado, and Mark Endert, who has worked with Maroon 5. But possibly most important of all, their manager is Randy Jackson, the musician and producer best known as being a judge on American Idol.
Going from a talented band to a successful band takes a little bit of luck. In the case of Paper Tongues, that luck came in the form of a chance encounter with Jackson one afternoon in Los Angeles. North, whose distinctive voice and mass of dark, curly hair draws glances in crowds, had just finished eating at the Mondrian Hotel on Sunset Boulevard. On his way out of the restaurant, his friend recognized Randy Jackson and pointed him out to North.
He grabbed a piece of paper from the valet, scribbled down his name, phone number, and the band's MySpace page address and returned to Jackson's table.
"I walked back in and walked up and said, 'Yo, are you Randy Jackson?' and he said, 'Yes, I am.' So I'm like, 'Cool.' I slide his plate of food over, slam down my sheet of paper and say 'Hey, what's going on man?' " says North, who went on to explain to Jackson that his band needed his help. Jackson promised to listen to the music and give him a call if he thought it was good. "Two hours later I'm riding in the car and I get a call and I pick up the phone and I hear, 'Aswan, it's Randy Jackson.' He's like, 'Yo, "Get Higher" is my song, dawg. "Get Higher" is my song.' I'm like, he not only listened, he knows the title."
The next day Paper Tongues met Jackson in a studio, where they performed for him and spoke with him for more than three hours. He agreed to manage them.
Pushing aside celebrities' plates of food to give them your number may seem unlikely, but not if you've met North, the lead singer and the group's natural leader. North is energetic, with a clear, loud voice that serves him well on the stage. On a sunny afternoon in early May, as he sits at a Starbucks in Dilworth, his personality feels too big even for the bustling coffee shop as he waves his arms and raises his voice in excitement.
"I talk a lot and I'm ADD and hyper active," he says by way of explanation.
North moves frequently as he speaks, slashing the air with his arms and only occasionally resting his hands on his dark jeans. He's talking about one of his favorite subjects: making the band a success.
"We look at successful, multiplatinum bands like Wilco or Linkin Park — big bands that have sold millions of records; bands with years of experience," says North. "We look up to them to see how this can be our day job so I don't have to go back to cutting grass or go back to being a janitor. I used to work at Bojangles'. I don't ever want to do that again. None of us want to go back."
North was the one who recruited all the members of the band to give up their regular jobs. Most of them had been living together in a house in midtown, where they practiced in the basement and played whatever gigs they could get in spots around town. In 2009, they headed to Los Angeles, where they spent a hot summer sleeping on friends' floors and couches and trying to get a break. That break turned out to be Randy Jackson, but it hasn't all been smooth and easy since then.
"Everyone is still trying to pay their phone bill," says North. "People keep saying, 'Oh, you made it!' But we really haven't. We're just getting looked at. We need to sell some records to say we've made it."
This kind of candid attitude and ambition is common to every member of the band. Together, the seven guys came up with three rules you aren't likely to find with many rock bands: no drinking on the job, absolutely no recreational drug use, and no taking advantage of the opposite sex. In hours of interviews, they never use any foul language. They're wholesome in a way that feels unexpected from a rock 'n' roll band.
"People can do what they want on their own time, but this is our job," says Clayton Simon, the band's keyboardist. "We've all decided that's what we want to do." They've also taken to heart advice offered to them by Jackson and other experienced celebrities on the problems fame can bring. Already, none of the members speak publicly about their family members. They don't want to even discuss whether they have spouses or children because if they reach their goal of fame, privacy will be important to them. They don't share their ages, saying only that they're all in their twenties. All the members have agreed that they represent the band and don't have the luxuries of individual entities. Their image-conscious behavior suggests aspiring politicians who want clean records. The band members are so ready for success that they want to ensure they're prepared when it happens.
North says that each day from 8 a.m. until 8 p.m., the guys are on the clock, working for Paper Tongues. "This means everything to us," he says. "This is all we've got left now."
It's a hot, dry afternoon in late May and Paper Tongues' sleek tour bus is parked in Third Ward. The bus is squeezed behind barricades and against a massive stage, where later the band will play for the NASCAR Rev'd Up event. NASCAR fans are already swarming the area, buying cold drinks at concession stands and sitting in the field in front of the stage, waiting for the show to begin. Inside the bus, the air conditioning is on full blast as the guys relax, snack on fruit, text friends, and chat with each other. Most are wearing the clothes they'll perform in: form-fitting jeans and dark shirts. Over the last several nights they've played shows in eastern North Carolina and Atlanta. A few days later they'll play at NASCAR's All-Star race and then two days after that they'll be in L.A. to play on George Lopez' show, Lopez Tonight.
Kashi cereal, bananas, and Gatorade overflow from the small kitchen area. The guys' clothes and personal items are tucked into drawers beneath the seats and cabinets above their heads. Their bikes are packed onto the bus and DVDs are stacked beneath a flat screen in the corner. This is their very small, moving home.
"We just kind of chill out in whatever city we're in on the day of a concert," says keyboardist Cody Blackler, who notes that they started to bring their bikes on the road because otherwise they can't get around once they get into a town. "Everyone just kind of does their own thing because we're on the bus with each other all the time."
Charlotte is different. Each of them considers this home and today the crowd will be filled with family and friends happy to see them perform here for the first time since 2009. As they wait on the bus, family and friends call from behind security outside the barricade, anxious to see them. During voice warm-ups, guitarist Devin Forbes pauses to talk to his mom on the phone and invite her to the bus. North pauses in his vocal warm-up to ask the other members how his shirt looks for the stage. They're relaxed around each other, joking and laughing as they prepare for the concert.
By the time Paper Tongues comes onstage, the field in front of it holds hundreds of their fans. It's a little after 6 and the crowd is a mix of families with young kids and strollers, uptown workers who have wandered over on their way home, and hipster fans wearing Ray-Bans and skinny jeans.
From the minute they begin performing, it becomes clear why Randy Jackson agreed to manage them and why MTV pushed them and why Rolling Stone wrote about them. Not only is the music catchy and good, but these guys are great performers. North is animated as he moves around the stage. The crowd, which often claps along to the music, can't take their eyes off him. Many in the audience move their lips, forming the yrics with him as he sings. It's hot and the band members take swigs of water between songs and wipe the sweat from their foreheads as they squint into the late afternoon sun. As they perform, they appear on a large screen beside the stage and the city's skyline looms tall and bright behind them. Forbes speaks to the crowd and says how happy they all are to be home. "We love you," he says, and the crowd applauds. "Sorry we haven't been here in a while."
A few blocks away, on the corner of Trade and Tryon, where the band members first met, one can faintly hear their most popular single, "Ride to California," which closes the set. They've come a long way since they were plugging into city power to play on a sidewalk, but they're ready to go even further. They're on the cusp, now they just keep trying — and hoping — to be the next big thing.
Sarah Crosland is the associate editor for this magazine. Email: sarah.crosland@charlottemagazine.com