Along the Way with Michael Graff: A Letter to My Wife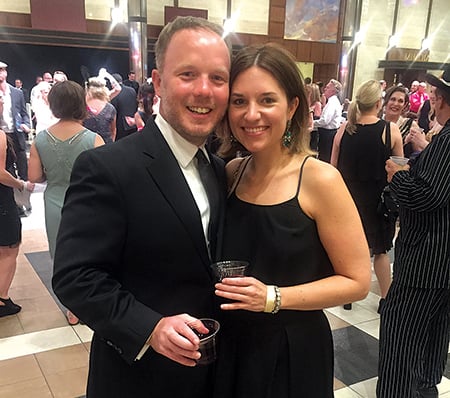 Dear Laura,
Good morning. How'd you sleep? It's October 1, according to the cover of this magazine. If I'm being honest, though, and I hope to always be, I wrote this in mid-August. Magazine deadlines are curious equations. The words we write one day don't bloom until weeks later.
The human race was in a hell of a fix back in August. The week I wrote this, a white supremacist drove a car into a crowd in Charlottesville, killing a young woman who believed white supremacy was evil. Is that such a stretch? A few days later, another terrorist ran a van into a crowd in Barcelona and killed 13 people.
You remember that week. I came home and stared at the blank wall in our living room, and you stared at the floor. Then we talked about all the things we didn't understand. What a sad mind a person must have to believe he deserves everything in this life, or at least more than that other person, those people, them, the ones he believes are out to take it all away from him.
It's difficult to envision the future these days, but a magazine writer must try, given his deadlines. So when I sat down to write this, I imagined this day, October 1, and of course it occurred to me that it's the morning after our wedding.
Good morning, my love.
Was it what you wanted? Who were the people your mother invited, anyway?
Yes, those others with the bad dance moves really were my extended family, my blood. We should probably talk about the holidays at some point!
I still think back to that Saturday morning two Decembers ago. I had my running shoes on, when Kristen texted to ask if I wanted to join her at that charity pancake breakfast. She was the food editor for this magazine, so it made sense for her to go. My only reason was that pancakes sounded better than running. And you were there, in that room upstairs, standing against the wall, and you said, "Hi."
I hate to tell you this a day late, but I'm getting the better end of the deal here, you know? Your contributions are so profound: peace of mind, quiet comfort in a noisy world, a steady voice on sad nights. Mine are more along the lines of, "Did you know Old Bay tastes good on anything?" or, "Trust me, the Orioles will be better next year." Speaking of that, I'm sorry that I insisted that we choose the September wedding date instead of the October date. Guess we didn't need to, this year.
But it feels good, right? To have this done? We've never been the waiting kind. At least one of us hasn't. I still can't believe what you said to me the first time I asked you out. "I'm wrapping presents tonight. Sorry." I'm guessing you brushed your teeth, too.
The wait was worth it, though, considering our first date was a month later, down at that concert in Charleston, and that little band named Shovels & Rope came out and sang that song for the first time, the one with the line, "This life may be too good to survive." When you looked back at me and mouthed, "Wow," I swear I learned all I needed to know about what you wanted out of this life.
Learning about you is the best part. Every day is a chance for a new reality. I thought I knew Charlotte before I met you. I didn't. You grew up here, a little girl with her legs dangling from the booth at Mr. K's, a teenager taking her first job at Campbell's Nursery and learning that sunflowers can brighten any world, a woman who proudly tells stories of her family going back generations on the western side of the city. The Observer recently ran a column titled, "I'm not a Charlotte native. You don't need to tell me that you are." The author says that hearing someone claim this city as home makes her feel like an outsider. I disagree. When I hear it, it sounds more like an invitation to ask you more. Keep telling me more.
People say silly things. Remember those ridiculous questions leading up to the wedding? "Are you worried?" Well, no. "What are you most looking forward to about being married?" That one's particularly strange. It's as though they're telling us that a wedding is a piñata and marriage is a floor full of candy, and we have to pick a favorite piece. It's not like that. We get all of the candy, and we have to work through the hard pieces.
Bad times yield to good, goodness gives us hope, and hope keeps us upright to face the bad times again.
You know what I've been thinking about, amid all that's troubling in the world today? It's this most unfair truth: Bad marriages have sad endings; great marriages end as utter tragedies. Like all tragedies, though, the characters' love will live on beyond them. I suppose we should get to work on what kind of world we'll leave behind.
So let's get up. Let's go.
Or, you know, we could just lie here awhile.
Whatever you wish.
Your husband, Michael