American Alternative: Nan and Byron's
Business brings an upscale casual flair—and an approachable menu—to South End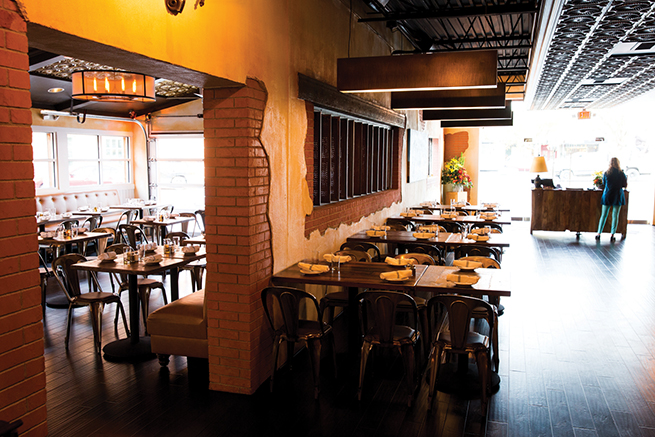 The somber-looking farming couple in Grant Wood's classic painting American Gothic, although the inspiration for this eatery's name, would likely feel out of place among the energetic and enthusiastic clientele filling the bar and tables at Nan and Byron's.
Meatloaf with a dollop of Sriracha ketchup alongside mashed potatoes and peas and carrots.
The menu at the new South End eatery from MAP Management, the group behind 5Church, has an Americana feel, with classic dishes including meatloaf, spaghetti and meatballs, and roasted chicken. At the helm is executive chef Jamie Lynch, who splits his time between the restaurants.
Dainty and unfussy deviled eggs ($4)—with a creamy, paprika-dusted filling that wouldn't feel out of place on a potluck spread—keep company on the appetizers list with a smoked poblano cheese dip ($6.50), which complements crisp house-made chips but works even better with the popcorn brought to your table during dinner service. Entrées are also unpretentious. The chicken ($14) offers a slightly spiced twist on a classic half roast and sits atop a zingy green sauce that pops with notes of chilies and herbs. The meatloaf ($14.50) gets a similar twist-on-a-classic treatment: The large, moist, square brick of meatloaf served with a dollop of Sriracha ketchup and a red wine sauce is both satisfyingly familiar and slightly quirky.
Sides ($4 each when ordered à la carte but also included with entrées) are classically American. Choose carefully if you don't want your food to mingle; entrées are served directly on top of most sides—and some combinations work better than others. Mac and cheese is creamy and not overly sharp, with notes of cheddar that bring a dense richness to the cavatappi spirals, and the baked beans are mixed with diced vegetables and not unlike what you might find at a local barbecue restaurant. But you might not enjoy either side as much after a dunk in, say, the spicy green sauce served along with the chicken entrée.
If you're waiting for a table (and for dinner, you will be if you don't have a reservation), head to the bar, which serves the full menu. Beverage director Mark Childers, along with the mixologists at 5Church, developed the varied and eclectic drink menu. The juniper cooler ($10) is tangy and bright with hints of muddled citrus along with cooling gin. The Southern coffee ($10) would be a star during dessert, with Kahlua, vivid orange notes, and smooth bourbon.
Lastly, the South End Gin ($11) tastes like a grown-up lemonade, making use of house-made cilantro syrup to achieve a south-of-the-border vibe.
A fun stop for families early in the evening, Nan and Byron's will likely become a favorite for anyone searching for a lively bar scene, a traditional and accessible menu, and late-night munchies on Fridays and Saturdays.