American Roadside Burgers Opening Two Locations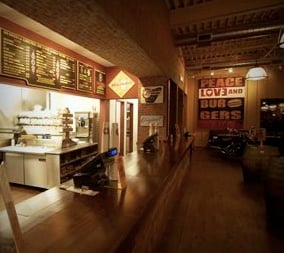 American Roadside Burgers, a New York-based burger joint designed as a tribute to roadside burger stands, has announced it will open two Charlotte locations this fall. The first is set to open mid-fall uptown in the Ally Bank building at 440 South Church Street. The second will be in the SouthPark area and is expected to open in late 2011. Both locations will have interior dining as well as patios and bars.
Since this is the restaurant's first expansion into the South East, I'll assume you're like me and have never eaten at ARB—and are therefore curious as to what is going to set this burger spot apart from the others that seem to be opening at a rapid rate around here. ARB's menu includes beef (all Sterling Silver brand), veggie, and turkey burgers as well as chicken sandwiches, wings, and salads. Plus, they offer milkshakes, beer, and wine. Corresponding with the roadside stand tribute, all of the restaurants have rustic "Made in America"-themed decor such as reclaimed barn siding.
Check out American Roadside Burgers' website for more details.