Amore for Amatrice, Italy: Dine Out, Help Out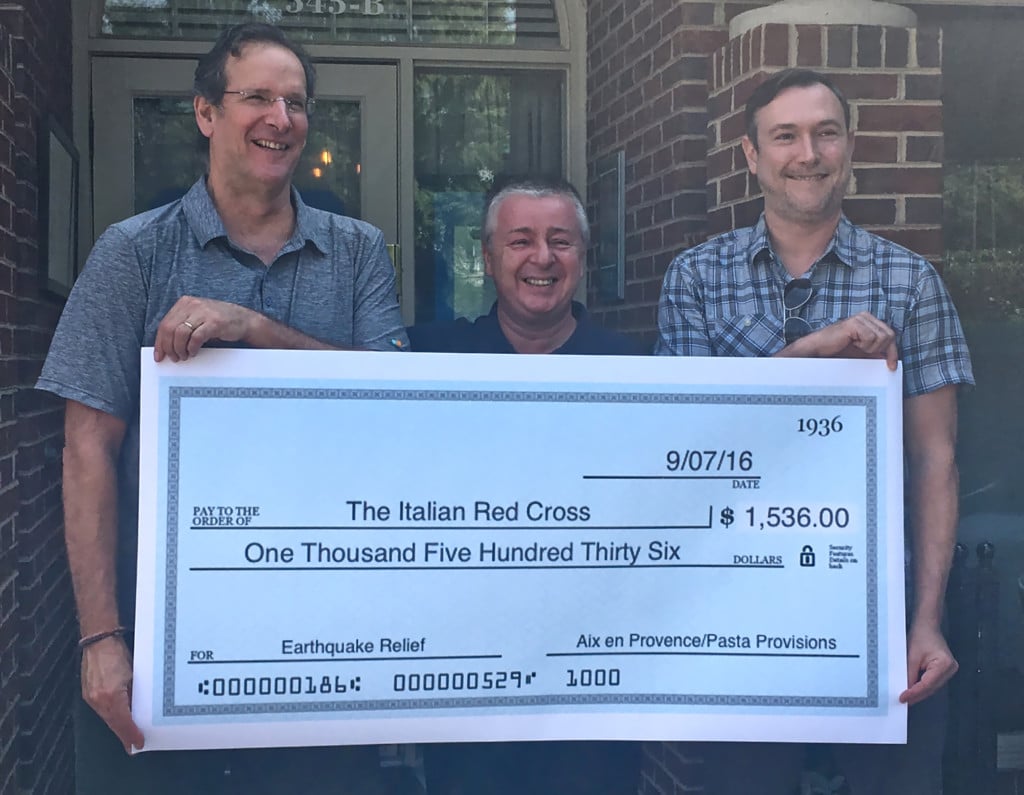 Charlotte's restaurant community has shown generous support for victims of last month's earthquake in Italy and, with your help, will continue to do so in the coming weeks. The 6.2–magnitude devastated the small town of Amatrice, home to the famed Amatriciana sauce that is traditionally made of pork cheek (guanciale), Pecorino cheese, hot chili flakes, and tomato. Spaghetti all' Amatriciana is so popular throughout Italy and beyond that the Italian government even gave it its own stamp once.
Normally, Amatrice would have thrown their annual Festival of the Spaghetti all'Amatriciana around this time of year, but the town's residents are instead focused on rebuilding their historic town, much of which is now rubble.
Local business owners Patrick Garrivier and Tommy George decided to assist with fundraising efforts springing up nationally and worldwide. From August 26 to September 3, Aix en Provence and Pasta & Provisions collaborated to offer a spaghetti all' Amatriciana special to raise money for the Italian Red Cross. Pasta & Provisions donated 25 pounds of pasta to Aix en Provence's kitchen, which made 96 portions of the $16 dish during that time.
Today, the two businesses held a small ceremony to present a $1,536 to the local Red Cross, which will in turn send the funds to the Italian Red Cross to help with relief efforts throughout the country.
If you missed the chance to donate through that effort, here are several other fundraisers that will celebrate Italy's culinary impact on our own cuisine while offering support to victims in need. (Please click the links to get more details on each event.)
Being mindful of the recent devastation much closer to home in New Orleans, I've tried to find similar events in support of relief efforts there, but have yet to find any in Charlotte. Please feel free to share those, if you know of any.
MORE WAYS TO DINE OUT AND HELP OUT
MONDAY, SEPTEMBER 12
Executive Chef Grigolon of Aqua e Vino has teamed up with Zia Pia Imports at the 7th Street Public Market. From 11 a.m. to 2 p.m., he'll be at the market preparing pasta all' Amatriciana during the lunch hour. The dish will be $10, and all proceeds will be donated to the Italian Red Cross.
FRIDAY, SEPTEMBER 23
AMATRICE DINNER BY BLUE & PASSION8 BISTRO
Chef Gene Briggs and Italian-born Chef Luca Annunziata are teaming up for a special dinner later this month at Blue restaurant that celebrates Italy with food, wine, and music. Guests will enjoy four courses and have the chance to participate in a silent auction and purchase wine for sale during the event. One hundred percent of the proceeds raised through the auction and the wine sale, along with a portion of funds raised through the dinner, will be donated to the Italian Red Cross.
Dishes include a chicken roulade alla Romana, stuffed with sage, speck, and Pecorino cheese and an arista alla porchetta, a slow-roasted pork loin stuffed with pork belly. Naturally, the third course will be bucatini all'Amatriciana, a thick, hollow pasta some feel is the best mate for the famous sauce. Dinner will close with a sweet ricotta tart topped with blackberry gelato and blackberry marmelade.​ Call to reserve; reservations are required.