An Artist's Kitchen
A backsplash becomes a canvas for creativity in this south Charlotte home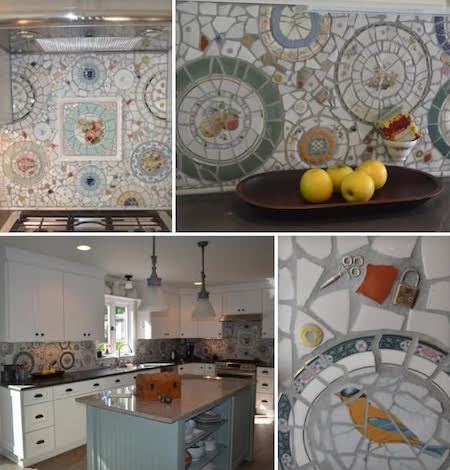 For 26 years, Bruce and Mary Johnson made their kitchen work. It was tight. The appliances were dated. But it was functional.
Their south Charlotte home is 2,300 square feet. Three years ago, they expanded their living space by renovating the backyard. They added a bigger deck, which provided room for alfresco dining and relieved some pressure from the cramped kitchen.
"It became a wonderful entertaining area," Mary says. "But the kitchen was still a bottleneck."
The Johnsons enjoy having groups over including neighbors and friends from church. Mary is also a member of a supper club called Dinner Chicks. The group of eight women have dinner once a month. They've maintained the tradition for a dozen years. Each meeting is at a different member's home. The hostess prepares the main dish, and others bring appetizers, side dishes, wine, and dessert.
"My friends have such lovely, open kitchens," Mary says. "I felt bad when they came to my cramped, tiny one."
This past fall, Bruce and Mary worked with Shank Building and Design to remedy their too-small kitchen. They expanded the kitchen space to include what was once a laundry closet. As a bonus, Mary got a laundry room out of the renovation by repurposing a small portion of unused space out of Bruce's office.
The kitchen renovation included all new appliances and an island for more counter space. As with many projects in older houses, other issues were discovered along the way, including a leaky upstairs shower that was repaired. The home's uneven floors wouldn't allow for rigid tile or hardwood. The Johnsons went with a floating cork-back vinyl that looks like rustic barn wood.
Shank offered to put subway tile on the backsplash, which Mary liked, but she had another idea that she'd been pondering for a while. Mary is an artist. She paints. She also enjoys making seashell mosaics, paper collages, and assemblages of found objects.
"I'd been thinking about doing a broken-plate mosaic for years," Mary says. "I decided it was now or never."
As the builders hammered away in the kitchen, Mary worked on the backsplash mosaic in sections in her studio. She purchased plates from thrift stores. The most expensive one was $2; many of them were 50 cents. She broke the plates into large chunks by turning them over, covering them with a towel, and hitting them in the center. She then used tile nippers and cutters to break the plates into smaller pieces. She included other found objects, such as locks and keys and random pieces of colored or metal materials.
She used a mortar for stone and granite to affix the pieces to the backer board. She "buttered" each piece, stuck it to the board, and leveled them by pressing down with a piece of scrap lumber. After the mortar set up, the builders screwed the sections onto the wall. The grout then tied everything together. In all, the backsplash covers about 12 linear feet.
"I questioned myself all the way along, but I'm glad I did it," Mary says.
Now when she has her friends over for supper club, her kitchen has plenty of room for multiple people to put finishing touches on different dishes. And it's a beautiful space in which to work.
"I love lots of different kinds of art forms," Mary says. "Making food and good presentation are another element of creativity."