ANALYSIS: Pat McCrory 101
Introductory course materials on the longtime Charlotte mayor and one-term governor who's running for U.S. Senate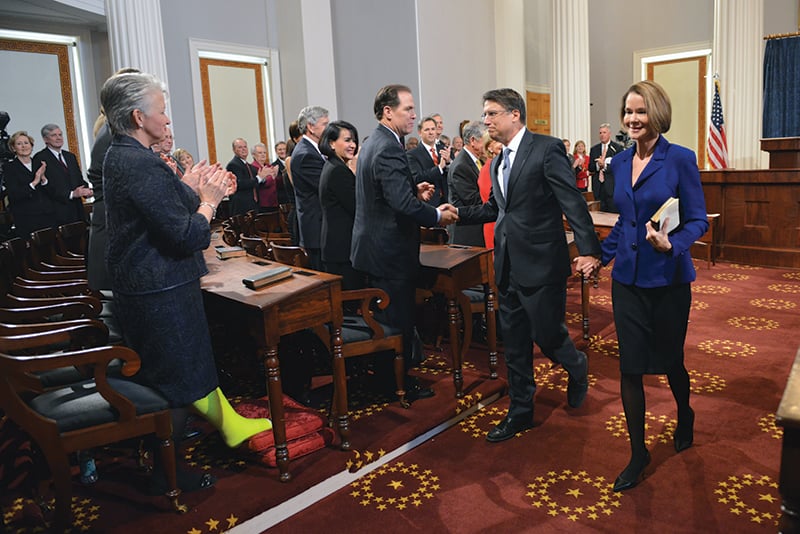 Pat McCrory, North Carolina's governor from 2013 to 2017 and Charlotte's mayor for seven terms, announced on his radio show Wednesday morning that he's running for U.S. Senate in 2022. Incumbent Senator Richard Burr, in office since 2005, is not seeking a fourth term. Early polling indicates that McCrory, 64, would enter the Republican primary race as the favorite against ex-U.S. Rep. Mark Walker, the only other GOP candidate who has formally announced, and U.S. Rep. Ted Budd, who "is also seriously considering a bid," Politico reported Monday.
As you might imagine, we've written quite a bit about McCrory over the years, since his election to the City Council in 1989; through his tenure as mayor, which started in 1995, and his unsuccessful run for governor in 2008; his victory in the 2012 governor's race; and his loss to Roy Cooper in 2016. During his 14 years as "Mayor Pat," McCrory developed a reputation as a reasonable, moderate conservative—pro-business without question, but willing to defy fellow Republicans when he thought large-scale projects like the Lynx light rail line would benefit the economic and social prospects of the city.
Then came his sole term as governor. To many Charlotteans' alarm, the erstwhile moderate began to tack with an ultraconservative Republican supermajority in the General Assembly, which passed a mountain of right-wing legislation on taxes, schools, environmental regulations, and more. In 2016, just a few hours after its passage, McCrory signed into law House Bill 2, the infamous "bathroom bill" that, among other things, forced transgender people to use the public restrooms that matched their genders at birth—a direct response to a Charlotte ordinance that specifically prohibited such discrimination. The backlash cost North Carolina hundreds of millions in business and is often cited as the reason why McCrory lost the governor's race to Cooper in 2016 (although, as mentioned below, there's strong evidence that another issue was the deciding factor).
For Charlotteans who've just moved here, or even for longtimers who might need a refresher, here are some pieces we've written over the years that, taken in whole, might serve as a kind of Intro to Pat McCrory course, McCrory 101. Junior- and senior-level materials are also available on this and other websites, although no McCrory reference work should dare to exclude the Awkward Hug GIF.
Want an idea of how and why McCrory kept winning mayor's races and, ultimately, the governor's? Former Charlotte editor and publisher Rick Thurmond wrote this analysis in 2007.
Once he was sworn in as governor in 2013, though, he immediately signaled strongly which political path he'd take in Raleigh, as I wrote then.
Anthony Foxx was McCrory's successor as Charlotte's mayor, the first in a long line of Democrats to occupy the office after Republicans had held it for 28 of the previous 32 years. (Foxx later served as U.S. Secretary of Transportation under President Obama and now is chief policy officer for Lyft.) Rumors persisted that the two didn't get along. As you can tell from this warm, genuine embrace in March 2013: Nonsense. They're like brothers. (The GIF was the creation of writer Jeremy Markovich, who went a little crazy for a time with GIF creation.)
The same month, we published Michael Cooper's profile of McCrory just as he started his term as governor. Later, we ran a story I wrote about how the legislature and McCrory's sudden rightward lurch was creating an abnormal level of friction between the never-cozy state government and Charlotte.
Even before HB2, McCrory left distinct clues about his willingness to harness the political hobbyhorse of the transgendered and their access to public restrooms. In 2015, the year before the bill, I wrote about McCrory's seemingly out-of-left-field request of then-Attorney General Roy Cooper, his presumed opponent in the 2016 governor's race, to "stop the federal government from taking over our schools, and challenge the ACLU and President Obama's attempt to force local districts to open sex-specific locker rooms and bathrooms to individuals of the opposite biological sex." This was boilerplate taken from the likes of right-wing groups like Alliance Defending Freedom, and it presaged the culture battle to come. (If you've forgotten all the touchstones of that long and vicious season, here's our HB2 timeline.)
National media outlets almost universally credited the backlash to HB2 as the main reason why McCrory lost to Cooper in 2016. I crunched some of the election data, though, and they strongly indicated that the pivotal factor was Lake Norman-area voters' anger at McCrory for his support of the Interstate 77 toll lanes project.
Four years later, after COVID and President Trump's intransigence on health restrictions had scuttled the planned Republican National Convention in Charlotte, McCrory reflected on how strongly Democratic Charlotte and Mecklenburg County had become since his last run for mayor in 2007. If he ran now, "I could make it close," he said. "But it would be a very difficult race."