ANALYSIS: What Happened to Charlotte's Bold New Breed on City Council?
The city's governing body is drowning in feuds and trivia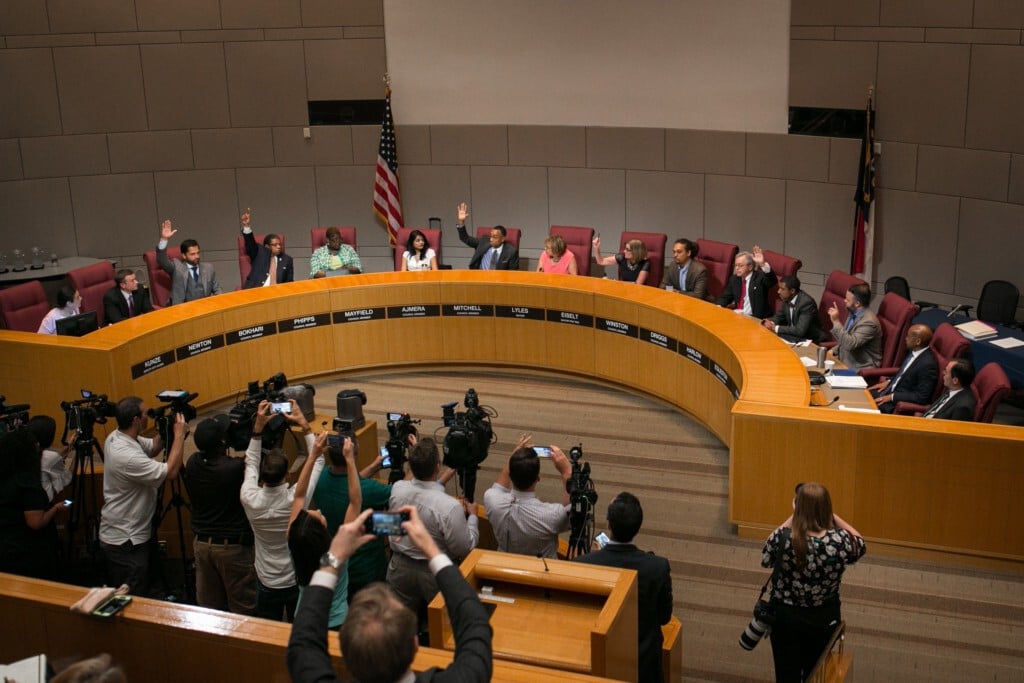 The crisscrossing ethics complaints against Charlotte City Council members continued to pile up this week, and they've become silly and petty enough to stand on their own as exhibits of shaky ethics.
Last month, council members—most notably Democrats Dimple Ajmera and James Mitchell—began asking whether a fellow council member, Republican Tariq Bokhari, was guilty of a conflict of interest. City staff had proposed that the company Bokhari co-founded and directs, Carolina Fintech Hub, use $1.5 million in federal funds—administered by the city as part of a coronavirus relief plan—for a job-training program. City staff, including City Attorney Patrick Baker, said they didn't think it would be a conflict because the money would go directly to job trainees, not to Bokhari's company. On July 27, council members voted 9-1, with Bokhari abstaining, not to extend the contract to Carolina Fintech Hub.
Bokhari insinuated during the meeting that the conflict-of-interest accusation was payback for his support of the Charlotte-Mecklenburg Police Department during the George Floyd protests after Memorial Day. The N.C. Republican Party took Bokhari's suggestion and sprinted with it. On August 6, the party "decided to shine a light on the real ethics violations that have been occurring in Charlotte for years" by accusing Mitchell of a questionable taxpayer-funded trip to Detroit in November 2018 to view sports arenas—Mitchell chairs the council's Workforce and Business Development committee—and Ajmera of accepting campaign contributions from real estate developers in connection with her votes on rezoning cases.
The complaints are embarrassingly, perhaps intentionally, thin—for Charlotte City Council members, contributions from real estate developers are about as scandalous as ribbon-cuttings (and at times occur on the same parcels of land). As long as the contributions stay under the legal limit, nothing prevents anyone from donating to anyone's campaign; it's an issue only if you can demonstrate an obvious quid pro quo, and the state GOP complaint doesn't. But under an ethics policy adopted after ex-Mayor Patrick Cannon's arrest in 2014, Baker has to hire an independent investigator to review the NCGOP's complaints without having a chance to review the complaints himself to see if they have merit.
On Monday, Baker did the same with yet another complaint, this one against Bokhari and a virtual clone of the NCGOP's against Ajmera, but with names swapped. If the goal of the petitioner (Brandon Forbes, a Charlotte attorney) was a mocking send-up of the entire mess, he succeeded: Campaign donations from developers? In Charlotte? Perish the thought! In an email to council members Monday, Baker, referring to his "serious concerns," all but ordered them to overhaul that ethics policy ASAP.
This might be worth taking more seriously. But we're approaching six months of a pandemic that as of Monday had killed 266 people in Mecklenburg County, and we're a half-notch away from the destruction of American democracy. If anything, accusations of penny-ante political corruption make me misty-eyed with nostalgia for the good old days.
You might remember all the way back to 2017, when a group of energetic, under-40 council members was elected to the City Council and promised to infuse the Government Center with fresh ways of looking at old problems. At this point, it appears that the problems have won. This isn't all the fault of the Bokharis and Ajmeras; starting in 2016, with the HB2 fallout and the police killing of Keith Lamont Scott, Charlotte councils have had to wrestle with problems their predecessors never did. The structure of local government here is an issue, too; public health and schools are state and county, not city, functions, and COVID has made County Manager Dena Diorio and Public Health Director Gibbie Harris more significant and visible figures than Mayor Vi Lyles.
Still, leadership can come from anywhere, and the ethics complaints underscore not how "corrupt" the City Council might be but, increasingly, how irrelevant. Lyles and the five under-40 council members elected in 2017—Ajmera, another millennial, had already been appointed to fill an unexpired term—were swept into office on a mandate for change after the Scott protests and after Lyles, as mayor pro tem, had outlined a plan to address the affordable housing crisis, the lack of opportunity for low-income Charlotteans, and other longstanding civic problems. The city's successes since then have been fitful at best—and, for the presumed beneficiaries of those efforts, eclipsed by the council's 2018 decision to host the Republican National Convention and its inability to rein in a Police Department that, during the thick of the George Floyd protests, demonstrated how ill-prepared it would have been if the convention had come. (CMPD's May 29 arrest of council member Braxton Winston, a visible protester during the Scott demonstrations, on Beatties Ford Road illustrated vividly who was holding the reins.)
The council has declined to hire an outside agency to perform an audit of CMPD finances, a perfectly reasonable request from the community organization SAFE Coalition NC. Last week, Lyles issued a formal apology for the city's role in the 1950s and '60s Urban Renewal project that razed the Brooklyn community and published a community letter that acknowledged the tent cities that have cropped up around Charlotte since spring and reinforced the city's commitment "to find meaningful solutions for our homeless neighbors." The apology was an overdue but solely symbolic gesture. The letter, while it noted nearly $10 million the city has spent this year on housing relief efforts, much of it related to COVID, mainly stressed the city's subordinate role to the county and corporate and nonprofit partners. It was a tepid public proclamation in a city that, like so many others, faces a monstrous eviction crisis that will make the current homelessness problem seem tame.
City elections are next year. There's still time and opportunity for Lyles and council members to get it together and cast aside the widespread suspicion that it's a rubber-stamp body for city staff, who run the city government day to day. Doing that would require a deliberate reversal of any personal-branding inclinations among individual members, a downside of fresh blood in the influencer era. Influencers are good at drawing attention to themselves—that's the whole point—by talking a lot, among other things, and this City Council has proven itself awfully good at that. Its last meeting, on August 10, lasted a little more than seven hours.