Anthony Foxx and the Urban-Rural Divide
Can roads help bridge the breach?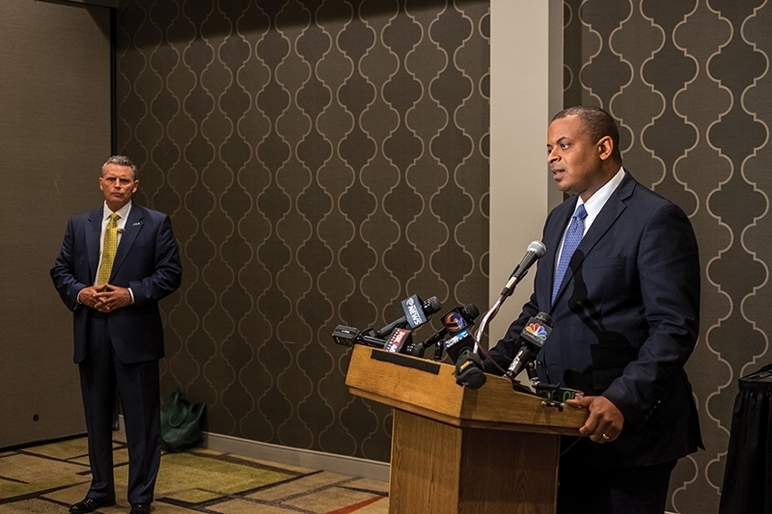 Former Charlotte Mayor Anthony Foxx, who'll be leaving his job as U.S. Secretary of Transportation within the next three weeks, has been coy about his post-Cabinet plans. But he dropped a big hint via Twitter just before Christmas.
Well, that's something to sink your teeth into. There may not be a bigger political issue in the country, and certainly not in North Carolina; I wrote about it from a Charlotte perspective for the January issue of the magazine. The details will come later, obviously, including whether he'll be using his native Charlotte as his base of operations.
If there's a way to close the urban-rural divide, public infrastructure—roads, highways, bridges—are going to have to be part of the equation. More than any of his predecessors, Foxx grasped the relation between transportation planning and communities' economic futures. He devoted a big chunk of his Cabinet tenure to getting people around the country to think about it. Over those months, he laid out a compelling case that highway plans that ran through and over minority neighborhoods have contributed to divisions between urban rich and poor that still shape life in cities. Rural communities' lack of access can have the same kind of separating, alienating effect.
That's something Foxx grasps. He alluded to it in a long and informative interview with The Atlantic's CityLab site:
We might not always acknowledge it, but the reality is, when we build infrastructure we're also building communities. It's different than housing. It's where boundaries are drawn, where highways and rail lines cut through, where transit stops are or the places that are skipped over. All of those decisions matter, because they all affect how we come into contact with each other. I've made a forceful case for rethinking our approach to that community-building function of transportation. And making sure people of all backgrounds, whether they're in rural or urban or suburban America, have a real opportunity to have their voices heard and have input on these decisions.
During one of our #discussCLT sessions last year, our panel talked about Growth By Design, the challenges of planning as a city grows. It was hard to squeeze such a meaty subject into a 90-minute discussion, but one point emerged from it: There's no way to separate the cultural, economic, and racial issues of a city from the decisions that officials make about things like zoning and transportation. There's already a body that works on transportation planning for the Charlotte region, not just the city. Is it time to broaden that scope to encompass rural areas, too? Might states bridge the urban-rural divide with actual bridges? And if that's too expensive, how?