Apple Crisp Recipe: A Perfect Fall Dessert
A classic crisp baked in a cast iron skillet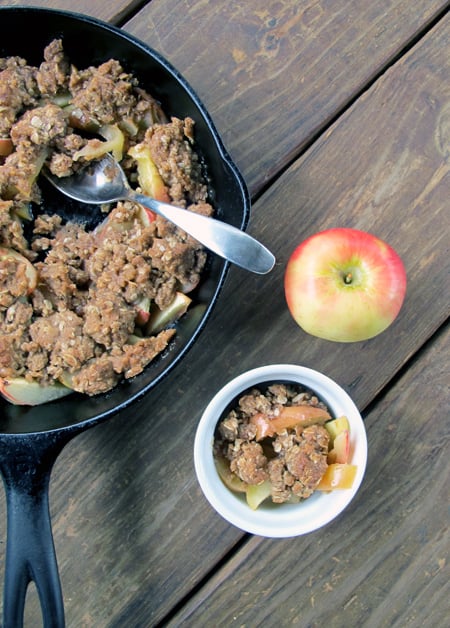 We visited an apple orchard yesterday in the North Carolina foothills and it left me completely inspired to bake all things apple.
Something is inherently autumn about a good apple crisp.
One of my favorite things about a crisp recipe is how easy it is to adapt it to different fruits, or even to experiment with by changing the ratio of sugar to oats. The oats and butter give the dish a nice hearty crunch. Honeycrisp, McIntosh, Pink Lady, or Mutsu apples are all good options in an apple crisp. I used Honeycrisp in this recipe.
Looking for a different apple recipe? Try a homemade applesauce or fruit cobbler.
Skillet Apple Crisp
Serves 4-6
Ingredients
3-4 cups of fresh apples, sliced (about 4 apples)
1/2 cup all-purpose flour
1/2 cup brown sugar
1/2 cup quick oats
1/2 cup salted butter, melted
1 teaspoon ground cinnamon
Whipped cream or ice cream (optional)
Directions
1. Preheat oven to 350 degrees F. Arrange sliced apples in a cast iron skillet. Mix flour, brown sugar, oats, cinnamon together. Stir in melted butter (should be crumbly). Cover apples with oat/flour mixture. Bake in preheated oven until top is brown, about 30 minutes. Serve warm, with whipped cream or ice cream.