Around Towns: Concord
Where racing lives, shopping happens, The Avett Brothers grew, and the mayor knows everybody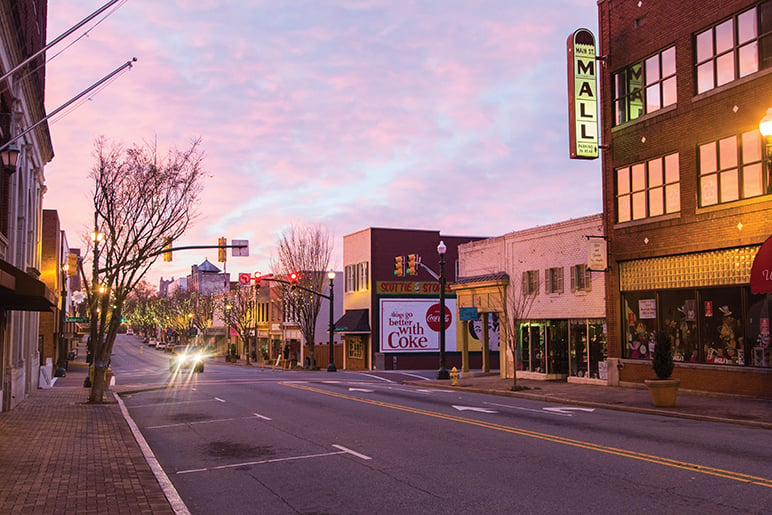 Everything looks small from up here. On the rooftop of the grandstand at Charlotte Motor Speedway in Concord, the speeding cars seem Matchbox-sized. No earplugs are needed. Looking northeast, past the backstretch and the 200-foot-wide high-definition screen, streetlights and house lights twinkle. They look like they belong to one of those miniature towns in a model train set.
On this October night, the Bank of America 500 is the biggest event around. More than 100,000 people are in attendance. The 82nd Airborne Division is here from Fort Bragg. High-wire walker Nik Wallenda and rock group the Goo Goo Dolls performed earlier. They would be headliners in most places, but they're merely opening acts for tonight's stars—43 NASCAR Sprint Cup drivers who'll drive 500 miles fighting for first.
A man stands on the rooftop with a group of visitors. "Hi, I'm Scott Padgett. I'm the mayor here," he says. "Well, not just here. I've got a whole city down there."
That city—with the downtown creating the cluster of blinking lights beyond the backstretch—is the seat of Cabarrus County. It's also Charlotte's largest neighboring town, accounting for 60 square miles and 82,000 people. For three nights a year, once in the fall and three times in May, NASCAR puts Concord in front of a national audience. And people such as the mayor do their best to show it off. Drivers and crew chiefs and team owners fly into Concord Regional Airport. Fans fill up the hotels along Interstate 85 at Exit 49. They shop at Concord Mills. Their kids play at Great Wolf Lodge. They buy tickets and hats and T-shirts. They spend their money here, and the people of Concord are thankful for that. Tourism brought $363 million to Cabarrus County in 2012 and saved county residents $412 per household in taxes. Concord likes having visitors, even if the visitors don't always realize they're in Concord.
The racetrack's name, Charlotte Motor Speedway, is a bit misleading. The mayor and his constituents are OK with the misnomer, as long as any mention is followed by "in Concord, North Carolina." They've worked hard to make sure the crawlers on television and datelines in newspapers get the location correct. They don't mind being the big-little city in Charlotte's shadow, as long as they get their credit.
***
The word "concord" means harmony. On a downtown walk with Padgett, that concept plays out on Union Street.
He eats lunch at Gianni's Trattoria, where the hostess calls him "dear" and the owner testifies that whatever the mayor promises always comes true. On the way out the door, Padgett, a retired educator, sees a former student who is now a lawyer in town. Heading back down the street toward his office, he spots the librarian, calls her over, and confesses to racking up late fees. He pops inside a shop called The Bead Lady and says hi to Kathleen Reeder, the bead lady. He stops in to see Dan Levinson, who works in the same jewelry store his father, Ellis, started 60 years ago, Ellis Jewelers. He points out restored murals and buildings with fresh paint. He catches the supervisor of the old Hotel Concord, which now functions as an events space, as she rushes out the door. "I have to be at the courthouse at 2, and it's 1:45," she protests. He insists he only needs a minute to show his guests the old hotel's interior. She darts back inside and turns on all the lights she just turned off.
"Downtown is like the core of an apple," Padgett says. "If the core is rotten, it affects the whole city."
As quaint as it can be in certain places, Concord is still a city. And its city limits sprawl. To the north, they stretch up to a point that curls around Kannapolis. To the south, they wrap around the racetrack and bump up against Harrisburg and N.C. Highway 49. To the west, the line follows Interstate 85 and then jumps across toward Mooresville. The eastern border roughly follows Cold Water Creek, snaking in and out. "Being the mayor of Concord is like being the mayor of three cities," Padgett says. He breaks it down into areas: The speedway area includes Concord Mills Mall and all the attractions around Exit 49; the western side near George W. Liles Parkway is where residents live in modern houses, and condos have their own neighborhood grocery stores and restaurants; and downtown has the courthouse and business district.
They are essentially small towns within the small city, and people from one area don't often cross into another.
***
Donna Carpenter has business cards shaped like race cars, and they sit on her desk in a metal holder that was created by a fabricator who works for a local race shop. Carpenter is president and CEO of the Cabarrus County Convention and Visitors Bureau, with an office next to Great Wolf Lodge and across the interstate from Concord Mills. Concord's sprawl led Carpenter and her team to create a new way-finding plan. She wants to put up signs and print maps to guide residents and tourists from one corner of Concord to the other.
Until about five years ago, Carpenter worked with Visit Charlotte. But as a Concord resident, she wanted to immerse herself in the community where she lives, she says, so she moved back up the interstate.
Carpenter describes Concord as Charlotte's rec room. A plaque sits inside her office as a thank-you gift from members of the 82nd Airborne Division for inviting them to attend the race this past October.
"We all take what we have here for granted, even if we love it," she says. "People save their money and choose Cabarrus County and Concord to come for their vacation and go to a race."
Carpenter grew up around dirt-track racing in Indiana. Her uncle owns a track up there. She moved to the South in the early 1980s and attended her first race at Charlotte Motor Speedway in 1983. But she didn't latch on to a favorite driver until her grandson, Jaidyn, made the decision for her a few years ago. Jaidyn, now 6, went to his first truck race when he was 4. An event was taking place on the track, and Jaidyn was given the chance to go down to see it. Kyle Busch picked up the little boy, sat him in his racing truck, and gave him an M&M's backpack.
"He's a fan for life," Carpenter says.
Jaidyn is just one example, Carpenter says, of racing's influence. She tries to create as many of those opportunities as she can when the drivers come to race twice a year. It can be something as simple as a free ticket for a military serviceman or woman, a peek inside the grandstand suites, or a smile from Dale Earnhardt Jr.—but when it happens, Carpenter almost always knows that she's found someone who'll come back to Concord, North Carolina.
***
Back downtown, Noelle Rhodes Scott is planning her next project. Scott, the CEO of the Cabarrus Arts Council, sits in her office in the renovated 1876 courthouse on Union Street. The arts council moved here in 2005.
When Scott took this position in 2000, the arts council had been without a staff for eight years. But the organization received a grant and wanted Scott to help it increase interest in and awareness of the arts throughout the community.
Her first goal was to create an audience—there's no need to bring in exhibits and shows if no one is interested in seeing them. So she decided to start with schoolchildren, to instill an appreciation for arts and culture at an early age. The arts council now provides a professional performance every year to Cabarrus County students in kindergarten through 12th grade.
As the school program began to grow and Scott received funding for additional staff members and a new office in the old courthouse, she and the council's Board of Directors had another idea: How about an art walk to show off the downtown and its budding arts scene? But at that time, in 2007, the arts council's gallery was the only art gallery downtown. Scott and her staff improvised. About 25 restaurants and shops agreed to act as makeshift galleries and display art for the walk. More than 300 people attended. Restaurants ran out of food. One shop owner who had been worried about paying the bills that month made enough that night to cover those bills and then some.
Today the arts council holds five art walks a year, highlighting galleries that now showcase art downtown. Davis Theatre, located upstairs from Scott's office, plays host to two professional performances a month. The old city waterworks building now houses artists' studios and is connected to downtown by a greenway. Artists who exhibit here are starting to say it's one of their favorite places to show their work.
Up the street from the arts council building, Lil' Robert's Place combines art with beer and wine. Robert Burrage displays work from Concord artists, and only Concord artists.
"If you move out of town, you've got to take your art with you," Burrage says.
On Wednesday nights, Mayor Padgett, his wife, Teresa, and other residents congregate at Lil' Robert's to celebrate reaching the week's halfway mark.
"It's the closest thing we have to a pub," Padgett says.
Lil' Robert's Place is across the street from Padgett's office. A picture inside his office shows high school students wearing "Padgett for Mayor" shirts. He decided to get involved in city government after 30 years in public education. He taught the kids in the photo when they were in elementary school. The built-in bookcases along his office's back wall are covered with photos of a smiling mayor, spanning 13 years, his arm linked with hometown celebrities: The Avett Brothers and a slew of NASCAR drivers and crew chiefs and team owners.
But when Padgett thinks about his favorite parts of the job, he doesn't focus on those photos.
"It's the everyday things," he says. "This stuff is a bonus."
As he leaves his office and steps back onto Union Street, he points out the city's water tower. Across the tower's front, in red letters, it reads
"Concord, North Carolina." It's visible from the suites at Charlotte Motor Speedway.
"That's not an accident," the mayor says.
Leah Hughes is a freelance writer in Charlotte. She can be reached at leahchughes@gmail.com.