Around Towns: Exploring Hickory
Here, craftsmanship keeps industry alive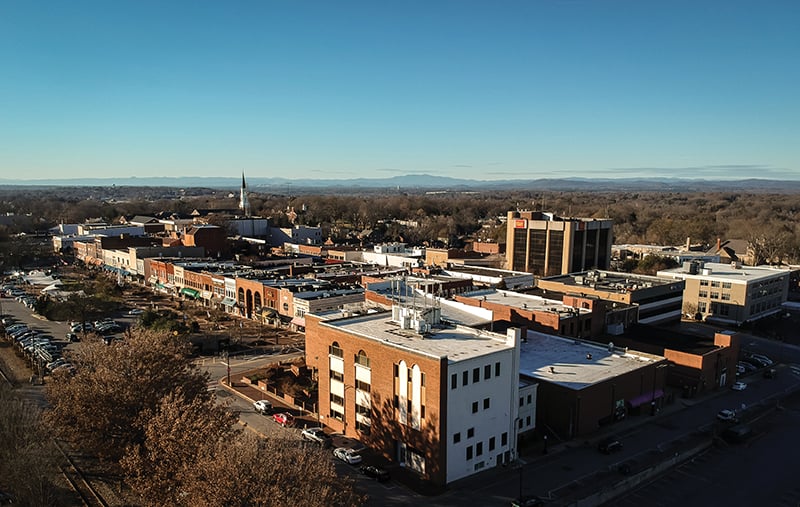 ALEX SHUFORD III IS LATE. His meeting about the new showroom ran long, but he calls to say he's on his way. Inside the lobby of Century Furniture, on the west side of Hickory, a plush couch invites visitors to sit. Wooden floors with a rich, honeyed hue and nail heads dotting the surface reveal the building's age. A family portrait hangs on the wall above plaques awarded for community stewardship.
"There they come now, with Mr. Shuford," the receptionist says as a black Porsche pulls past the American flag out front and into the parking lot.
"Well, I'm not too bad, am I?" Shuford says, apologizing for his tardiness as he makes his way to his office. The company president is tall and trim with salt-and-pepper hair. He wears a blue checked shirt, red pullover, and khakis, the preferred attire of the new-age businessman.
In 1947, Shuford's grandfather founded Century Furniture. The Shuford family has been in the furniture industry for three generations, but they've been a part of manufacturing in Hickory for five.
"My great-great-grandfather Alex started the textile mill and the phone company and the bank," Shuford says. He had the first telephone number in Hickory, No. 1.
Today, Century Furniture is part of Rock House Farm Family of Brands, which is run by the Shuford family and includes six lines. Rock House Farm employs 1,400 people, and 875 of them work for Century. The brand is currently enjoying what Shuford calls a "return to craft" movement, in which an increasing number of people want things custom-made instead of mass-produced.
That's good news for Hickory, where the furniture industry dates back to the late 1800s. As the railroad passed through, transporting lumber to factories up north, savvy North Carolinians started furniture plants here, where the forests were full of mature wood and the average wage was cheaper than in northern cities.
Everyone acted surprised when furniture companies began moving overseas in search of cheap labor, Shuford says, but they forgot what brought furniture to North Carolina: raw materials and cheap labor.
The outflow of jobs has tapered off now, Shuford says. Rock House Farm has 50 open positions. The new challenge is finding people with the right skills to take the furniture industry into the next generation.
***
NORTH CAROLINIANS who have never been to Hickory have usually driven by it on Interstate 40. Located at the intersection of I-40 and U.S. Highways 70 and 321, the city is an hour north of Charlotte, an hour and 15 minutes east of Asheville, and 50 minutes south of Blowing Rock.
Hickory is part of a four-county region that includes Catawba, Burke, Caldwell, and Alexander counties. The metro area has 365,000 residents, and 41,000 live in Hickory. The city's location along multiple main thoroughfares, proximity to the Catawba River, and railroad tracks through the middle of town make Hickory a practical choice for manufacturers.
One common point of introduction to the city is the Hickory Furniture Mart. The four-story building showcases furniture from more than 1,000 brands across more than a million square feet. Sarah Davis knows it well.
Davis remembers being a bored child as her parents looked at furniture for hours. Now, her eyes light up when she talks about the place, and she navigates its halls and stairways as if it's her second home. Davis, director of sales and marketing for the Hickory Metro Convention Center and Visitors Bureau, grew up in the furniture industry. Her father is an upholsterer. Her mom worked at the same furniture company for more than 23 years.
At the mart's entrance, Davis stops at an upholstered chair that has half of its cover and cushion removed to reveal the detail within. She points to the binding that holds the springs in place.
"That's an eight-way hand tie," she says. Then she laughs at her own knowledge. "I'm telling you—it's my life."
The truth that people miss when they say, "North Carolina furniture is gone," is that high-end upholstered furniture never really left. Yes, much of the case goods and lower-grade furniture manufacturing left the country in the last couple of decades. And that shift took thousands of jobs and upended hundreds of families. But custom upholstered pieces—whose manufacturing process is difficult to export and even harder to automate—are still made in Hickory.
Davis, who graduated from Appalachian State University in 2012 and worked in Winston-Salem for a couple of years before returning to Hickory, is a board member of the local young professionals organization. The group works to create opportunities for people 21 to 40 years old.
The challenge to attract and retain young talent is one of Hickory's greatest hurdles. If you ask half a dozen people what Hickory needs, each of them will likely respond: more millennials to live and work here.
In 2014, city voters passed a $40 million bond referendum, and much of the money is for connectivity projects, such as a river walk and multiple streetscapes and gateways. Officials want to connect the minor league ballpark, home to the Hickory Crawdads, to the bars and restaurants and coffee shops downtown. They want to coax the rough-around-the-edges industrial area along Old Lenoir Road into an arts district.
They hope these infrastructure investments will lead to downtown housing and additional urban development. Add those amenities to the city's location in the foothills of the Blue Ridge Mountains, reasonable cost of living, and approximately 3,000 available jobs within the county, and Hickory could become the next millennial magnet.
"I can't wait till more people my age figure it out," Davis says.
***
HICKORY-BASED Transportation Insight hires 30 to 40 graduates straight out of college each year. The company is the largest recruiter of new graduates within an hour of Appalachian State University.
"They fall in love with western North Carolina and want to stay," says Paul Thompson, Transportation Insight's founder and chairman.
Founded in 1999, the company is one of four leaders in North American enterprise logistics, working with customers to streamline their supply chain processes, ensuring goods get where they need to go as efficiently as possible. Within the past three years, the company has doubled in size, putting it on pace to be the leading enterprise logistics provider in North America.
In 2015, Transportation Insight completed restorations on the 1930s-era Lyerly Full Fashioned textile mill, in the center of Hickory, to serve as its corporate headquarters. This company that specializes in high-tech solutions for modern businesses preserved original wood floors and metal vents on the roof of the vacant hosiery mill. The 11-acre corporate campus now houses a full-service cafeteria, exercise facility, regulation basketball court, and outdoor athletic field.
"You can't replicate something that's 80 years old," Thompson says. "We wanted our associates to have pride in where they work. What we didn't predict was the impact it would have on our customers. It's game-changing in how they look at us and the investments we make in the city and our associates. It validates us as being the real deal when clients walk in the building."
Thompson sees value in putting his employees in the middle of Hickory, where they can walk to the bank, to a restaurant for lunch, or to the market for dinner provisions. If they can accomplish those tasks close to the workplace, they have time for more enjoyable pursuits in their off-hours. It's an investment not just in where they work, but also in their quality of life.
***
HALF A MILE AWAY, Steven Lyerly fills kegs inside Olde Hickory Brewery. This limited-release imperial stout is called The Event Horizon. The dark, chocolaty elixir draws its name from the brink of a black hole, the point at which light cannot escape.
"It's our most famous beer," Lyerly says nonchalantly. By famous, he means it has received rave reviews from beer connoisseurs from as far away as the Netherlands, Germany, and Dubai. When the state Department of Agriculture brought international representatives to Hickory on a trade mission, Olde Hickory made a good impression.
Lyerly and his business partner, Jason Yates, purchased Olde Hickory in 1995, when the six original owners quickly determined there wasn't enough money in a start-up brewery to split six ways. Twenty-four years later, the brewery operates a 25-barrel brew house out of a restored 1882 building that was once a livery stable. It's the fourth-oldest brewery still in operation in the state. When the brewery started—several years before the craft beer craze—the biggest battle was educating consumers.
"We were fortunate to have international companies here, whose employees were already exposed to craft beers," Lyerly says. "Those were the people who kept us alive."
Now the challenge has become keeping craft beer consumers stimulated. This past fall, Olde Hickory released a collaboration imperial stout with Foothills in Winston-Salem and Duck Rabbit in Farmville. Lyerly has a lab in which he experiments with sours. He's always open to new projects, but Olde Hickory's bestseller remains Ruby Lager, a sessionable amber.
"The key word we work with in this brewery is 'balance,'" Lyerly says. "We're in Hickory. If we were in New York or L.A., it would be a different story."
Despite companies with an international reach and new residents with an amalgam of ideas, Hickory remains a small city in the foothills of North Carolina. It's evolving, but it's rooted. Some residents and visitors may view its small-town nature as a shortcoming, but many have come to see Hickory's combination of global perspectives and down-home culture as a beneficial balance.
***
THE PAST MAY, Jeff Cline was appointed mayor of Hickory. The Hickory native and former city councilman was asked to lead the city after Rudy Wright, its mayor of 16 years, died unexpectedly. Sitting in his office, Cline talks about the past.
"We went through an almost 15-year period of recession," Cline says. "We lost 45,000 jobs in the metro area."
But in the same breath, he switches to talking about what's happening in Hickory now, and what he sees in its future.
"The jobs that survived are healthy and strong," he says. "Our confidence is back."
He talks about bond projects and grants. He talks about entrepreneurs and advanced manufacturing. He talks about generations of good, honest people who have a work ethic and pride of place.
In downtown Hickory, just off of Union Square, between the wine shop and the all-natural soap boutique, is a mural of Hickory's industrial past. It depicts Piedmont Wagon, Hickory Manufacturing Co., and Southern Railroad. In the upper right-hand corner is a portrait of Alex A. Shuford, the great-uncle of Century Furniture's current CEO, Alex A. Shuford III.
When asked if his family's legacy ever feels like a burden, Shuford says no, but he agrees that there's a certain stress that goes along with the charge to carry a decades-old company into the future.
"There have been multiple times where we were on the cusp of failure, but we pulled it out," Shuford says, adding that resiliency is at the core of every small business.
The same could be said for every small town and big city. No matter what industry supports a place—furniture or textiles or automobiles or banking—it will go through spurts of success and failure. Over time, it will grow and shrink. But if the framework is there, if it's been built properly, it will endure.
Leah Hughes is a freelance writer in Denton. She can be reached at leahchughes@gmail.com.
SHOP
Hickory Furniture Mart
Imagine a large mall in which every store carries furniture. Customer service representatives provide maps and point shoppers in the right direction. In spring and fall, the mart holds after-market sales following the wholesale furniture market in High Point. 2220 U.S. Highway 70 SE, 888-560-3763.
Artisan Soapery
From green tea and lavender to Tuscan sun and Blue Ridge Mountains, the all-natural soaps at this downtown shop span seasons and continents. The shop also carries soy candles and locally made art and home decor items. 234 Union Square, 828-850-8480.
Carolina Pedal Works
Prepare to hit a mountain trail at this full-service bike shop located in the old Hollar Mill. Purchase equipment or get a tune-up and sip a North Carolina craft beer while you wait. 883 Highland Ave. SE, 828-212-3435.
The Hickory Tree
Hickory's furniture heritage begets excellent selections at area consignment shops. Search for a statement chair or table, or enhance your living room with some throw pillows and a new lamp. 831 Old Lenoir Rd., 828-324-1655.
EAT + DRINK
Hatch Sandwich Bar
With blue walls and two dozen seats, this trendy spot has a chalkboard menu that includes a pulled pork banh mi. Sriracha's on the condiment table, and beer and wine are served. Order the maple brussels sprouts for a surprising sweet-savory side. 268 First Ave. NW, 828-322-1196.
Olde Hickory Tap Room
Sit at the long wooden bar and sample beers from Olde Hickory Brewery. Order pub chips to share and then a half-pound burger topped with cheddar or blue cheese. 222 Union Square, 828-322-1965.
Highland Avenue
With Sam Stachon—a Johnson & Wales alumnus and former executive chef at The King's Kitchen in Charlotte—as executive chef, this farm-to-table restaurant showcases local delicacies, such as mountain trout. Its dining room in the restored Hollar Mill has an industrial edge. 883 Highland Ave. SE, 828-267-9800.