Around Towns: Hendersonville
Finding peace, quiet—and hard cider—a short drive from Charlotte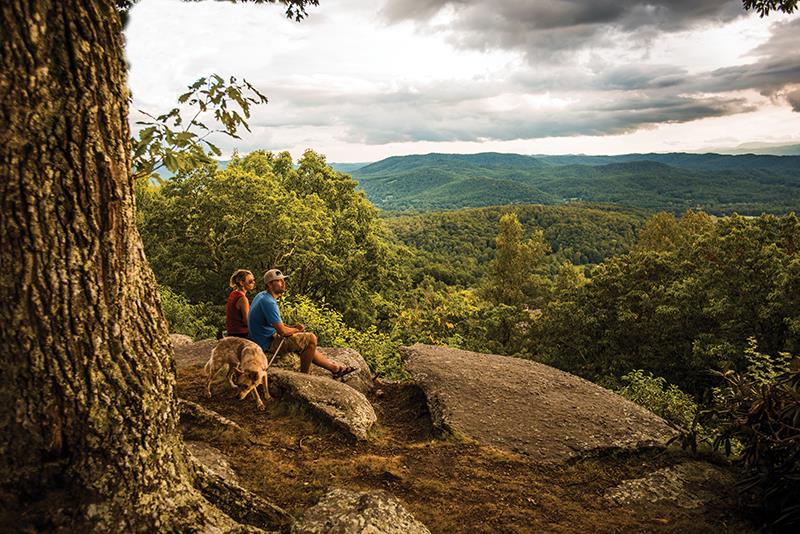 COLD RAIN HITS my face as I get out of my car in downtown Hendersonville. It's more than mist; it's the kind of rain that seems to hang in the air, leaving you soaked before you know it. People in brightly colored, water-repellent jackets with hoods pulled over their heads dash into restaurants. Couples huddle under dark umbrellas.
I've come to Hendersonville, about 20 miles south of Asheville and just less than a two-hour drive from Charlotte, with little in the way of firm plans. My only a desire on this Friday afternoon in May is to wander. I've visited before, but have never fully explored the town.
I join the rain-jacket-with-hood crowd and stroll along Main Street in search of a place to have a drink before dinner. Downtown Hendersonville, often overshadowed by Asheville's weirdness and Cashiers' money, is a busy place, 16 blocks full of restaurants and shops and people. The sidewalks and streets fill up several times a year with familiar small-town festivals and parades, none bigger than Labor Day weekend, when the town hosts its best-known event, the Apple Festival. There are dozens of apple growers in Henderson County, and about 10 or so allow visitors to pick their own basket of apples during the harvest season. That alone would be worth the easy drive from Charlotte.
But because it's spring and most apples don't start to ripen until at least August, I opt for the next best thing: a stop at Flat Rock Cider Works, which makes hard cider from Hendersonville apples. The wood-paneled tap room on Main Street evokes the atmosphere of an old general store or saloon more than a modern cidery. As the place begins to fill with people, I feel far removed from the frantic scene of Charlotte's craft breweries.
"What are you doing while you're in Hendersonville?" the bartender asks me as he pours a pint of Naked Apple Wicked Peel. The drink is crisp, light, and refreshingly free of the artificially sweet taste that accompanies many commercial ciders. Angry Orchard, this is not.
His question prompts me to recall a line from Incidentals, a book of poetry and prose written by Carl Sandburg, the Pulitzer Prize-winning folklorist who lived and died on Connemara, a 246-acre farm about five miles from here in the adjacent village of Flat Rock. I've been reading Sandburg, who was sometimes called the People's Poet, after rediscovering his work in a book of poetry my grandmother gave me when I was a teenager. "Boys don't like poetry until they are men so you'll have to keep it a while before you appreciate them," she wrote in perfect cursive on a slip of paper tucked in the front cover.
"I don't know where I'm going, but I'm on my way," Sandburg wrote in Incidentals.
I offer the line to the bartender, and he laughs.
"Have a couple more of these," he says, "and maybe you'll figure out where you're going."
***
IN THE LATE 1970S, Hendersonville tore up Main Street, re-configuring it from a straight route through the heart of downtown to a more serpentine path. The road still runs past banks and diners and the old courthouse, but now it also snakes around tree planters and statues of bears standing on their hind feet and waving at you. The message is: Slow down and appreciate the little things.
The town itself is home to a relatively small portion of Henderson County's 110,000 residents, about 13,500 people. As in a lot of other places in western North Carolina, locals move with ease between the county's towns, passing from Hendersonville to Flat Rock or Mills River or Fletcher without really noticing. I think of them all, perhaps unfairly, as much the same place. The municipal borders are merely lines on a map, rather than the boundaries of my journey.
I'm on my way to dinner with an old friend who grew up in Hendersonville and now lives about a half-hour outside of town. She suggests Postero, a new American restaurant housed in an old bank building a couple of blocks down from the cidery. As soon as I walk in the door I'm enchanted with the exposed brick and dim lighting, and the clacks and clangs from the kitchen at the back of the dining room. The room feels elegant, in a nonchalant way. It's the type of restaurant equally suited for blazers and dresses on date night or jeans and sneakers on an impromptu Friday catch up like ours.
Sitting at a table on the second floor mezzanine, we order beers from an Asheville brewery—I swore I wouldn't let much of Asheville bleed into this story, but I'm making an exception for an IPA from Wicked Weed— and take in the crowd below. We watch the bartender make craft cocktails with care and a chef effortlessly flip dishes in a sauté pan in the open kitchen.
For dinner, I pick the seasonal trout raised in cold mountain water an hour away. The filets, which rest on a bed of spring vegetables and a lemony broth, are seared crisp on the outside, but the flesh is soft and delicate. It's a hearty meal but I still have room for a nightcap.
After my friend leaves, I head to The Poe House, a small bar and bottle shop in the basement of a building just off Main Street. The walls are covered in art that nods to the namesake writer, and a large sign on the brick behind the bar asks—Playfully? Eerily?— "Care for some amontillado?" The dim, amber light inside and the misty air outside seem appropriately macabre for the venue.
A man who looks like Santa Claus (if Santa had a long, white ponytail and a smaller belly) plays blues music in a corner of the room, and I slip into a daze. Maybe it's the rain, or maybe it's that I've just turned 30 and Grannie was right, but I'm ready for a book and bed. The younger me would be tempted to stay, make friends, and try every beer on draft. But I know there is more to experience in the morning, even if I don't have much of a plan.
***
THE RAIN has stopped and streaks of sun are starting to shoot through the clouds when I step onto the front porch of my rented house with a cup of French press coffee.
I return to Sandburg. "Yesterday is done. Tomorrow never comes. Today is here. If you don't know what to do, sit still and listen."
So I do.
Hendersonville is the kind of place that encourages sitting. There's not the pull of loud, all-day brewery crawls with friends— though the new, 230,000-square-foot Sierra Nevada Brewery is just a dozen miles north of here. There's also no real need to be overly adventurous and load up a kayak with camping gear and paddle down a river— though the DuPont State Recreational Forest is just to the west. You can have all those experiences in western North Carolina, sure, but for me, on this morning, Hendersonville is a place to be still.
It seems appropriate to try to appreciate Sandburg on his own turf, so I head out toward Flat Rock to visit his old home. Along the way, I stop for a bagel at Joey's, a New York-style bagel shop and deli filled with hipsters and misplaced Yankees and good ol' boys, everyone hungry for the same thing—or at least some variation of it.
The sun is fully up when I get to the Carl Sandburg Home National Historic Site, cared for and preserved by the National Park Service. Sandburg wrote often about nature, and here it is easy to see why. A simple home with white siding and columns along the front porch sits atop a small hill. Dairy goats munch grass in a meadow framed by a rust-red barn. There are tourists—selfie sticks and all—but even they don't disrupt the peace.
My trip through the house itself is brief— Sandburg was a common man who lived simply. I then set out for a solo hike up Big Glassy Mountain, the highest part of the Sandburg property. It's about a mile and a half from the back of the house to the top. The trail is moderately steep and, thanks to the rain, a little muddy. Most of the other visitors stay at the house, so the hike is quiet and I take my time, pausing often to take a breath or to gaze into the woods beyond the trail.
Sandburg again: He reportedly said that "one of the greatest necessities in America is to discover creative solitude." Here, on the granite slab among the evergreens at the top of a 2,800-foot mountain just outside of Hendersonville, I look out over where I've been and where I've yet to go. I'm sitting still and listening as the People's Poet instructed. I get it. This is the creative solitude Sandburg talked about. And I can still be back in Charlotte in time for supper.
Adam Rhew is associate editor of this magazine. Reach him via email at adam.rhew@charlottemagazine.com or on Twitter: @AdamRhew.
---
DO //
North Carolina Apple Festival
The folks here have celebrated the mountains' most popular fall fruit with this festival for more than 60 years. It's developed into a four-day event, with a street fair that includes freshly picked apples, arts and crafts, food, and free entertainment at the courthouse on Main Street. Sept. 2-5, downtown Hendersonville, 828-697-4557
STAY //
Inn on Church
The Classic Revival building at this downtown hotel dates to 1919. Its quaint atmosphere and wraparound front porch combine for a peaceful place to unwind at the end of the day. 201 3rd Ave. West, 828-696-2001
EAT AND DRINK //
Mike's on Main
A 1950s soda shop, complete with all the requisite period artifacts on the walls—vintage signs, apothecary bottles, and old records— Mike's serves a hearty, inexpensive, diner-style breakfast. Pop in late in the day for a milkshake. 303 N. Main St., 828-698-1616
West First Wood-Fired
The Mediterranean-inspired menu at this popular downtown spot includes crisp salads and rich pastas. But most come here for the pizzas, which are cooked in a wood-fired oven and come with an array of toppings. 101b 1st Ave. West, 828-693-1080,
Dandelion
Simple quiches, sandwiches, and soups make this a great stop for lunch. Dandelion is a nonprofit that helps women who have been victims of domestic violence; many of the employees are survivors, and proceeds fund a shelter. 127 5th Ave. West, 828-595-9365
Mezzaluna
With an extensive wine list and 50 beers on tap, this is a great stop for a drink in the evening. The appetizer menu includes Italian classics such as bruschetta, calamari, and grilled artichoke hearts— perfect if you feel like picking. 226 N. Main St., 828-697-6575
SHOP //
Vessel
This relatively new addition to Main Street sells funky, handcrafted jewelry, along with gems and minerals. The store occasionally hosts jewelry-making demos, too. 234 N. Main St., 828-595-9808
The Clothes Horse Outfitters
Find cowboy boots, purses, jewelry, and custom belts at this Western wear shop that carries new and vintage items. 340 N. Main St., 828-697-2005
Mast General Store
It wouldn't be a trip to the mountains without a stop at this iconic general store outpost. Like all Mast locations, the store is located in an old building, circa 1905. Outdoor gear, locally made foodstuffs, and old-timey candy are all popular items. 529 N. Main St., 828-696-1883
---
This article appears in the September 2016 issue of Charlotte Magazine
Did you like what you read here? Subscribe to Charlotte Magazine »
---