Around Towns: Salisbury
Come for the Cheerwine. Stay for the fastest internet connection in the country, a thriving arts scene, an evolving list of food and drink options, and all the other ways this sleepy little interstate city is blossoming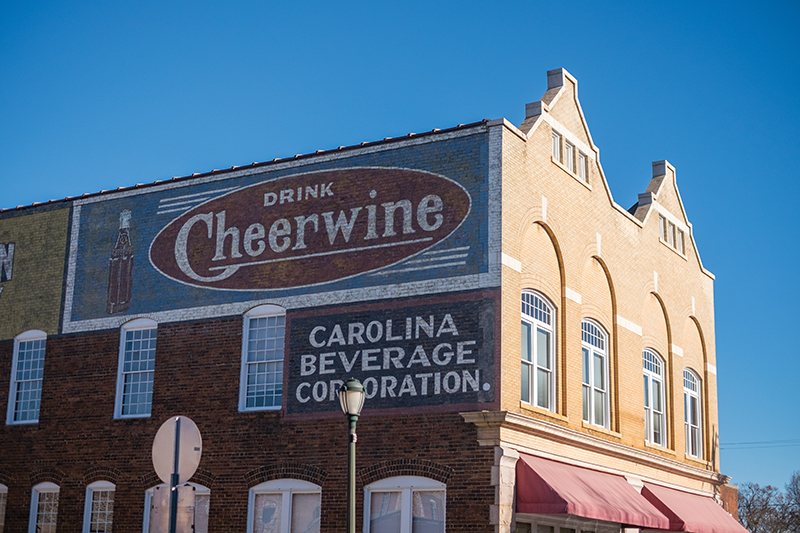 JUSTIN DIONNE STEPS out onto a deck that's attached to an old warehouse in Salisbury and peers over the edge.
"This used to be just a nasty old alleyway," he says. "This was not known as an area to go to."
What he sees now is a brick walkway, lights strung up overhead, sculptures, art galleries, and "a lot of opportunity."
The old warehouse is now the Lee Street Theatre, which Dionne, its managing artistic director, hopes to turn into "a big entertainment anchor" for Rowan County and a star attraction for downtown Salisbury.
He has plenty of competition.
In this city of about 34,000 located about 40 miles northeast of Charlotte along Interstate 85, one can find, in addition to Lee Street, two theaters offering live performances. Salisbury also has a symphony orchestra, a blues and jazz society, multiple choirs, a visual arts center, and a "zombie walk," along with a downtown filled with new shops and restaurants.
"When I was growing up here, there was not much," Dionne says. "It's not a big town. But you can spend your day checking out the sculptures, go to dinner, go see a play. There are a lot of people, older people, who grew up here, who come see shows and they're amazed at what's here now."
***
GLASS BOTTLES of Cheerwine lure visitors into Innes Street Drug.
The sweet concoction that is the state's signature soda has been made in Salisbury since 1917. It can be found in almost every restaurant in town, but it seems to taste sweeter here in this downtown institution. Visitors can grab a Cheerwine float or a chunk of pink-swirled Cheerwine fudge at Innes's, along with T-shirts, drinking glasses, signs, and other memorabilia emblazoned with the drink's logo.
The Carolina Beverage Corporation, which makes Cheerwine, isn't open to the public. So its story is still best told in places like this. According to local lore, Dwight Eisenhower, upon sampling the drink during a swing through Rowan County in 1953, proclaimed, "Ike likes!"
But the city was once known for other sorts of beverages. About a dozen distilleries called the place home in the 19th century, earning Salisbury the title of "wettest and wickedest town in the state," says Kaye Hirst, executive director of the Rowan Museum.
"Stories would go that people would come into town, and all the taverns had rooms above them," Hirst says. "People would rent a room, and who knows who you'd wake up next to. Because they would just pack them in."
The area's distillers took a hit with the temperance movement in the late 19th and early 20th centuries. But adult beverages are coming back. Rowan County is now home to four wineries. Four-year-old craft beer maker New Sarum Brewing Company is in the process of setting up a new brewhouse in downtown Salisbury.
Among their creations is a brew called 142 Blonde Ale with Grits, named after the number of alcohol licenses issued by Rowan County between 1753 and 1772.
In those days, Rowan County covered a wide swath of what is now western North Carolina. Because the county was so big, and its western borders ill defined, Hirst says, some people joke that Rowan County once had oceanfront property on the Pacific.
Today's Rowan County was settled by Scots-Irish and Germans from Pennsylvania beginning in about the 1730s. In 1753, a court was established at the intersection of the Great Wagon Road, which ran south from Pennsylvania, and an old Indian Trail, which ran east to west. The area is now downtown Salisbury.
By the time of the Civil War, the city had become a railroad hub, and in 1861, 46 Union prisoners-of-war arrived. By the end of the war, about 10,000 Union soldiers would be imprisoned here. A lithograph at the Rowan Museum, showing Union prisoners of war playing baseball in Salisbury, is one of the earliest visual depictions of the national pastime.
Warehousing became big business in the decades after the Civil War, along with textiles. Food Lion got its start in Salisbury in 1957, and is today the county's largest employer, with about 3,200 local workers. In an attempt to attract more high tech businesses, the community-owned Fibrant began offering some of the fastest Internet in the country last year, with download speeds of 10 gigabytes per second on a fiber-optic network available to everyone who lives in the city.
The city's warehousing legacy is still visible on the eastern edge of downtown, where the Rail Walk Arts District is taking root.
"I would almost compare it to how NoDa down in Charlotte started," Dionne at the Lee Street Theatre says. "It was next to railroad tracks, it was warehouses, industrial buildings. And that's kind of what we're trying to do here."
***
THEATER, DIONNE says, is not a place "where you need to get dressed up."
Unless you're taking in The Rocky Horror Show. Then maybe some fishnet stockings and gold lamé would be appropriate. The campy classic was one of the Lee Street Theatre's recent productions, and full audience participation was encouraged.
"I'm a big believer in making yourself accessible," Dionne says. "Theater is a place where you can go see Rocky Horror and throw rice and drink beer and have fun."
An energetic man who rides a bicycle to work, Dionne, 31, proudly describes himself as "a product of the system"—that system being the schools in Rowan County and the local Catawba College. He remains a booster for the community, rattling off nearby restaurants, coffee shops, and arts organizations to visitors.
One could be forgiven for driving past the theater's Lee Street facade and thinking the place was still a warehouse, or maybe a dive music club. A small sign listing upcoming shows is about the only adornment on that side of the building.
But around the corner are the bright lights and the Rail Walk, where trains used to pull up to the warehouses. The rails are now gone and a pedestrian thoroughfare has taken their place.
"We swapped where the main entrance was," Dionne says. "As other businesses move in here, it's making for a cool walkway. If you were to get off at the train station, you can just walk down the Rail Walk and come see a play."
Lee Street Theatre was founded in 2008 and began its life at the Black Box in the former Looking Glass Artists Center nearby as "an avant garde place that could do off-Broadway style stuff," Dionne says. In 2012, the theater company staged a capital campaign, and the following year moved to the old warehouse across the street.
At the time, the building at the corner of North Lee and Kerr streets had no interior walls, except for those surrounding a small office. Now it contains, in addition to the main performance space, a rehearsal room, bar, lounge, and outdoor walkway. The venue seats up to 250, depending on its configuration.
A few blocks away, the Piedmont Players are celebrating their 20th anniversary inside the Meroney Theater. The old movie house and vaudeville venue, built in 1905, seats about 400. Resident director Reid Leonard and his Irish setter Izzy keep watch over the place.
Leonard, a white-haired man with a beard who hails from Lexington, says he hates "with a passion the term 'community theater.'"
"Nobody knows what it means," he says. "You talk to five different people, you get five different answers. So we just try to be the best theater. … We always look for the review that this is 'the best thing we've ever seen here,' until the next show, and the idea is, make that the best thing you've ever seen here."
The Piedmont Players also own the adjacent Norvell Theater, which hosts youth productions starring local students.
With schools in the area suffering budget cuts and scaling back or eliminating theater programs, the Norvell has provided a good outlet for those interested in exploring the dramatic arts, marketing director Josh Wainright says. The theater buses in about 12,000 students annually to watch shows.
"A lot of them think they're coming to a movie," he says, "and when real people come out, and they see that they know some of them from their schools, that's a big deal."
***
RAZOR-THIN SLICES of fried Spanish chorizo, spicy and sweet and as crisp as bacon, sit atop a bed of plantains, with chimi and mojo sauces to the side. Sandwiches the shape and size of bricks stuffed with shredded pork emerge from the kitchen. Patrons can wash it all down with a Café Cubano, a Papaya shake or an Ironbeer—not actual beer, but a Dr Pepper-like soft drink invented in Cuba the same year as Cheerwine, and now produced in Florida.
At Maracas' Cuban Cafe on West Innes Street, the owners—Mabel Jacome and her husband, Frank Trujillo—work in the kitchen while their daughters wait on customers. The Cuban-born Jacome, a graduate of Le Cordon Bleu in Miami, decided to move to the Salisbury area four years ago after visiting a friend and becoming enamored of the place.
"Miami, it's crazy expensive," she says. "Here, it seemed like a good place to raise a family. And the weather is beautiful."
She and her husband opened the restaurant in July 2015.
"There was a need for another type of cuisine," she says. "I always loved cooking for my family. The food we do here, it takes a little bit of time, but everything is fresh."
The place is among several new culinary experiences that have popped up recently in downtown Salisbury, ranging from Jerky Station, which sells two dozen different types of jerky including kangaroo, ostrich, and snapping turtle; to the Salty Caper, which specializes in wood-fired pizza.
At Go Burrito!, Mikey Wetzel, clad in T-shirt, shorts, and sunglasses, ascends to the rooftop bar.
"You can see six church steeples, countless treetops, just a wonderful view," he says. "They've landed a Blackhawk helicopter right down there [for a spring event]. Not terribly advisable to be up here when it takes off. We had to put all our umbrellas away."
Wetzel's place is among the more popular new offerings downtown. A California native, Wetzel was designing video games while working on Microsoft's Xbox team in 2008, when he decided to go "lake shopping."
"Short of winning the lottery, I was never going to achieve my dream of living on a lakefront [in California]," he says. "On the West Coast it might cost many millions for a piece of property on the lake."
He discovered Lake Norman and High Rock Lake, eventually buying property on the latter. He worked from home for a while, until his sister decided to move to the area, and they began shopping for storefronts. They originally thought about opening a candy store. But they found a space that was once a sandwich shop, and it had a counter.
"On the drive home, I was like, 'We should put a burrito restaurant in there,'" he says. "A lot of people think it's nuts to start a
restaurant. But I'm a computer guy. I ran the numbers and the more research I did, the better it looked on paper."
At the restaurant, which opened in 2013, workers grill burritos in a panini press, fry the eatery's chips, and make the salsas in house.
Last year Go Burrito! did more than $1 million in sales. Wetzel estimates the eatery serves about 3,000 burritos a week, and he is looking to franchise the concept.
For a culinary treat without the calories, visitors can check out Rail Walk Studios & Gallery on North Lee Street. On a recent afternoon Ashley Hinceman was painting pictures of pies on tiny canvases there. She's one of eight people working here in the century-old warehouse, a place that allows visitors to watch the creative process up close.
"The pie, it's symbolic of home and comfort and the sweet things in life," she says. "It's kind of my way of trying to feed my ideas into the universe. … It's like the whole area, really, which is trying to express itself a little bit more."
Robert C. Lopez is a freelance writer and veteran newspaper reporter who has written for the News & Record in Greensboro, along with 1808 Magazine, Winston-Salem Monthly, and Hearst newspapers. He is based in High Point.
---
THE DAY TRIP
Eat
* Go Burrito!
Opened in 2013, this eatery's menu includes burritos grilled panini style, chips fried in-house, and freshly made salsas. The restaurant also boasts a rooftop bar, from which patrons can watch an occasional live music performance across the street during the summer.
115 W. Fisher St., 704-754-4755
* Salty Caper
This restaurant in the heart of downtown sells wood-fired pizza and calzones, along with craft beer on tap.
115 S. Lee St., 704-633-1101
* Maracas' Cuban Cafe
Opened in July, this brightly colored cafe serves sandwiches on flat, cuban-style bread, along with plantain chips, ropa vieja, and pastries filled with guava, meat, cheese, pineapple, and coconut.
118 W. Innes St., 704-633-1228
---
Do
* Lee Street Theatre
Upcoming shows this season include The Parchman Hour: Songs and Stories of the 1961 Freedom Riders, The Last Five Years, and August: Osage County. The theater also hosts regular concerts.
329 N. Lee St., 704-310-5507
* Meroney Theater
The Piedmont Players Theatre company is celebrating its 20th anniversary in this venue. Shows this season include Cabaret, A Time to Kill, and Hands on a Hardbody. The Piedmont Players also own the adjacent Norvell Theater, which hosts youth productions starring local students.
213 S. Main St, 704-633-5471
* Rail Walk Studios & Gallery
Eight artists rent space in this century-old warehouse and visitors can watch the creative process up close. The gallery also hosts exhibits by a different artist each month.
409-413 N. Lee Street, 704-431-8964
---
Shop
* Innes Street Drug
Cheerwine fanatics can't visit the place where it's made; Carolina Beverage Corporation isn't open to the public. But visitors can partake in Salisbury's sugary legacy with a Cheerwine float or Cheerwine fudge at Innes Street Drug. The pharmacy also carries Cheerwine memorabilia as well as a selection of other locally made treats.
112 S. Main St., 704-633-4521 or 1706 W. Innes St., 704-636-1712
* The Jerky Station
Opened in June, this shop carries about two dozen different types of jerky, including kangaroo, ostrich, and snapping turtle.
107 S. Main St, 704-754-5623
* Pottery 101
Pottery, paintings, and sculptures by local artists such as John Morehead, Cheryl Goins, and Tim and Lisa Kluttz are for sale here.
101 S. Main St., 704-209-1632
---
This article appears in the February 2016 issue of Charlotte Magazine
Did you like what you read here? Subscribe to Charlotte Magazine »
---