Around Towns: Shelby
Here in a little town west of Charlotte, you can still hear the sounds of Earl Scruggs and Don Gibson, you can eat some of the best barbecue in the South, and you can read the stories of people who built North Carolina. And a funny thing is happening: These classics are giving the town all the energy of youth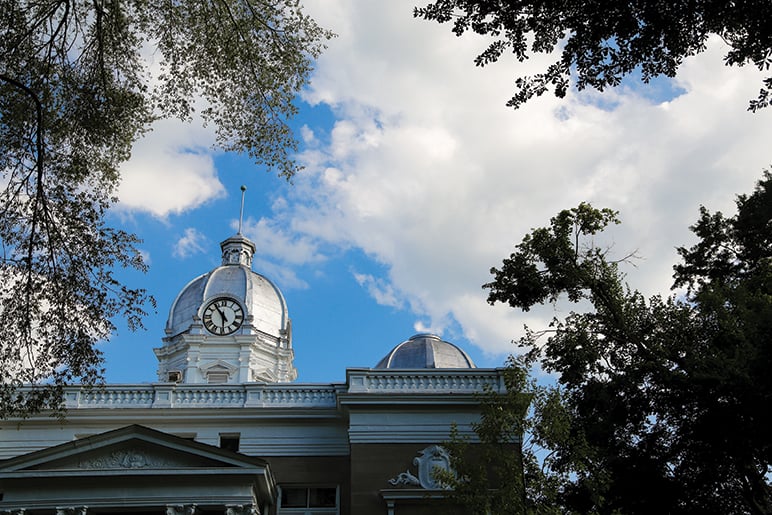 LATE MORNING light falls across a broken grave marker in Shelby's Sunset Cemetery.
The 19th-century stone lies at my feet in three dirt-smeared pieces, ants spilling from between the cracks.
When the sun's rays tilt to a certain angle, they bring Mary C. Elliott's name into focus on the weathered marker, but few other words are readable. You could stop here and not know what happened to Mary in 1856.
But I know. The words were clearer when I first discovered this marker years ago while exploring my hometown's oldest cemetery. In 1856, Shelby's first doctor—a man named Thomas Williams, who is also buried nearby—went to Mississippi and found Mary "orphaned and in a state of destitution." The doctor adopted her, brought her back to Shelby, and introduced her into "the fellowship of Shelby Baptist Church." Mary died in 1858 at age 13. Most of that story is etched on her fading tombstone; some of it, I'd find out years later in my own research.
Back when I was a reporter with The Shelby Star in the 1970s, I gave occasional tours around Sunset Cemetery to new hires who were just moving to town. I continued the informal outings for new hires at The Charlotte Observer after I became a reporter there in 1990, hoping that the tours would help the newcomers make a connection to this place. Each time, I made sure they knew about Mary, a forgotten person from Shelby's early days.
I haven't lived in Shelby since 1992, when, at age 48, I got married and moved to Gaston County. My wife and I have lived in Mount Holly, Belmont, and are now residents of Cramerton, a small town that's squeezed in between Belmont and Gastonia on the South Fork of the Catawba River. I feel an attachment to all of those towns. But Shelby will always be home.
My mother's family started a construction business in Shelby around 1900. Long before that, a DePriest kinsman served in the Revolutionary War alongside Colonel Isaac Shelby, the future city's namesake. I knew all of the family stories, but when I became a reporter here, I began to look deep into the town's past through interviews, old letters, journals, and out-of-print books. Most of us think of our hometowns with reverence, but the more I learned about where Shelby had been, the more I believed I understood its soul.
Sunset Cemetery is the first place I go to reconnect with it.
I'm lucky on this spring morning walk: The sky is clear, so I can see the South Mountains off in the distance. A train rattles down a nearby railroad track, but the noise doesn't drown out birdsongs echoing along narrow, maple-lined lanes.
The train sounds recede, leaving me alone, surrounded by names.
There's Thomas Williams, the city's first doctor and rescuer of little Mary Elliott. Near him is lawyer Harvey Cabaniss, who went off to the Civil War and came home from the trenches at Petersburg, Virginia, a broken man. I see the name of Micajah Durham, who rode horseback to Charleston, South Carolina, and New York City in 1850 to hear the operatic singing of Jenny Lind, the "Swedish Nightingale."
And there are the graves for the people who made up what historians call the Shelby Dynasty. On those tours I used to give, I'd tell coworkers and anybody willing to listen about the political machine that controlled North Carolina government for 20 years, from 1929 through 1949. The kingpins of that dynasty are buried here: O. Max Gardner and his brother-in-law, Clyde Hoey, both governors of North Carolina.
Near Hoey's grave is that of W.J. Cash, associate editor of The Charlotte News and author of the famous book The Mind of the South. Cash, who was born in South Carolina but grew up in Shelby, is buried next to his parents, who didn't believe their son hung himself with a necktie in a Mexico City hotel five months after the book came out in 1941.
At one point in The Mind of the South, Cash mentions a Shelby native and says that the man is the writer of "many rabid novels." That man, Thomas Dixon, is the author of The Clansman, the basis for director D.W. Griffith's controversial 1915 silent film classic The Birth of a Nation. I've plowed through the melodrama and offensive racism of The Clansman, The Leopard's Spots, and a few of Dixon's other books. When Cash called them rabid, he put it mildly.
Dixon is buried in the same section of the cemetery as Cash.
A walk around Sunset Cemetery is never the same as the ones before. Something new and stimulating always turns up. This morning, I stumble on the marker for John R. Logan, whose grave I'd never seen before. I'd heard about Logan for years. He was the man who drew the city's first map in 1850 and helped design wide streets named for Revolutionary War heroes around the court square, where I'm headed next.
***
WALKING TOWARD the square at lunchtime, I stop at the Shelby Café, a fixture on Lafayette Street since 1922. I see a few familiar faces and catch up on local gossip. Things feel about the same today at one of my old hangouts as they did when I lived here.
At least, they do until I step outside. There on the sidewalk stands a young, bearded man, strumming a guitar and singing "Hey, Jude." That's something I've never seen in Shelby: Beatles songs performed live on Lafayette Street.
The county seat of Cleveland County, Shelby, population 20,000, is a former mill town about 45 miles west of Charlotte. After textiles went into a decline in the 1990s, the town nearly died, say some residents. When leaders began looking for ways to bring the city back, they turned to music.
Down on South Washington Street, the 1939 art deco building that I knew as the State Theater is now a 400-seat concert hall named after Shelby native Don Gibson, who had numerous hits in his career. His "I Can't Stop Loving You" was covered by the likes of Ray Charles, Frank Sinatra, Ella Fitzgerald, and Elvis Presley. And Gibson hit the top 10 of the country charts with "Sweet Dreams," before it was also performed by Patsy Cline and Emmylou Harris. The theater bearing Gibson's name now brings in top national acts, including Leon Russell, Travis Tritt, and the Wood Brothers band.
The 1907 classical revival Cleveland County Courthouse in the heart of Shelby has been transformed into the Earl Scruggs Center: Music & Stories from the American South. Fans from as far away as Japan come to pay homage to Scruggs, a Cleveland County native who became master of the five-string banjo.
Scruggs died in 2012, and the Scruggs Center opened in January 2014 with state-of-the-art music exhibits. The music is here, and so are the stories. An oral history archive available to the public tells tales about farmers, millworkers, and the Greek families that owned restaurants here.
Artworks shaped like large vinyl records are scattered around uptown sidewalks: Push a button and a country song by Don Gibson plays. Most nights, there's live music at restaurants. And buskers—street musicians—pop up with guitars and ukuleles. Shelby is home to an annual Art of Sound music festival in September, and some city leaders are interested in starting a music school.
It's not all music here now, though. New industries are being recruited and sports tourism is growing. The American Legion World Series returns to Shelby every August, and there's a new baseball complex at City Park. Some people hope a complex for soccer and football is next.
How has Shelby been able to build all this after the textile industry crashed? People around town are eager to tell me the simple answer: partnerships. They mean partnerships between people, and also funding partnerships between private citizens and the local government. Many of the folks involved in this rebirth grew up here; others came from somewhere else.
***
ON A HOT and dusty day in May 1958, David White was eight years old and riding his bicycle down Kings Road on the southeastern side of Shelby when he was hit by a truck. The impact tossed him 30 feet in the air. He spent 48 days in a coma and four months in the hospital recovering.
When he was released, he was not the same person, he tells me recently in his office in downtown Shelby. At school, he felt out of place. Teachers and students made him feel inadequate. But what bothered him most was that teachers thought he had suffered brain damage and put him temporarily in a special education class.
White struggled throughout junior high, high school, and college. He withdrew and became more private. For 15 years, he traveled the East Coast with his family's construction company. Shelby was not a place he called home. "It was just a place to live," White says.
That changed in 1986, when he joined Shelby's First Baptist Church and immediately connected with its pastor, Gene Watterson. "He turned my life around," White recalls. White became involved in the church and community. The more he contributed to Shelby, the more he felt satisfied, and the more his fondness for his hometown grew.
In 1988, he renovated a nearly 70-year-old building on Marion Street and made space for an office for himself. Since then, White, the president of White Investments of Shelby LLC and White & Son Construction, has been buying old buildings around town and turning them into offices and apartments. What started as a business venture has turned into a mission, of sorts, to upgrade the heart of Shelby. To date, he's completed 14 projects.
And in 2012, he was elected to the Shelby City Council. He's still a council member, representing Ward 2 in the very city he once said was "just a place to live."
"I want to make it better and better every day," White says now.
***
SHELBY DIDN'T FEEL like home to Jeanette Sun, either, when she arrived here at age 13. Born in Taiwan, she'd moved to the United States with her parents and two older sisters when she was five. They first settled in Atlanta, where they owned a Chinese restaurant. Then, in 1982, the family made the decision to sell that restaurant and open a new one two states north in a town called Shelby. The sisters worked in the kitchen at China Royal and the hours were long. But Sun gradually got to know the small town and it struck her as strange and insular.
"It was different," she says. "And we were different."
Sun was the only Asian student at her junior high school. Some kids were nice, but others weren't.
"It was really hard," Sun says. "I wasn't a part of old Shelby. I tried to talk my parents into going back to Atlanta."
By the last month in ninth grade, she began to make friends. Sun joined the school tennis and swimming teams. Her attitude toward Shelby changed.
She went to UNC Charlotte and became a psychology major, with hopes of later getting her doctorate and becoming a psychologist. But those plans changed shortly after she graduated from UNCC in 1992. Sun, who had grown up in the restaurant business, decided to follow the path that felt most comfortable. She was a chef apprentice at Charlotte hotels and restaurants, including Chez Daniel. She worked her way up from prep cook to line cook at Spiaggia, a fine dining Italian restaurant in Chicago that draws customers such as Harrison Ford. Sun moved to Charlotte in 1994 and focused on getting into restaurant management.
In 1997, she received an invitation for her 10-year high school reunion and called an old friend to talk. The friend asked why she didn't move back here and open a restaurant.
"No way," Sun replied. "Nothing here."
The friend didn't back down, though, and offered to give Sun a tour around town. The chef liked what she saw, and later in 1997 she opened Ni Fen Bistro. (Ni Fen is Sun's real first name; her parents began to call her Jeannette when she was a girl so she could have a more American first name.) Since then, she's gotten involved in the city's special events and festivals.
"Shelby's a great place to raise a family," says Sun, 46, the mother of an 11-year-old son. "There are a lot of young folks here now. And a lot of diversity. That makes it more interesting."
***
THE SHELBY I grew up in hummed with more than a dozen textile plants. Uptown boomed with department stores such as A.V. Wray & Six Sons and Cohen's. Shelby was, and still is, home to two celebrated barbecue restaurants: Red Bridges and Alston Bridges.
My home was on the east side of town, on Peach Street, and it was an easy walk to the ruins of the Cleveland Springs Hotel, which burned to the ground in October 1929. Long before the Civil War, people from all over the South came there to take the mineral water cure, and Shelby became known as the "City of Springs."
After that chapter ended with the 1929 fire, the hotel's rubble and three columns stayed intact in the woods for decades. As a teenager, I explored the damp, vine-covered chambers.
I uncovered multi-colored tile—fragments of the floor on which hotel guests walked and danced. It was an enchanted place.
So was the court square. When I would come home from college or the Army in the late 1960s, the park-like lawn and classic courthouse were always among the first places I visited. For fun, I used to sit in the courtroom and listen to lawyers' silver-tongued oratory drift out an open window onto the square, where loafers dozed on benches. Sometimes, I was one of those loafers.
As a Star reporter, I covered trials in the courtroom. On the third floor, I covered county commission meetings in a small room filled with tobacco smoke.
In the 1970s and '80s, local moviemaker Earl Owensby used the building as a backdrop for feature films. One of the best was the 1983 independent production Reuben, Reuben, with British actor Tom Conti and a young Kelly McGillis, who later starred in Top Gun. I remember Conti, who was just back from the South Pacific island of Rarotunga where he'd co-starred with David Bowie in Merry Christmas, Mr. Lawrence, didn't care for most of Shelby's food. I wonder what he'd think now.
The former courthouse was also featured in the 2010 movie Blood Done Sign My Name. Now, the stately building is the Scruggs Center, and it's taken on what may be its most important role: helping repackage local music and history. A statue of the young Earl Scruggs with a banjo stands inside like a beacon, pointing the way to discovery. On a slow walk through the galleries, you can tap into music from the 1930s, '40s, and '50s on vintage radios, and you can play clips from television shows featuring Scruggs and his partner in music, Lester Flatt. Also here are stories about the Shelby Dynasty, textile mills, and people such as W.J. Cash.
***
AROUND 5 P.M., guitarist Sam Havens is laying down the blues for customers at Dragonfly Wine Market on the square. Customer Pam Sharts Isaacs is having a glass of cabernet sauvignon after work and recalling how uptown Shelby used to be dead at this hour. "Now you can't find a parking place," she says. "It's a good problem."
The owner of Dragonfly is Jamie Coulter, who grew up near Charlotte's Myers Park neighborhood. When he was looking for a place to open his business in 2012, he considered locating it in Hendersonville, but he picked Shelby instead.
"There's a lot of energy," says Coulter, 56, a board member of the Uptown Shelby Association. He's in a 1917 building that's been renovated by David White, the same man who grew up not caring much for the place but who became a city councilman and one of the town's biggest boosters. Coulter's wine bar has a prime location, just opposite the Scruggs Center.
Four nights a week, regional musicians, working for tips only, perform everything from jazz to Americana on Dragonfly's small stage.
Coulter believes music should be an even higher priority. He says Shelby could blossom into a mini-Nashville. Whatever happens, it's clear things are different in Shelby now than they were, and to me that's a good thing.
A large window behind the wine bar stage frames part of the court square, the most prominent symbol of the city's renaissance-in-progress. Sitting here, looking out that window, I not only see the square and a new center devoted to a great musician, but in my mind's eye, I can go back to the tours I gave in the old cemetery and to the home where I grew up, and, in some ways, all the way back to when my family first settled here hundreds of years ago. The whole scene seems to tell a familiar story: Shelby holds on to the best notes from its past, but it's also pretty good at starting up a new tune.
Joe DePriest is a writer living in Cramerton. He recently retired from The Charlotte Observer after more than 24 years as a reporter there. He can be reached at jdepriest@carolina.rr.com.
***
The Day Trip
EAT
RED BRIDGES BARBECUE LODGE
You can't talk about Shelby without talking about Red Bridges. Just this year, it won Garden & Gun magazine's "Ultimate Barbecue Bracket" for best barbecue in the South. Not to be shown up is Alston Bridges Barbecue (no relation), which has a great chopped plate, too. Red Bridges: 2000 E. Dixon Blvd., 704-482-8567; Alston Bridges: 620 E. Grover St., 704-482-1998
NI FEN BISTRO
Owner Jeanette Sun serves up American, Asian, and Italian cuisine in a former jewelry store, which was built in 1929. Menu items range from chicken parmesan to beef shoulder tenderloin. Sun's Crazy Chinese Girl Secret Sauce is the dipping sauce for pot stickers, the restaurant's most popular appetizer. 214 S. Lafayette St., 704-481-8882
SMOKE ON THE SQUARE
Smoke has a tagline, "Soulful Southern Fare with Flare." The menu offers everything from cedar planked smokehouse grilled salmon to sweet tea-brined pork chops. And there's barbecue, fried green tomatoes, and thick slices of livermush, a Shelby favorite. 5 E. Marion St., 704-406-9246
PLEASANT CITY WOOD FIRED GRILLE
The only brick oven pizza restaurant in town, Pleasant City also has sandwiches, salads, pasta, a variety of wines, martinis, and 24 rotating microbrews on draft. 233 S. Lafayette St., 704-487-0016
---
SHOP
DRAGONFLY WINE MARKET
Former Charlottean Jamie Coulter's market on the square has wine, craft beer, cigars, gifts, Ashe County cheese, gourmet food from Robert Rothschild Farm in Ohio, and chocolates from Bridge Brands Chocolate of San Francisco. Dragonfly also has antiques, crafts from local artists, and live music. 101 W. Warren St., 704-466-3578
BUFFALO CREEK GALLERY
This cooperative art gallery sells fine art and handcrafted works by local artists. You'll find paintings, pottery, customized jewelry, hummingbird houses, walking sticks, and more. 104 E. Warren St., 704-487-0256
---
DO
EARL SCRUGGS CENTER: MUSIC & STORIES FROM THE AMERICAN SOUTH
Start in the Welcome Gallery with a 13-minute film that introduces Scruggs, along with foothills culture and history. A special exhibit, "Feast Here Tonight: Southern Food & Music Traditions," runs through January 3, 2016. 103 S. Lafayette St., 704-487-6233
CLEVELAND COUNTY ARTS COUNCIL
The arts council is across from the Scruggs Center in the 1916 U.S. Post Office building. "Drink Up," an exhibit celebrating drinking vessels, runs through July 30. A "Baseball as Art" exhibit shows from August 6 through September 12. 111 S. Washington St., 704-484-2787
AMERICAN LEGION WORLD SERIES
The best American Legion baseball teams in the country will compete August 13-18 at Hoyt S. Keeter Stadium on the campus of Shelby High School. Last year's attendance topped 110,000, and hotel rooms are usually booked solid. Tickets are available on game days at the stadium, and full tournament passes are available for $35 by phone or through the website. 230 E. Dixon Blvd., 704-466-3103
SUNSET CEMETERY
An idyllic burial ground since the 1840s. Take a quiet walk through Shelby's past. Don Gibson and other notables are buried here. Martin Street at Sumter Street