Artist Q&A: Kyle Mosher Is Making It Happen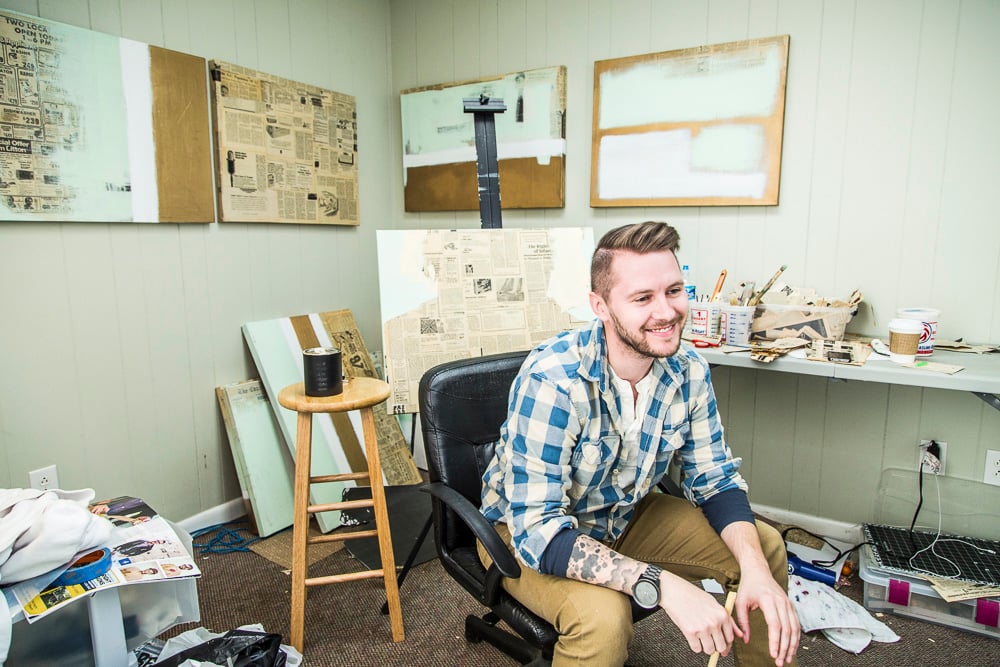 KYLE MOSHER and I arrived in Charlotte around the same time—two years ago, in the summer of 2013. My trajectory to the city was a relatively straight line (a few detours across the mountains of West Virginia to my North Charlotte home). Mosher's was a bit more complicated.
It began on Friday nights in Quebec, Canada, where he started an early career in hockey that would see Mosher nearly go professional in the sport. But a recurring shoulder injury stunted those aspirations after he moved to the U.S. to attend Southern New Hampshire University. It was a devastating loss. (And though hockey is years behind him now, the injury's repercussions are still felt across his body. "My shoulder comes out if I sneeze," he says.)
So Mosher pivoted. After a summer course at a community college to prepare a portfolio, he applied to a different type of school down the road: the esteemed New Hampshire Institute of Art. And a summer-long cram session resulted into acceptance into the private school's illustration program. He graduated with a hunger that took him south to Boston, where a studio space cost as much as he now pays for renting both his apartment and an Ink Floyd studio suite in Charlotte.
It was during those New England years that he developed his current and sought-after style. It was a spark that, like his work, is both classic and contemporary. "I was watching MTV Jams, which I don't even think is around anymore," Mosher says, referencing the once-popular hip-hop program. "There was a Curren$y video on. This sounds so corny, but it's absolutely a true story. I had sort of fallen asleep in the middle of the afternoon, and I had this image of Curren$y in my head cut up in newspaper. I had been working with paper, but in way more surrealist [style]. I'd have like a baby head with a nautical hat and big hipster glasses. But It was time to step into something more sophisticated."
Mosher's work now has more in common with interior design than what his peers are doing. Each piece is a mash-up of materials. He uses newsprint, vintage paper, acrylic paints, Sharpies, and anything else he can get his hands to create cohesive and layered creations. He's best known for his renderings of musicians—specifically, current rappers and hip-hop producers like Pharrell or Kanye West. The result is deceptive in its complexity. A client will call months later to say they found one of his hidden messages in the newsprint used on a cheek or sleeve of his portraits.
Our conversation took place in his crammed studio suite on 36th Street in NoDa. Here, Mosher talks about life as a working artist in 2015, the Charlotte scene, and what he wishes for the city he now calls home.
---
I can't help but notice your shirt. [It bears an emblem of neo-expressionist Jean-Michel Basquiat.] I would think people would often give you the "pop art" label. Is that accurate?
I cringed when I first started and was given that "pop art" label, because I saw what was out there. It was very recycled, very derived.
As I started to grow, I ended up embracing it. But I have something completely unique and different than taking a famous image, screen-printing it, and splattering some paint across it. I was traditionally trained in fine arts: sculpting, painting, and drawing. So I apply those elements. I just happen to do pop art, in terms of pop culture and collaboration with brands. But this is decoupage, it's from 12th century China. They took paper and wrapped it on furniture and canvas. Fast-forward to early 1900s, and that's synthetic cubism. And that's where you saw Picasso cutting up paper and making collage a fine art in galleries and salons. I now say it's "pop art." But my work has been labeled "neo-synthetic cubism" or "sophisticated pop art."
The pop aspect probably also comes with working with a beer brand like Radeberger or having artists like Ray J promote your work. Do you prefer to have that national network outside of Charlotte?
That to me is the most fun, collaborating with musicians and brands. It's not about the money. But these are projects that pay you. To me, it's always a product of circumstance. I loved Boston, but they don't nurture or incubate their talent very well. So I very quickly outgrew the city. So it was like, "What's next?"
I moved to Charlotte, and it's way better. It is already an amazing city, but it's going somewhere. In terms of these cultural projects, it could start straddling that line between tech and culture more. I've been embraced by some local brands and people, but that could be better. For whatever reason, I haven't been [contacted] to do more local things.
How do you feel about its consistent growth?
There is some resistance. Growth is scary to people. Look, I understand you don't want these condos coming in and the breweries. But I say, "Hey, guys, these are consumers. These are people you can pair with and do projects with." For me, I never thought like a traditional artist. I looked at the model and thought, Hey, why do I have to give a gallery half of my money? It was just never fun for me. When I started researching, I saw tech companies, and they were working with artists. I wanted to get into that. When I see these new start-ups, breweries, and real estate here, those are consumers. Those are people who are going to engage with you. I don't know if that's intimidating for some people, but they need to see that this is a positive thing. Those are the people who are going to buy your art, or they're going to be like Heist and do a project with you. There were 250 people there [at my show at Heist], and it was all connected through social media. It was amazing. This would never happen in Boston.
But you're not against galleries.
I'm not opposed to galleries. I just think their model could be changed and updated. It's an industry standard, but just because it's an industry standard doesn't mean it's right. There were a lot of things that were industry standard in music for a long, long time, but now it's the Wild West. Same thing with art. Let's reevaluate how we do things. I'm going on a Kanye rant right now. [Laughs.]
You see some companies trying new things with artists, like Crescent Communities with transitional spaces. Is Charlotte at least starting to figure it out?
Oh, there are amazing things happening in Charlotte. I guess the issues I have are with the people who are still taking advantage of artists. That's where the passion you hear in my voice comes from. For me, as an artist, I was taken advantage of so many times. On a daily basis, I can see why artists fail. I can see why they fail because of their parents, or galleries, or just everything that gets thrown their way. I just happen to be this weird sort of person where that stuff makes me angry and I channel that anger into, "I'm going to do it, and no one is going to stop me."
Van Gogh sold one painting his entire life. And he just sold a painting not too long ago for $150 million. There are just a lot of roadblocks and hurdles. I'd like to be a voice for artists. I don't think I'm anyone special. But I've been there, I've done it, and I've pushed through. I've had to make it happen. And I want to say to artists, "Hey guys, you can do this. Keep working at it." And I want to say to companies, "Hey, stop f–ng ripping off artists."