As 'Silver Tsunami' Hits, Agencies Serving Older Adults Play Catch-Up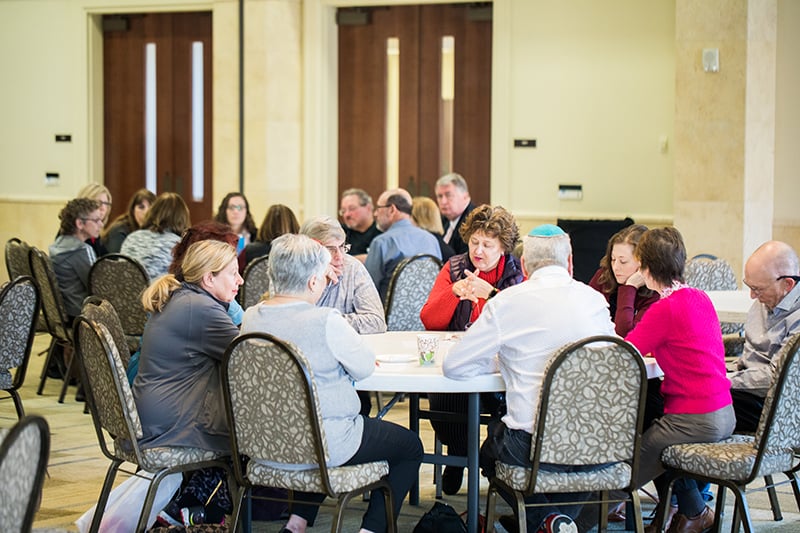 FOUR YEARS AGO, Stephen Phillips and his wife, Barbara, finally heeded their adult daughters' pleas—just short of commands—to move near one of them. The Phillipses were native Northeasterners who lived in Connecticut. One daughter lives in Denver, the other in Charlotte. It occurred to the women that it'd be good for their parents, then past 70, to be in the same town as one of them, just in case. Colorado was too cold. So Charlotte it was.
The Phillipses began attending Temple Beth El, the reform Jewish synagogue and cultural center on Providence Road in south Charlotte, whose leaders had noticed their congregation, on balance, growing older and older each year. Judy Schindler, then the senior rabbi, came to Stephen Phillips with a request. "About two years ago, Rabbi Judy approached me and asked if I'd be a liaison for the older adults," Phillips says on a Sunday morning in early December, in a sun-flooded room ringed by kiosks offering information on services—healthcare options, home care, retirement community options—for older adults. "Our congregation here, like all congregations, is aging."
Phillips is a tall, white-haired gentleman with a toothy smile and prognathous jaw, a former chairman of a CEO membership group who still works as a consultant for family-owned businesses. He knows how to assemble and organize people around a goal. Soon after Schindler's suggestion, Phillips set up an Advocacy Team for Aging Adults at Temple Beth El. In December, the committee began a four-part series of free public sessions, "Navigating Aging With Understanding," anchored by panel discussions with doctors and caregivers covering such issues as fundamentals of caregiving, dementia, arthritis, Parkinson's disease, and other chronic afflictions. "Ask questions, get answers, and learn where you can go for help," the fliers for this first event in the series announce.
Those may seem like obvious goals, and perhaps they are. But more than five years into what's been called the "Silver Tsunami"—the rapid and widespread aging of the population as the baby boom generation surpasses 65—knowledge about where seniors can go for help is what older adults in Charlotte and just about everywhere else lack, and need most.
"This is an attempt at information," Phillips says in a shaky voice; he suffers from benign essential tremor, a disorder that makes his voice quaver but is not, he's quick to point out, Parkinson's. "We're facing a tidal wave of aging adults. What are the figures? Ten thousand baby boomers a day reach retirement age? And there are fewer and fewer resources from the federal and state governments to serve more and more people."
Around him, after the panel discussion, wander about 30 older adults, their children, and caregivers, who collect brochures and business cards from the booths at the back of the room and pepper the attendants and panel members with questions. "I'm 80, so I may not be around for the end of the wave," Phillips says over the chatter. "But we need to prepare now. People talk about it, but they don't understand what it really means."
***
FOR SENIORS with enough money, it means obstacles that are difficult but not impossible to clear. They or their families can hire private providers of services as varied as in-home nursing, car services, meal delivery—or pay for space in assisted living communities. It takes time and effort to find services and decide which best fit individual needs. But they're there.
For the poor in Charlotte and elsewhere, such resources are scant already and dissipating more as the population ages. Federal, state, and local subsidies for services have largely flatlined, and Congressional Republicans' stated goal to cut Social Security, Medicare, and Medicaid spending in the coming years jeopardizes benefits that older Americans have depended on for generations.
"We have a wait list a mile long for some services," says Linda Miller, the director of the Centralina Area Agency on Aging (AAA), an organization that guides government block grant money toward programs for older adults in nine counties in the Charlotte area. "When you factor in the number of older adults now as compared to 10 years ago, we're getting less money now from the government to fund these programs than ever before. It just doesn't meet the need, period."
The problem goes beyond gaps in services. In Charlotte, leaders of organizations that attend to seniors don't have a clear understanding of how many people need which services—who lives alone and needs meal preparation, who needs transportation to shop for groceries or make doctor's appointments, who just needs a nurse to come by twice a week. Agencies such as AAA can consult Census data to learn how many older adults live in their areas. But they don't know—because no one's ever tried to find out—how they can best make use of the resources they have.
That was one of the first things Dr. Julian Montoro-Rodriguez noticed when he arrived in Charlotte from California nearly four years ago. Montoro directs UNC Charlotte's interdisciplinary program in gerontology, which covers the social, cultural, and psychological effects of aging (not to be confused with geriatrics, which concentrates on the medical aspects). When he arrived in 2014, the low level of coordination among local programs and services for seniors, and the piecemeal quality of information about them, surprised and dismayed him.
"When I got here, I was meeting people and trying to find out how to help, what is there," he tells me in his office on campus. "There are some data at the (Mecklenburg) County Health Department, some with AAA, and some private health organizations have some data. But there are no comprehensive data that specifically address the issue of older adults."
Montoro set about trying to collect them. Since 2016, he's been shepherding the Meck 60+ Community Needs Assessment Study, which he hopes to finish this spring. Through questionnaires and interviews, the study aims to identify in detail, among people 60 and older in Mecklenburg County, who needs what, and how much of it: healthcare, support services, psychological treatment, physical activity, socialization, all of it; and to what extent the needs differ among racial and ethnic lines, white, black, and Latino.
Southminster, a south Charlotte nonprofit retirement community founded in 1987, granted UNC Charlotte $200,000 for the Meck 60+ project. "You can't really go out into the community and create programs and services if you haven't listened to the people who may or not need them," says Tracy McGinnis, Southminster's director of philanthropy. "So it may be that there are services out there that people just don't know about. It may be that we identify gaps and are able to create partnerships that make sense to address those gaps. That's really the point of looking at Meck 60."
Montoro and his team aim to finally give service providers a clear view of what the fast-growing senior community needs before the silver tsunami crashes ashore, provided it hasn't already. "A plan will bring everybody together. I think that coordination is what we need; we do what we can, and everybody's doing things. But I think putting things together, we will accomplish much more," Montoro, a native of Spain, tells me in accented English. "We really need to make the point that age and the experience of living many years after 60 is going to impact all of us, and we need to think about that."
***
THAT RAISES a reasonable question: If the oldest baby boomers—generally defined as people born from 1946 to 1964—began reaching 65 in 2011, what's kept agency leaders from planning for the spike in the older adult population earlier? No one I spoke with had a good answer. "I wish I knew. It's what I've done my entire career, 25 years, so to me it's a no-brainer," Miller says. "I guess because there's only so much government money to go around. I understand that."
One of the few local efforts to try to assess the aging population's needs emerged from UNC Charlotte's Urban Institute, which published a study in 2006 and updated it in 2014. It outlined the general scope of the problem, at least in Mecklenburg County: In 2012, 90,685 county residents—9 percent of the total population—were 65 or older. That number was expected to more than double by 2030 to 204,653 and represent 15 percent of the population.
The Urban Institute identified three broad problems: lack of planning and preparation for the aging wave, lack of coordination among agencies, and the concentration of most services in Charlotte, making it hard for people in other parts of the county to access them. But the study made only general recommendations and relied on secondhand data from assorted agencies, Montoro says. It also didn't identify how much money, from any source, would be needed to serve the older adult population, or how it should be spent.
The Meck 60+ project is collecting detailed firsthand data from seniors and caregivers, which Montoro believes will help policymakers plan more effectively or, in some cases, plan at all. In 2014, the county health department published a State of the County Health Report, as state law requires counties to do every four years. The report revealed something county officials weren't expecting: In 2012, Alzheimer's Disease was Mecklenburg's third-leading cause of death, behind only cancer and heart disease, when it ranked sixth in both North Carolina and the United States.
Montoro can only guess at the reasons—the Charlotte area's growing popularity as a retirement destination, maybe, or higher rates of reporting than in rural counties. "We really don't know why we are so prevalent on this disease, what are the conditions of these people and what are the support systems that they need," he says. "That's what this survey is about—finding out what is the level of burden and stress, and what is their need."
For poor people limited to taxpayer-funded services, the options are minimal. Mecklenburg County receives federal, state, and local funds through the Area Agency on Aging—$3,827,427 for the 2018 fiscal year, part of a total $9,917,410 spread throughout nine area counties—and on its own operates Seniors' Assistance Programs that, for example, prepare and deliver meals and provide transportation for low-income residents. But waiting lists for some services can be months long. "So what we try to tell people is if you have resources and you're blessed to have saved well for your retirement, if you can privately pay for services, we really strongly encourage that," Miller says. "The public money's just not there, and you can get services faster. Who would want their loved one to sit on a waiting list?"
Even people who can pay for help have to overcome an initial hurdle that may help explain why the needs of older adults often go overlooked. It's not something many people want to talk about. Aging parents, accustomed to life on their own, take pride in their independence and don't want to burden their grown children, who are raising children of their own, often in another place.
Lorrie Klemons knows better because of her profession. She's a registered nurse and patient advocate in Charlotte, and she attended the Sunday morning session on caregiving at Temple Beth El. Part of her interest was professional. But it was personal, too. At 67, she's part of the baby boomer demographic, the tsunami, and she often stresses the need for families to talk about what they least want to. "I always tell people, 'When you talk about important life conversations, everybody thinks end of life. But there's a whole birth-death continuum of conversations that need to be taking place all the time,'" she says.
She and her husband have two sons, both in their 30s. From the time they were old enough to stay at home without a babysitter, Klemons instructed them on whom they should call and what they should do if Mom and Dad didn't come home. To this day—her sons still kid her about it—she keeps what the family calls "The Death Folder," which contains relatives' phone numbers, details about burial plots, a life insurance policy, and other relevant documents, even statements on frequent flier miles. Klemons is looking into loading scanned versions of the documents on a secure website so her sons wouldn't have to travel to Charlotte to access them.
"We feel like it's a legacy gift," Klemons says, adding that her sons, exposed to it early, seem to have learned to live with the idea of The Death Folder. "I think parents are not having the conversations with their children, and the children aren't pushing the issue with the parents," she says. "What I tell my seniors is, 'You don't have the right not to have these conversations with your children.'"
Greg Lacour is a contributing editor to this magazine. Read more of his work in the News + Opinion and #discussCLT sections of this website.