Asheville Eatery Coming to Charlotte
Tupelo Honey will open a location in the Queen City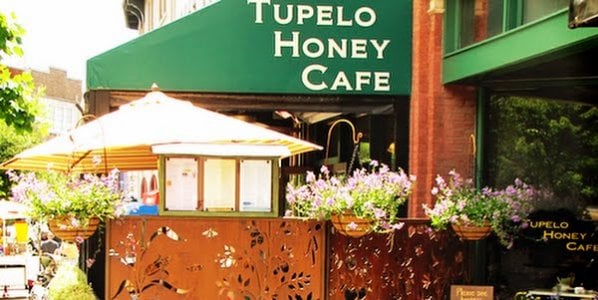 There's an eatery in Asheville that you just can't miss. Well, there are a lot of eateries in Asheville that you need to experience, but THIS one was divine. Tupelo Honey and I got off to a shaky start, since I was already starving and a 45-minute wait greeted my man friend and I at the door. Luckily, the weather was beautiful and a game of I-Spy kept me entertained for a bit, as did the several roaming street bands in the area.
Although Tupelo Honey is famous for its sweet potato pancakes (topped with whipped peach butter, oh my God), I opted for the oh-so-light meal of fried chicken and biscuits. Smothered in gravy. That's right.
I also decided that I simply needed to try Tupelo's Bloody Mary, which features jalapeno- and bacon-infused moonshine (what?!). Both were absolutely divine, with the chicken staying especially juicy under a dark and crispy coating.
I should also mention that Tupelo brings fresh complimentary biscuits, honey, and blueberry jam to your table before the meal, which I downed in record time.
The best news, of course, is that the eatery will open another location in Charlotte's South End, at the old Pewter Rose Bistro to be exact. The tentative opening date is still unknown as is which chef will head the restaurant, but the Asheville location's head chef, Brian Sonoskus, will be holding a career fair in the next few months to help determine who will run the Charlotte joint.
If you're worried about being able to get your sweet potato pancake fix in the Queen City — don't fret. They'll more than likely remain a staple on the Charlotte menu as will the focus on fresh, local ingredients. We can also expect a few specialties geared toward our area, according to Julianne McCollum of Yellow Duck Marketing who is handling local PR for Tupelo. Stay tuned for more updates in the coming weeks!