Asheville's Burial Beer Expanding to Charlotte
Taproom, bottle shop to occupy Boris+Natasha, Stash Pad spaces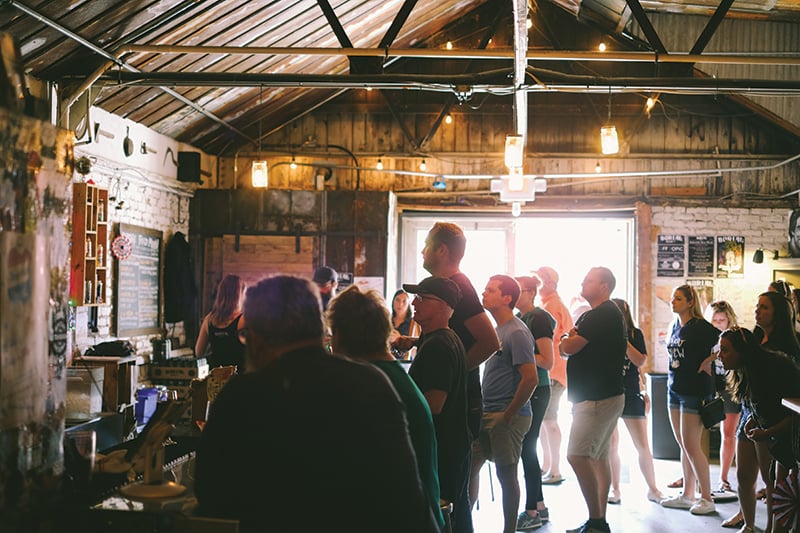 Burial Beer Co., one of the mainstays of the popular, craft brewery-rich South Slope district in Asheville, announced plans Wednesday to open a taproom and accompanying bottle shop on Thomas Avenue in Plaza Midwood.
The new pub, the company's fourth in North Carolina, will occupy a pair of retail clothing shops, the old Boris+Natasha site at 1214 Thomas and the Stash Pad next door at 1216. Boris+Natasha relocated in January to a shopping center on The Plaza near Matheson Avenue that's anchored by Hattie's Tap & Tavern; the Stash Pad plans to close its Thomas Avenue location by May 1 and move into excess space at Lupie's Cafe on Monroe Road, owner Corrie Throckmorton confirmed Wednesday.
The owners scouted several Charlotte sites for more than a year before they chose Thomas Avenue, said Burial COO and co-founder Doug Reiser. The block is the neighborhood's commercial and nightlife hub, and Burial tries to preserve unique, historic buildings—the Thomas Avenue shopping center was built in 1959—and locate near both businesses and homes in developing neighborhoods, Reiser said.
"We've wanted to go to Charlotte for years," he said. "What was really, really important to us was to get a space that was historic, that was in a neighborhood, and that had that funky Asheville feel that's so important to our brand. … We love the businesses in Plaza, the blossoming restaurant scene." Burial hasn't set an opening date, but Reiser says he hopes it'll be before the end of the year.
Reiser, his wife, Jess, and a friend of theirs, Tim Gormley, founded Burial in 2013 after the three had relocated to Asheville from Seattle. The original location was in an old industrial neighborhood just south of downtown that, like Charlotte's South End, has developed into a haven for breweries, bars, and restaurants that cater to young professionals.
The trio at first concentrated on "rustic" lagers and wild and farmhouse ales, then branched out into hoppy ales and darker, higher-octane beers—what Reiser calls "big, viscous dessert stouts." They opened a 20-barrel production brewery, restaurant, and winery in Asheville's Biltmore Village in 2016 and a taproom and bottle shop in Raleigh in 2018. The Charlotte location will incorporate an indoor bar, secluded outdoor beer garden, rooftop deck, and food menu that includes sandwiches, charcuterie, "and other locally purveyed goods," the company says.
"It all feels so surreal," Jess Reiser said in a release. "To think we started as a one-barrel brewery and we now are expanding into the biggest metropolitan city in North Carolina, well, it makes me take a step back and really soak it all in."