At Home on the Road: Building Bouquets
Flower-arranging tips at the Sustainable Agriculture Conference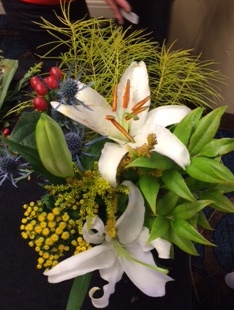 Our final "on the road" piece from this week's Sustainable Agriculture Conference in Greenville offers tips for creating bouquets from items in your yard or those you purchase at the market. (For more on the conference, read Monday's post.)
Ed Phillips owns Field and Flower in Piedmont, South Carolina, just south of Greenville. Phillips ran a landscape installation company and then decided it was time for him to pursue something that allowed him to stay on the farm. He specializes in sustainably grown, fragrant flowers that he sells at farmers markets and at his local Whole Foods store. He shared some tips with us about how he constructs his bouquets.
Don't discount shrubs. Anything green in your yard could make nice filler. Grasses, millet, sorghum heads, and other tall items add interest and height.
When collecting flowers and foliage, a good pair of pruning shears and a knife are Phillips' essential tools. His favorite brand is ARS; the soft spring is easy on your hand, which is important when you cut as many flowers as Phillips.
Cut everything longer than needed. When you get the bouquet together, cut off the stems of the bunch at the desired height. Then strip the leaves at the bottom; no leaves should be below the vessel's water line.
When composing the bouquet, try starting with a focal flower. Large blooms, such as sunflowers, lilies, and hydrangeas, are the best. Then build the bouquet around the focal flower, adding pops of color, some height, and filler or greenery.
Consider dried flowers. Celosia, with plume- or crest-shaped flowers, and chinops, which has blue, globe-shaped flowers, both dry well.
Add interest with herbs and edibles. Rosemary and basil are good options. (Don't put your basil in the refrigerator, or it will turn brown.) Okra pods, blueberries, and raspberries make pretty additions.
Experiment with different vessels to hold your bouquet. Mason jars are one of Phillips' favorites for the market; you can dress it up by tying a thick ribbon around the rim. Pumpkins, gourds, and even bell peppers are all fun choices.